The 150 Year History of Muni's 'Newest' Route: The 15
With the return of Muni's 15 route earlier this year as the 15 Bayview Hunters Point Express, here's a quick look back at a line that traces part of its lineage back over 150 years.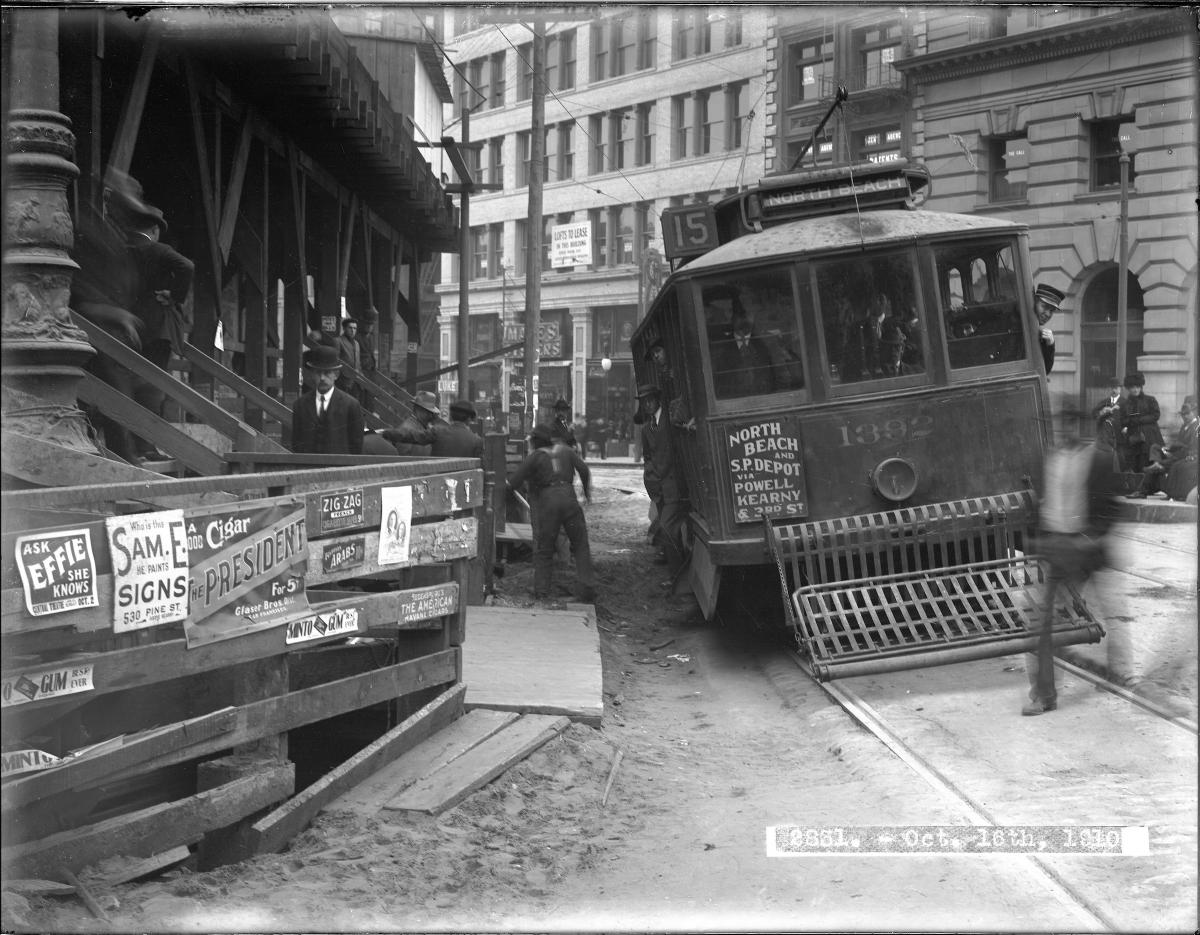 A 15 3rd & Kearny streetcar picks its way through a crowded downtown scene in this 1910 photo.
In the mid-1800s people began travelling San Francisco's 3rd Street corridor by stagecoach and horse-drawn streetcars. At the turn of the 20th century, horse car service gave way to electric streetcars, with three lines eventually sharing the work of serving 3rd Street from north to south. Operated by the United Railroads Company, the combined service of the 15 Kearny & North Beach, 16 3rd & Kearny, and 29 3rd & Sansome lines ran from North Beach all the way to the county line in Visitacion Valley.
A photo from OpenSFHistory.org showing the 15, 16, and 29 Streetcars outside the Southern Pacific Railroad Depot in 1940, shortly before streetcar service would be replaced with buses.
In the 1940s, streetcar service was replaced by buses that combined multiple lines into one route.  Like their streetcar predecessors, the buses stopped at key locations along 3rd Street, including the factories in Dogpatch, Southern Pacific Railroad Depot (now 4th & King Caltrain), downtown commercial district, Market Street transit lines and the docks in the North Beach area. 
A Muni 15 3rd & Kearny bus makes a lane change on San Bruno & Harkness avenues in this 1957 photo.
As the years passed and the city changed, the 15 changed with it, serving different terminals depending on where passengers need to go.  Eventually this expansion led it to become one of Muni's longest routes, running 11 miles from North Beach all the way to City College. The 15 Third was discontinued in 2007,  after over 60 years of service, when it was replaced by the T Third rail line on Third Street and by a rerouting of the 9x and 9AX routes north of Market Street.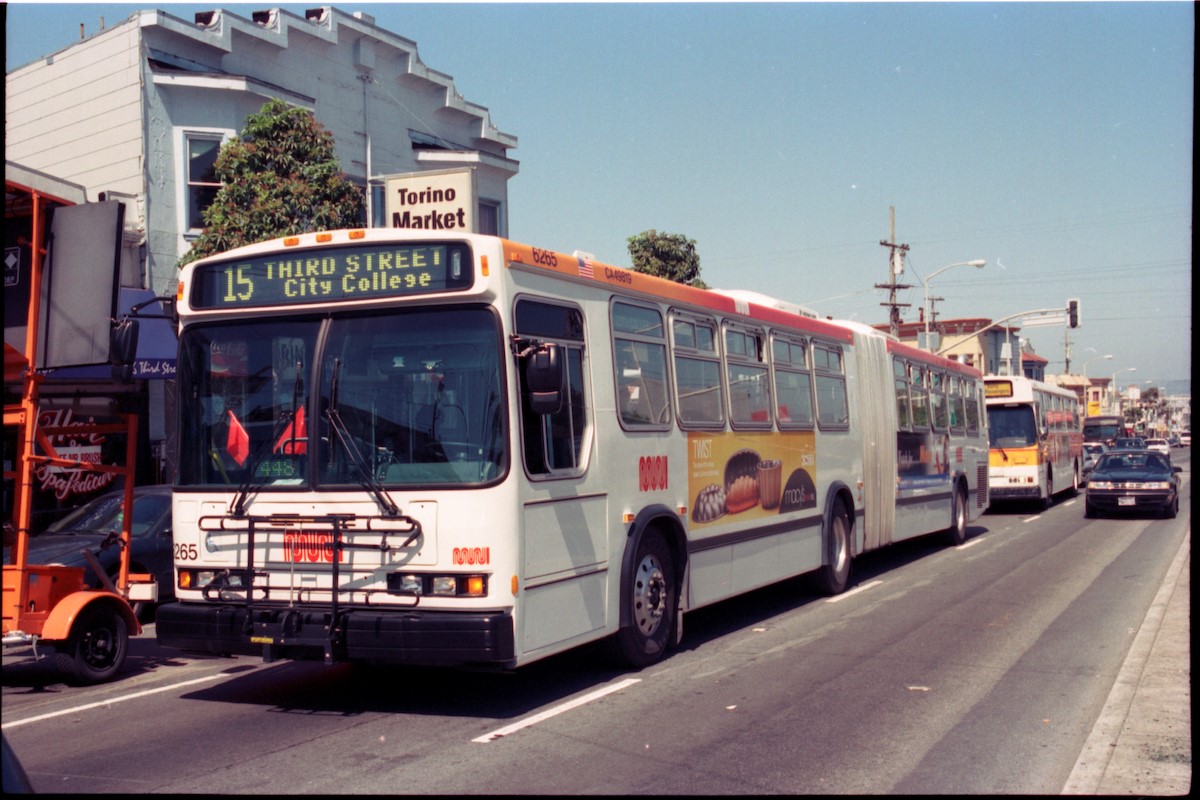 A 15 Third Street coach passes Torino Market at 3rd and Palou on its way out to City College in 2002.
Rapid growth in Mission Bay in recent years has resulted in changing needs for people who travel to and through this corridor. So San Francisco residents began advocating for additional service, particularly through the Southeast Muni Expansion Project in 2018.  Based on public input, that project prioritized a more direct trip to downtown from the Bayview. Responding to these concerns, we established the "new" 15 Bayview Hunters Point Express in January 2021.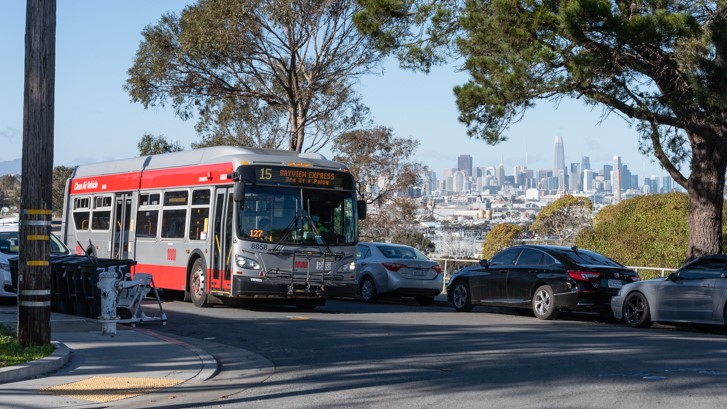 A 15 Bayview Hunters Point Express coach passes a city vista along Jerrold Ave in the Hunter's Point neighborhood on January 25, 2021.
Starting out in Hunter's Point and traveling to the transit hub at 3rd and Palou, the "new" 15 takes riders to locations within the neighborhood and then makes limited express stops to downtown and regional transit connections. The 15 Bayview Hunters Point Express route provides some of the same north-south connections as the original stagecoach and horse car lines back in the mid-1800s.  Just like its predecessors, it builds on a core 3rd Street service and offers a transportation option that seeks to meet the needs of today's residents.