Celebrating Black History Month 2022 
Honoring the Achievements of African Americans 
Tuesday, February 1, 2022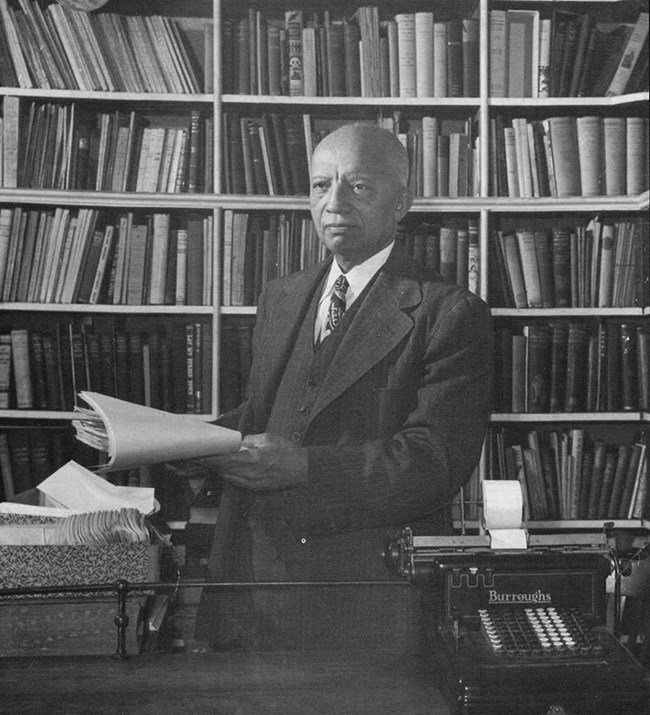 Carter G. Woodson (pictured circa 1948) is recognized as the "Father of Black History Month." 
Black History Month, also known as African American History Month, is an annual observance during February in the United States that acknowledges and honors Blacks' contributions to U.S. history. These Blacks are the descendants of enslaved Africans shipped to the Americas via the Atlantic slave trade between the 16th and 19th centuries. During this time, Black people often reflect on their history, obstacles overcome and the challenges and progress still to be made. 
From the arts to medicine, education, music, cultural inventions, entrepreneurship, civil rights leaders, noble laureates, etcetera, Blacks have played an influential role in shaping America and are paid tribute to throughout the month. 
There are several SFMTA Black History Month events, including the virtual event, Recognizing and Honoring the late Bernard J. Tyson, former CEO of Kaiser Permanente CEO.  This event is planned by the Black and African American Affinity Group and will take place on February 16 from 12 p.m. to 1 p.m. 
The theme for Black History Month commemoration hosted by the BLACK and African American Affinity Group (BAAAG) focuses on the importance of Black health and wellness. We'll discuss topics around health, diet and medical care. We'll honor the legacy and accomplishments of Blacks in medicine like Bernard J. Tyson, former CEO of Kaiser Permanente. He started as an intern at Kaiser after earning his undergraduate degree. Before climbing the ranks at Kaiser, the largest managed care organization in the United States, Tyson held numerous leadership positions at the company, chief executive officer of the Kaiser Foundation Hospital in Santa Rosa, senior vice present and chief operation officer for regions outside of California, and senior vice president of health plan operations. In 2010 he was promoted to Chief Operating Officer of Kaiser Permanente, serving until his untimely passing in 2019.     
Dr. Daniel Hale Williams performed the world's first successful heart surgery. Dr. Rebecca Lee Crumpler was the first African American woman to earn a medical degree and become a medical doctor in the United States. Before attending New England Female Medical College to study and become a doctor, she was a nurse. She experienced racism and sexism. The male doctors disrespected her. They would not approve her prescriptions and ignored her medical opinions.  
For example, did you know that in 1891, Williams founded Provident Hospital in Chicago It was the first non-segregated hospital? The hospital provided a residency training program for doctors and nurses. Established to increase blacks' access to health care primarily, Provident also served white patients. 
Also, did you know that Dr. Rebecca Lee Crumpler was one of the first female physician authors in the nineteenth century? In 1883, she published A Book of Medical Discourses covering prevention and cure of infantile bowel complaints, and the life and growth of human beings. Crumpler went on to work for the Freedman's Bureau, where she provided medical care to freed slaves 
Black History Month Facts 
Carter G. Woodson is recognized as the "Father of Black History Month." 

In 1926, Carter G. Woodson started celebrating "Negro History Week" (the precursor of Black History Month) to commemorate the hard work of African Americans in American society. 

In 1976, the Negro History Week celebration was expanded to the entire month by President Gerald Ford and celebrated throughout the country. Ford said that this country needed to, "seize the opportunity to honor the too-often neglected accomplishments of Black Americans in every area of endeavor throughout our history." Since 1976, every U.S. president has officially designated the month of February as Black History Month. 

The second week in February was chosen because it included the birthdays of Abraham Lincoln on February 12 and Frederick Douglass on February 14. 

Frederick Douglass escaped slavery. On August 10, 1863, Abraham Lincoln met with Frederick Douglass in the White House. His visit was unannounced. Lincoln came to value Douglass's perspective and candor. 

It is celebrated in Canada in February. It is celebrated in Ireland and the United Kingdom (During October) 
Local Black History Month Events 
Join the SFMTA in honoring the achievements of African Americans and celebrating Black History Month 2022.