SFMTA Public Meetings, June 29 – July 10
Board of Directors meeting: 1 p.m. Tuesday, June 30th
This week's Board meeting has been cancelled.
Board of Directors meeting: 1 p.m., Tuesday, July 7
City Hall, Room 400
Nearby Muni Routes: 5, 19, 21, 47, 49, F Market, Metro-Civic Center Station
The next SFMTA Board of Directors meeting will include discussion on parking and traffic changes along Mission Street, Division Street and 19th Ave. The Board of Directors will also assess the FY13-FY14 Municipal Transportation Quality Review report.
The agendas are posted under "meetings" on the Board's web page 72 hours in advance of the meeting. All regular meetings can be viewed on The City channel 78 or online at the SFGovTV2.
Taxi Task Force Meeting:  2 p.m., Wednesday, July 8  
One South Van Ness
San Francisco, CA 94103
Nearby Muni Routes: 9, 9L, 47, 49, F Market, Metro-Van Ness Station
Next Wednesday the SFMTA's Taxi Task Force will hold its next meeting. Join us to learn more about San Francisco's insured, inspected, trained and licensed taxi industry. The task force, established earlier this year, advises the head of the SFMTA on all taxi-related issues.
Look for the agenda to be posted to the meeting page the Friday before.
Citizens' Advisory Council Special Meeting: 5:30 p.m., Thursday, July 9
SFMTA Offices, 7th Floor, Union Square Conference Room
One South Van Ness Avenue
San Francisco, CA 94103
Nearby Muni Routes: 9, 9L, 47, 49, F Market, Metro-Van Ness Station
The Citizens' Advisory Council is an advisory body to the SFMTA and provides recommendations to the agency on a variety of topics. Come join the meeting next Thursday where we will discuss the election of the CAC Chairman and Vice Chairman, the SFMTA's 20-Year Capital Plan, and the Rail Capacity Study.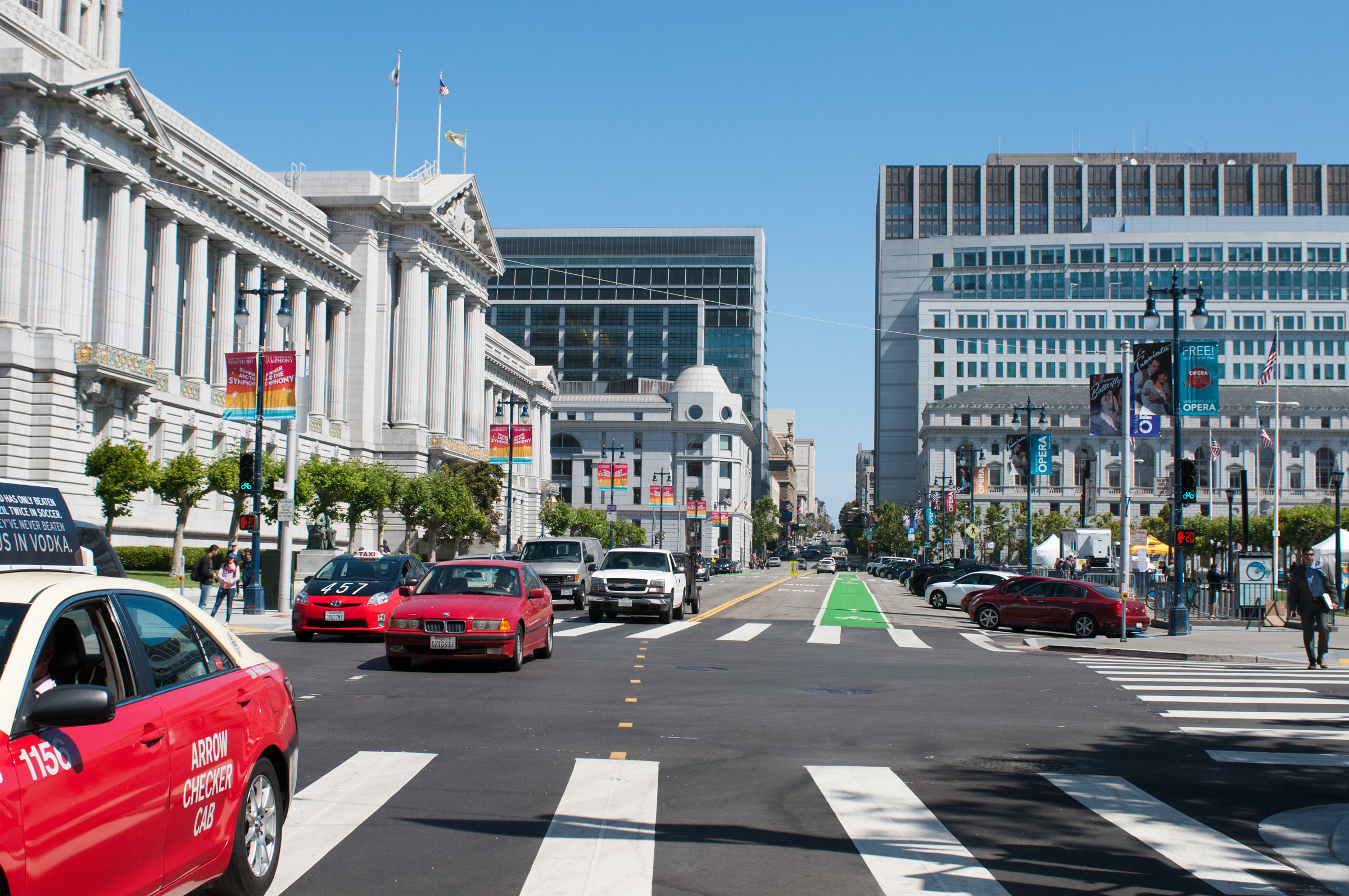 Vehicles driving southbound through the Civic Center heading towards Market Street on June 16, 2014. SFMTA Photo Archive
Our Meeting Round-up feature highlights different SFMTA public meetings that will be held within the coming two weeks. These meetings give you the chance to share your ideas and provide us with helpful feedback. Join us at our next meeting to learn more about SF's changing and complex transportation system.
Those listed above are just a few highlights. You can find a full list of upcoming meetings and keep up to date on your favorite SFMTA committees here.