Vision Zero - Safety It's Your Turn: Funding Opportunity for Community Based Organizations Around Traffic Safety Education and Outreach
Thursday, November 5, 2020
In San Francisco, left-turns are one of the top three crash factors in severe and fatal collisions for people walking and biking. In 2019, almost 40% of all traffic fatalities in the city involved a left-turning vehicle. To encourage safer behavior, the SFMTA is announcing the Vision Zero Safety – It's Your Turn Community Grant opportunity for community-based organizations (CBO) to share traffic safety information that compliments street changes.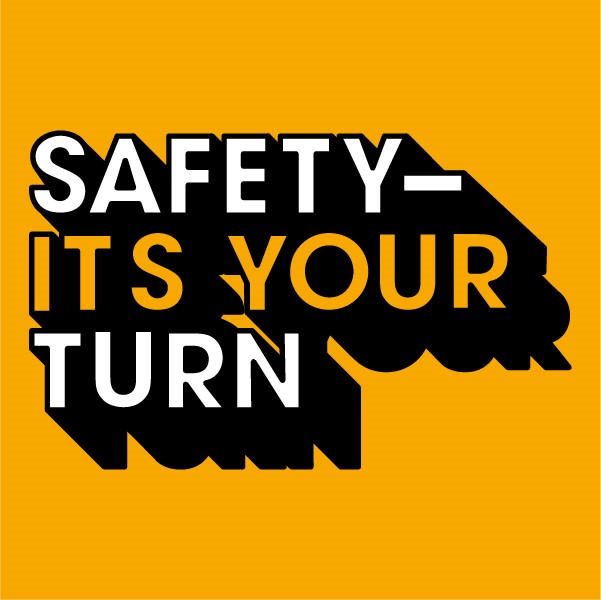 Speed is the most dangerous factor when turning left. At 30 mph, a person is twice as likely to die if hit by a car. That's why in October 2020, the SFMTA announced (pdf link) the Left-Turn Traffic Calming Projects and the Safety—It's Your Turn campaign. Left-Turn Traffic Calming Projects place traffic calming devices such as painted safety zones, delineators, and left-turn guide bumps at street intersections in order to reduce the speed at which a car can make a left-turn.
The Safety—It's Your Turn campaign is a traffic safety education campaign designed to raise awareness about the dangers of unsafe left turns, to promote better driving behavior and to encourage walking and bicycling. In October, street teams began conducting door-to-door merchant and resident outreach, car-to-car outreach and posting Safe-Spot posters around the Left-Turn Calming Projects.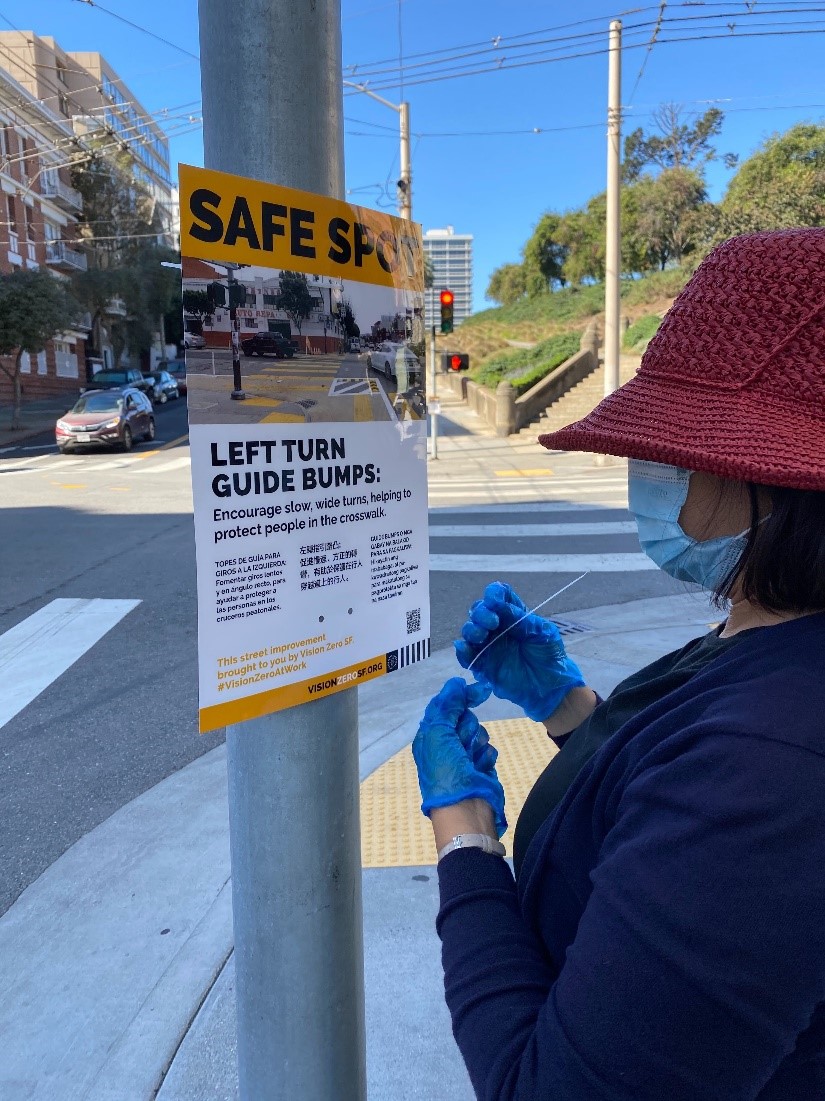 An outreach worker puts up a poster Safety – It's Your Turn poster. 
To complement the Safety—It's Your Turn campaign's citywide outreach starting January 2021, the SFMTA is announcing a grant opportunity for community-based organizations (CBO) to conduct traffic safety education and outreach within the community. The Safety – It's Your Turn Community Grant includes up to three $20,000-$30,000 grant awards and up to four awards between $10,000-$20,000.
The SFMTA recognizes that CBOs are often closer to the communities they serve, have a better understanding of community needs and are better positioned to share relevant health and safety messaging with their communities. The SFMTA is awarding up to seven funding opportunities to CBOs in the form of community grants to share information related to safer left-turn driving behavior and encouraging walking and bicycling with historically underserved communities in San Francisco. CBOs currently providing emergency COVID-response and serving Black, Indigenous, People of Color, the disabled, the unhoused, elderly, youth and/or non-English speaking communities are encouraged to apply. Transportation experience is not necessary!
Community Grants Key Dates
Informational Meeting: November 10, 2020. Register

here

for the Information Session!

Application Deadline: November 20, 2020

Applicants Notified: December 2020

Grant Kick-Off Meeting: January 2021

Project Implementation January 2021-March 2021Final Project reporting: April 2021
More information on the grant application, terms and FAQ can be found here.
For any questions regarding the Safety It's Your Turn campaign or the Community Grants, please email VisionZeroSFLeftTurns@sfmta.com