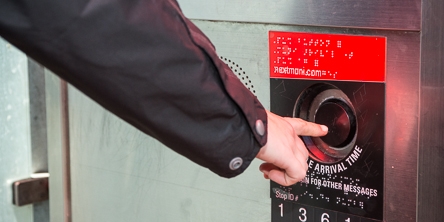 NextMuni
The website www.NextMuni.com can be used to select origin and destination stops on all light rail lines and bus routes. NextMuni information can be accessed from internet-enabled handheld devices such as cell phones and personal digital assistants (PDAs) so you can plan your trip in advance or as you go.
---
Real Time Arrival and Route Information
Digital signs that provide real-time arrival information are available at Metro stations and at many transit shelters. The distinctive new "seismic wave" transit shelters and many of the older shelters have "push-to-talk" buttons that, when pressed, provide a voice announcement of the arrival times displayed on the digital sign.
---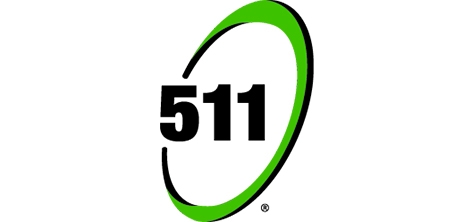 511
511.org provides information via telephone (511) and on the website www.511.org.  All bus stops have an ID number affixed to a shelter or pole. You can call 511 and provide the stop number to get bus arrival times. The website features a "Take Transit" trip planner. When you enter your origin and destination, the trip planner provides several bus and rail options for your trip.  
---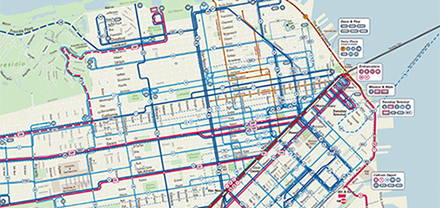 The SFMTA Streets and Transit Map
The SFMTA Streets and Transit Map shows all bus, light rail, historic streetcar and cable car routes and can be used to help plan a transit trip.  The map can be viewed on the SFMTA website or purchased at a variety of locations including at the SFMTA Customer Service Center at 11 South Van Ness Avenue, City Hall and many stores throughout the city.  The map also shows the location of station elevators on Market Street east of Van Ness Avenue and shows which surface F Line streetcar and light rail Metro stops are accessible for customers who require level boarding.
More Information
SFMTA Bike Map (This map displays street grades)
---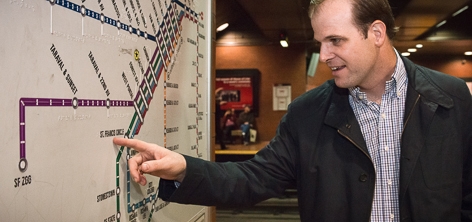 Braille and Tactile Maps
Braille and Tactile Maps are available from the San Francisco Lighthouse for the Blind.  Maps depicting a one mile square area around your home address are free for California residents and $15 for non-residents.  Maps are also available for some BART, CalTrain and Muni Lines. 
Tactile maps of the Muni Metro system are provided on the platfrom level of our Muni Metro stations.  
BART/CalTrain/Muni Tactile Maps
---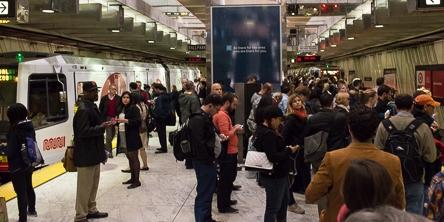 Crowds
Muni is most crowded on weekdays, during the morning and evening commute, which we refer to as our peak periods.  Our morning "Peak" is from 6:30am - 9:00am, and our evening "Peak" is from 3:30pm - 7:00pm.  Some of our busiest lines experience crowds all day long; these lines are the N, 8x, 14, 30, 38, 45, and 49 Lines.  During the summer months the cable cars and historic streetcars can also become very crowded.
Please Note:
On crowded vehicles, the priority seats may already be occupied by seniors and people with disabilities or by other customers. Upon request, operators can ask passengers to give up their seats, but cannot force them to do so. Be sure to keep grocery carts, parcels, luggage, etc. out of the aisle.