6th Street Pedestrian Safety and Safer Taylor Projects - Construction Starting as Early as January 2022!
Service Affected
Accessibility
Bicycle
Motorcycle
Parking
Taxi
Driving
Walking
Construction is coming! 
施工即將開始! | ¡Muy pronto comienza la construcción! | Paalala sa maagang paghahanda sa pagsisimula ng konstruksiyon!  | Начинается строительство! | Việc thi công đã bắt đầu! | 

البناء قادم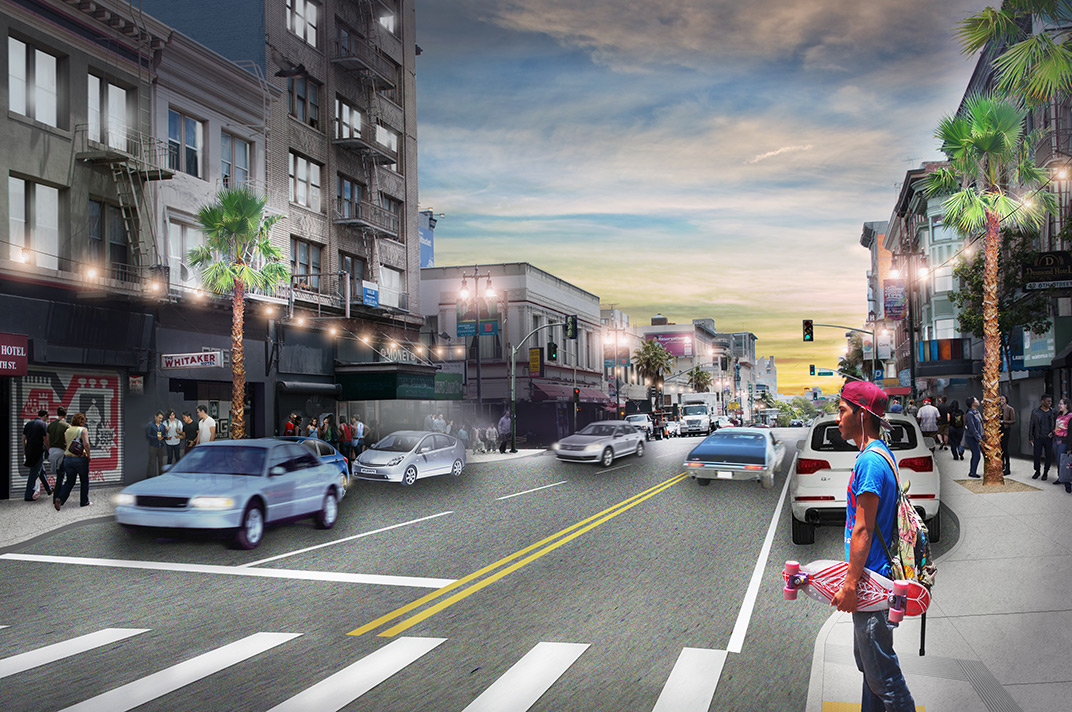 Thank you for your continued interest in the 6th Street Pedestrian Safety and Safer Taylor projects. We are pleased to inform you we will begin construction on 6th Street and on Taylor Street as early as January 2022! Construction is scheduled to take place through 2024. The 6th & Taylor Projects aim to enhance safety and livability for all travelers and community members through the installation of the following improvements:
Sidewalk Widening | Curb Bulb-Outs | New Traffic Signals | Upgraded Striping at Crosswalks | Streetscape Amenities
Construction will primarily take place along 6th Street between Market & Howard streets and Taylor Street between Turk and Ellis streets.
As these projects transition into the construction phase, construction management and notification will be led by San Francisco Public Works and their contractor, Esquivel Grading & Paving. Inc. Shayda Haghgoo from the SFMTA will continue to be available as resource for the community and is actively working on merchant marketing support for businesses that may be impacted by construction. You can contact her at shayda.haghgoo@sfmta.com
To receive detailed information about construction sequencing and/or schedule please navigate to and sign up for updates through San Francisco Public Works' Project Websites:  
SF Public Works 6th Street Construction Details
SF Public Works Safer Taylor Construction Details
For any on-site construction related issues please contact: Grace.Moore@sfdpw.org or call (628) 271-2246 or 24/7: (415) 354-4870
What to expect during construction?
Construction will most likely occur between the hours of 7 am and 5 pm, Monday thru Friday and 8 am to 6 pm on Saturday and Sunday. (week-end work is allowed but not currently scheduled)

Local access for residents and businesses to private driveways will be maintained, but please note that traffic may be temporarily delayed at times as a result of intersection and lane closures necessary to perform the work.

Please incorporate extra travel time to your trips during construction.
Please be sure to check the posted "No Parking/Tow Away signs" posted on sidewalk construction barricades for precise work hours because they may vary depending on construction task. Should there be limited on-street parking as part of the construction please check out the nearest SFMTA owned parking garages or lots throughout the City. You can access a map of all of the SFMTA owned parking garage and lot locations at

SFMTA.com/Garages-Lots

.
Come join the barbecue!
The City has partnered with Code Tenderloin to include Calming Corners Ambassadors during construction of both projects. Come meet the team and enjoy some food at the following dates, times, and locations:
6th Street & Jessie Street: Thursday, December 9

th;

2PM to 4PM

6th Street & Minna Street: Tuesday, December 14th; 2PM to 4PM

105 Turk Street: Tuesday, December 21st; 2PM to 4PM