Share your feedback about proposed transit and safety improvements on Geary in the Richmond (Outreach Round 1)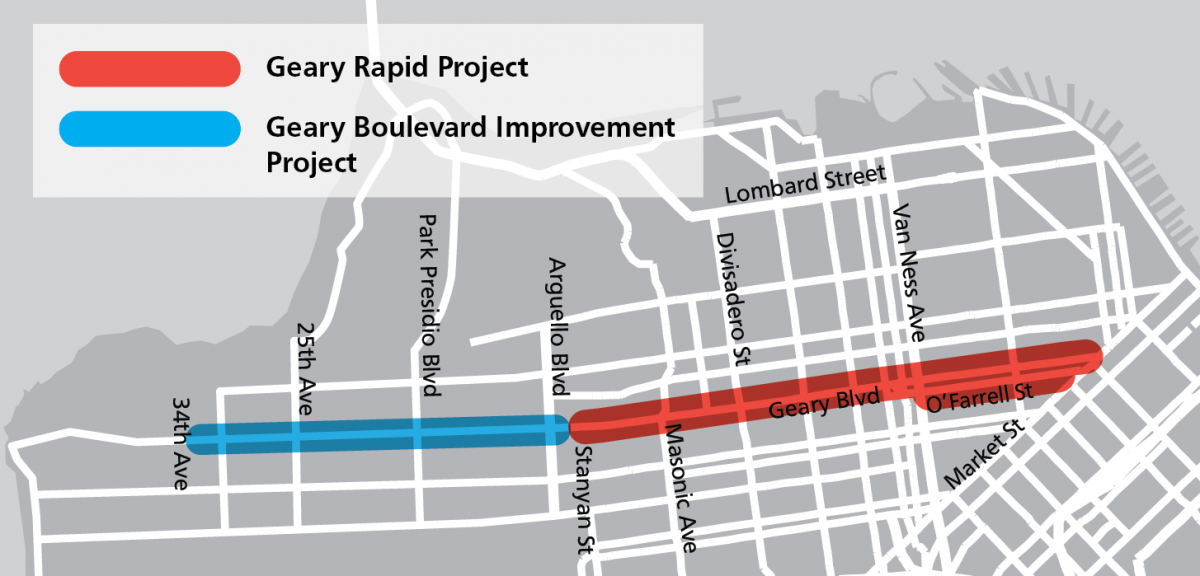 **UPDATE: The below content was part of the first round of outreach on the Geary Boulevard Improvement Project, conducted in fall 2021 to help inform the detailed design. You can review the spring 2022 project proposals, including detailed block-by-block project drawings, here.**
The Geary Boulevard Improvement Project, the second phase of Geary Bus Rapid Transit, aims to improve Muni's 38 Geary bus service and address traffic safety between 34th Avenue and Stanyan Street. This project had previously envisioned transit lanes running down the center of the street between 28th Avenue and Arguello Boulevard.
Based on the positive evaluation results of the transit lanes that were installed along segments of Geary Boulevard last year and permanently legislated in July, the SFMTA is now pursuing a revised side-running transit lane design for the Geary Boulevard Improvement Project. Like the original project proposal, the revised project design could expand transit lanes west of 15th Avenue, modify bus stop locations and install safety improvements.

Diagram showing side-running bus lane
 
---
Virtual Open House: Share your feedback on transit and safety proposals
What are your transportation priorities on Geary? Whether you walk, drive or ride the bus, we want your opinion on transit, parking, traffic and safety issues. Visit our online open house, where you will be able to:
Review draft design elements for the Geary Boulevard Improvement Project. Learn about improvements proposed between 34th Avenue and Stanyan Street.

Take a survey about project proposals. Help us pinpoint locations where you've encountered issues, like:
The worst 38 Geary bottlenecks?

The hardest blocks to find parking?

Where a loading zone would make the biggest difference?
Visit the Geary Virtual Open House anytime through September 30
The survey has been closed. To learn more, visit the Geary Boulevard Improvement Project page. 
---
Connect with staff
Want to connect directly with staff about the project? There are several options!
1. Join us for a virtual community presentation followed by a Q&A session:
Wednesday, September 15, 4 - 6 p.m.
Join online on the project page 
Or call-in by phone:

 
415-915-0757
; passcode:

 
337 495 256#
2. Drop by one of our pop-up events on Geary Boulevard:
Wednesday, September 22, 4 - 6 p.m. at the northeast corner of Geary/17th Avenue

Thursday, September 23, 11 a.m. - 1 p.m. at the inbound Geary/20th Avenue bus stop (southwest corner)
3. Have questions or have a group you would like us to present to? Contact us at ImproveGeary@SFMTA.com or 415.646.2300.