Geneva Avenue Multimodal Improvement Project
Project Overview
The southeastern neighborhoods of San Francisco include a diverse group of residents, many of whom rely on Geneva Avenue as a primary transportation route whether traveling by foot, bike, transit or car. The project would provide pedestrian safety, Muni reliability and bicycle facility improvements along Geneva Avenue between Ocean Avenue and Santos Street.
This corridor is part of the Vision Zero High Injury Network, is a Bicycle Strategy corridor, and Muni lines 8, 8BX, 43 and 54 operate through the project area. The neighborhood is also being analyzed as part of the Muni Service Equity Strategy.
Upcoming meetings
No upcoming meetings have been posted
Latest updates
No updates have been posted for this project
Project Details
 The Geneva Avenue Multimodal Improvement Project aims to improve pedestrian safety, Muni reliability and bicycle access for neighborhood residents, merchants, transit riders and visitors alike.   
Project goals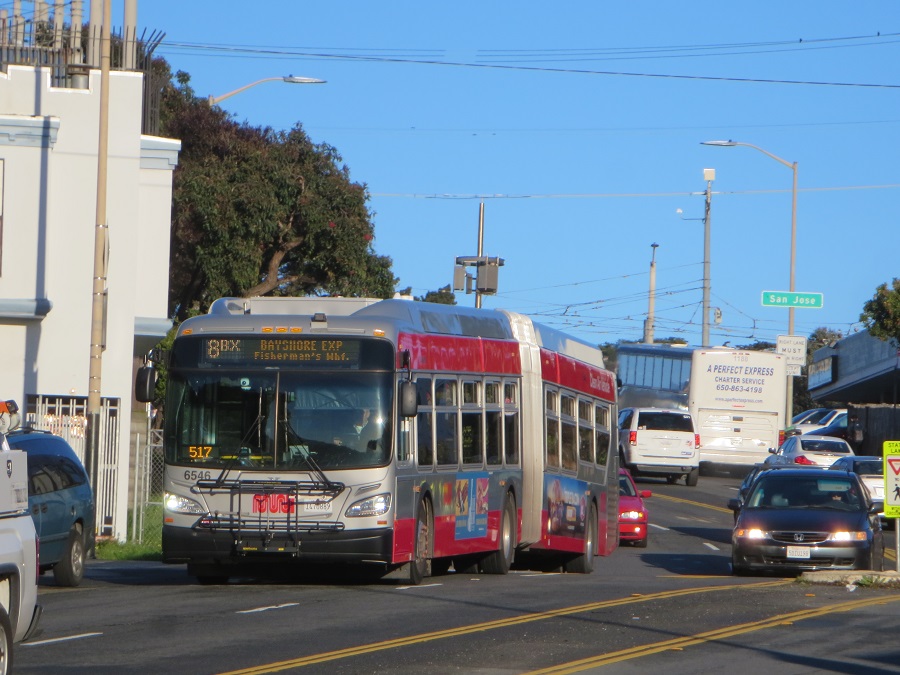 Improve safety along Geneva Ave in support of Vision Zero.
Make transit service more reliable to address crowding and provide a quicker, more comfortable ride.
Enhance bicycle connectivity to key destinations and improve cyclist safety and comfort.
Why Geneva Avenue?
Muni service is frequent but sometimes slow and unreliable.
Muni service along Geneva Avenue arrives every 2.5 minutes in the peak period, providing a direct connection to downtown and the Balboa Park BART Station. But service is often slowed by traffic congestion, closely spaced stops, and heavy boarding volumes at some stops.
The street is dangerous for people walking.
Geneva has narrow sidewalks and long distances between safe crossings in many locations. The wide roadway also leads to speeding.
Bicycle facilities aren't connected.
Disjointed bike facilities in the Geneva neighborhood do not offer cyclists direct connections to key destinations, or a comfortable, safe ride.
Community Input: Help us improve Geneva Avenue!
The SFMTA is looking to the community to help design a project that meets the needs of the neighborhood while achieving the project goals. Whether you're a daily Muni rider, live or work in the neighborhood, or you're a frequent visitor to the area, we want to hear about your transportation experience along Geneva. Your feedback will help us develop a project to improve safety and Muni reliability.
We're planning a series of outreach and engagement efforts to gather feedback starting in spring 2017. Sign up for project updates to stay in-the-know of opportunities to get involved.
In the meantime, you can always email muniforward@sfmta.com with your thoughts on how to improve Geneva Avenue! 
Project History
The Geneva Avenue corridor was originally analyzed in the Transit Effectiveness Project, which identified a series of modifications along the 8 Bayshore route. However, the SFMTA is taking a fresh look at the corridor and is planning to engage the community to develop a new scope of modifications for the street. 
Upcoming Meetings
No upcoming meetings have been posted.
Past Meetings
Monday, April 13, 2015, 6:00 pm

Wednesday, November 19, 2014, 6:00 pm

Saturday, March 1, 2014, 1:00 pm

Saturday, February 22, 2014, 11:00 am
Contacts
Muni Forward Transit Planner
Receive Updates
We will send you e-mail or SMS updates whenever the following are posted for the Geneva Avenue Multimodal Improvement Project:
Upcoming meetings
Project updates