Reimagine Potrero Yard with Us – Spring 2020 Update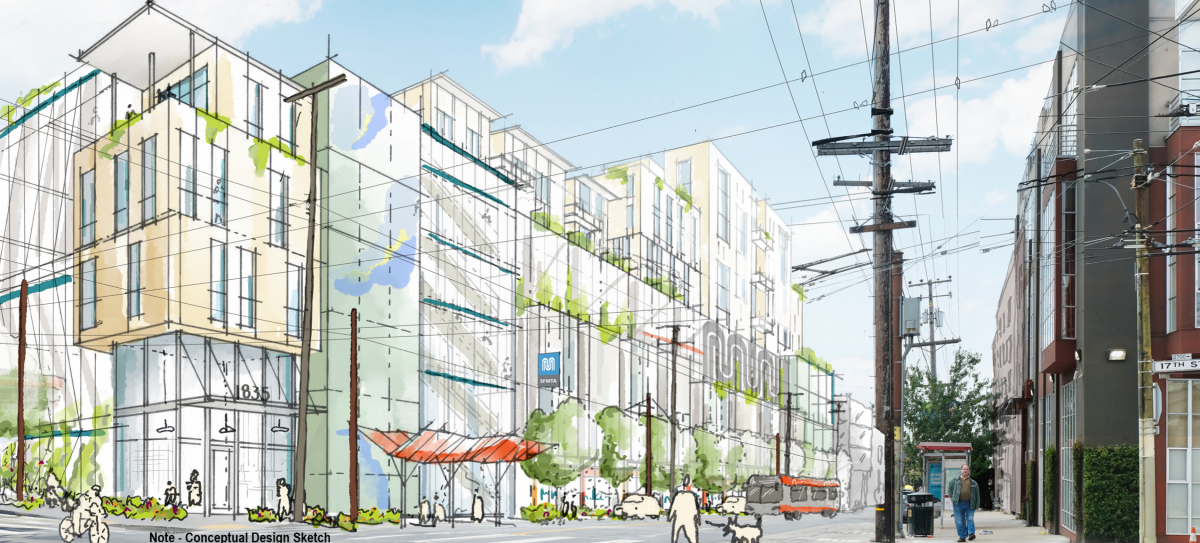 During this difficult time, we must do everything we can to maintain our health and wellness. In response to COVID-19, many of our city services have been temporarily transformed, but despite this pandemic, it's important that we continue to invest in our infrastructure to keep current and future generations moving throughout San Francisco. Potrero Yard, one of Muni's oldest bus yards, is an important facility that supports transit operations. 
Improvements proposed through the Potrero Yard Modernization Project offer solutions to ensure we maintain our fleet of buses as efficiently as possible, accommodate our new buses that will be delivered in the next six years, enhance our resilience to climate change and natural disasters, and ensure our staff is able to perform their work in a safe and efficient way.
Potrero Yard Today
Potrero Yard operates 24 hours a day, 7 days a week and supports six Muni routes (5 Fulton, 5R Fulton Rapid, 6 Haight/Parnassus, 14 Mission, 22 Fillmore, and 30 Stockton) that carry 14% of Muni's total ridership per day. 
Due to the building's age and changes in bus fleet technology, major improvements are needed to ensure we continue operating this facility for the next 100+ years.
The Project Concept
Last October, we hosted an Open House to present the draft project concept and hear your feedback. The draft project concept was developed for a new Potrero Yard through an 18-month period of community engagement to ensure the new facility serves the community, supports our workforce, and reflects the values of the neighborhood.
The modern yard will be able to store 213 buses, increasing capacity by approximately 50%.
In addition, the facility will include the following features:
LEED Gold Certification

Built to an elevated structural and seismic standard

Infrastructure for battery-electric buses

Centralized location for Street Operations - Muni's "first responders"

Centralized, modern space for Muni operator training

Ground floor active uses on Bryant and possibly 17th streets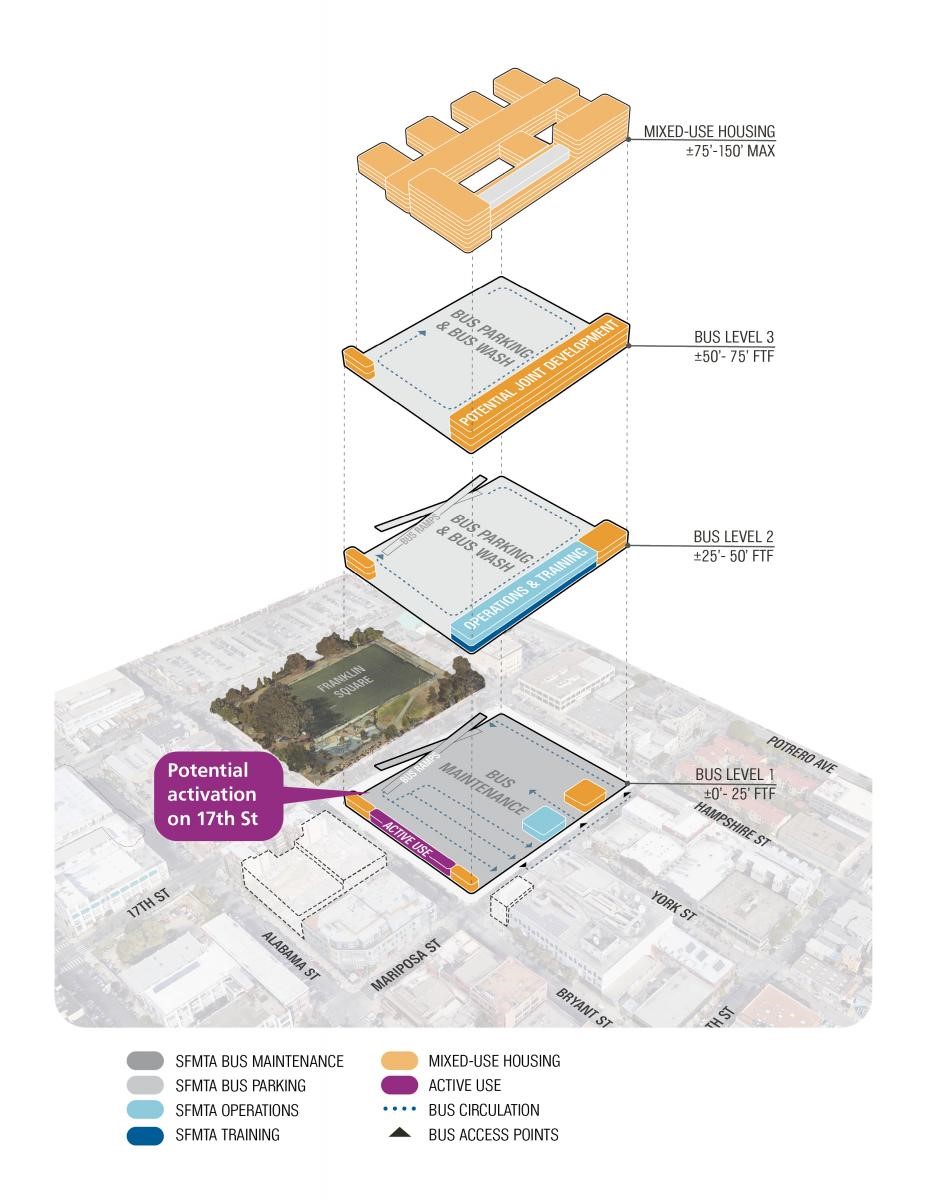 Housing on Top of the Yard
We partnered with other City departments (SF Planning Department, Public Works, Mayor's Office of Housing and Community Development, and Office of Economic and Workforce Development) to explore how the land can be used to accommodate housing above Potrero Yard. Guided by input from the community, we've concluded that housing is a feasible, compatible use on the site.
We're proposing a range of 525 to 575 rental units with a goal that 50% of the total units are affordable. Many factors informed the proposed project's size and unit count, such as building height, massing, financial feasibility, and shadow considerations.
Where we Are Now

The environmental review process is underway, and we are developing a Request for Qualifications (RFQ) for a joint development partner to design and build the project. We are also introducing legislation to the Board of Supervisors that will enable the SFMTA to deliver the project following a continued public process and environmental review and approval process.
Since November 2019, we have been working with the Planning Department on the environmental review process (CEQA) that will analyze potential environmental impacts and identify strategies for mitigating those impacts.
At the same time, we are working on the RFQ and RFP to procure a joint development partner to finance and build the project. The RFQ process will evaluate the qualifications of proposed project teams and determine the top three responders based on an evaluation of their relevant experience and qualifications. Those top three responders would then be invited to submit a full proposal through a subsequent RFP process. We hope to release the initial RFQ in early June to develop the shortlist of qualified firms. We will then issue an RFP to shortlisted firms in late summer.
Join the Conversation
We recently sent out a spring 2020 update brochure through the mail and email to residents who live near Potrero Yard, Muni employees, and community stakeholders who are generally interested in the project.
We're also hosting virtual community conversations on Saturday, June 6, to give an overview and update about the new Potrero bus yard.
Participate in our virtual conversations:
Saturday, June 6, 11 AM to noon (English), Call 877-229-8493 and enter 119593#
Saturday, June 6, 1 PM to 2 PM (Spanish), Call +1-669-900-6833 and enter 81568997301#
We hope you can join us!
You can also provide input by participating in a phone-based survey by texting "Potrero" to (415) 599-8662 in English or "Potrero" to (415) 707-5406 in Spanish
Learn more about the project and subscribe to project updates by visiting www.sfmta.com/PotreroYard.
Also, visit Talking Headways Podcast: Housing on the Bus Yard to hear the project team discuss the project. 
For more information, please email PotreroYard@sfmta.com or call us at 415.646.2223.