SFMTA Customer Service Center
COVID-19 UPDATE
The Customer Service Center at 11 South Van Ness Avenue will be temporarily closed until the Public Health Order to shelter in place is lifted.
The following measures and alternatives are in place for SFMTA services during this public health emergency.
Citation/Boot/Tow Hearings – Deadlines extended – you may request 48-hour tow hearing at hearingsgeneral@sfmta.com or call 415.701.5401.
Citation Payments – Payment deadlines suspended – no additional late penalties will apply
Clipper – Other sales locations and to order youth/senior Clipper cards by mail at the Clipper card website
Community Service/ Payment Plan – Deadlines for completion of existing plans and application for new plans extended
Lifeline Sticker Sales – Recertification suspended until further notice and pass sales suspended, existing Lifeline ID (without sticker) accepted for proof of payment
Lifeline Photo ID Issuance – Customers needing a new or replacement Lifeline card and who must travel for essential needs may still ride transit - citations will not be issued
Meter Cards – Alternate sales locations
Residential Permits – Enforcement suspended – permits not required
The SFMTA Customer Service Center is located on the street level of 1 South Van Ness Avenue, the SFMTA's offices. It has a separate 11 South Van Ness Avenue entrance, which is to the right of the office entrance. See Finding Us, below.
Hours
Monday - Friday from 8:00 a.m. - 5:00 p.m.
Closed on all major holidays.
In-person services
On-line services:
If you are having difficulty with any of the above on-line transactions, please contact the San Francisco 311 Customer Service Center.
Payment Types Accepted :
Visa, MasterCard, AMEX, personal checks and cash are accepted at the SFMTA Customer Service Center.
Phone services
Pay citation by phone. 415.701.3099 or 1.800.531.7357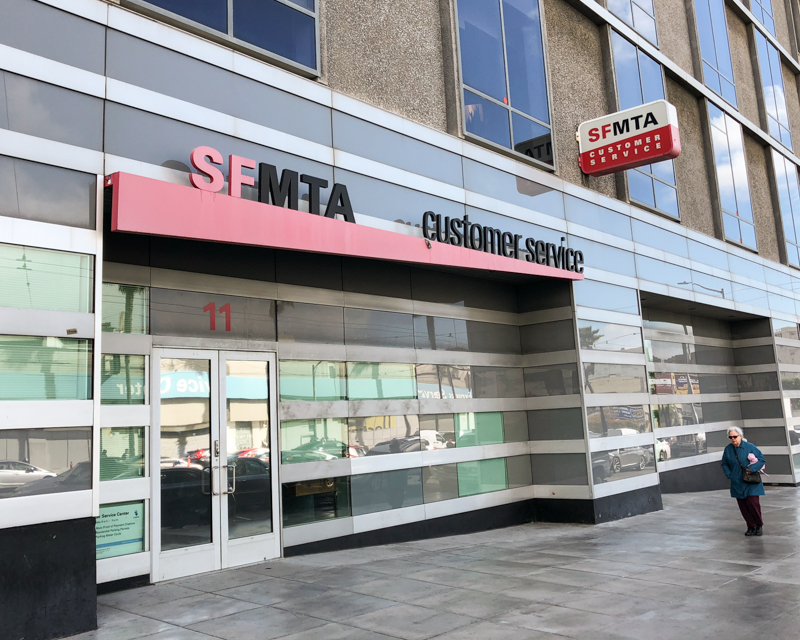 Walk south from the corner of the building on the southeast corner of Market Street and South Van Ness Avenue. Continue past the first entrance, which is to the One South Van Ness Avenue offices. The second entrance is to 11 South Van Ness and the Customer Service Center.
See also
The San Francisco 311 Customer Service Center provides SFMTA and other information over the phone or the web.
Accessibility Info
Wheelchair access from street
Automatic doors