September is Transit Month! 
Wednesday, September 8, 2021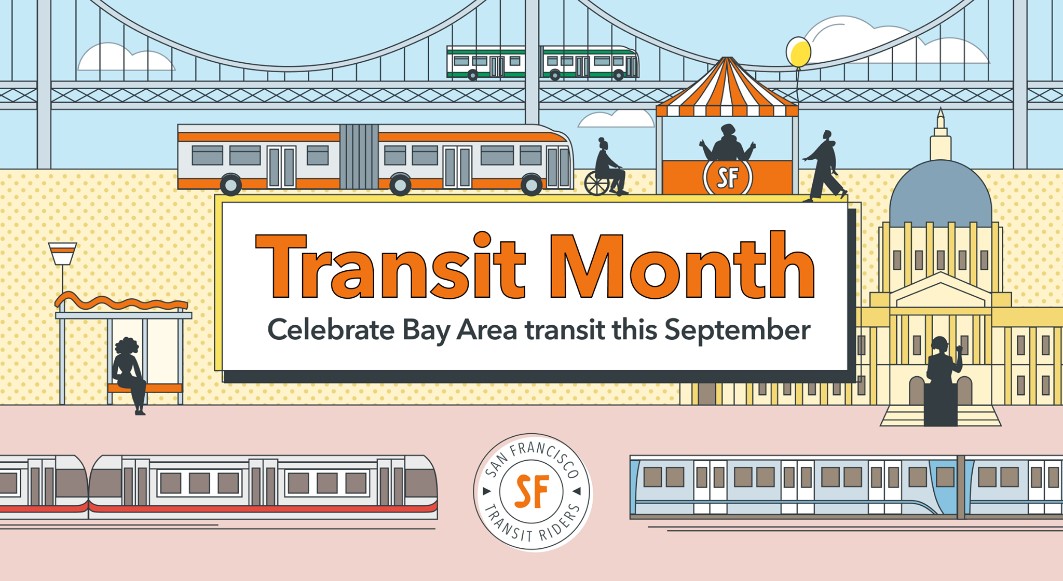 Guest Author Cat Carter
San Francisco Transit Riders, an independent nonprofit advocating for the needs of public transportation customers, started Transit Month six years ago as a way to highlight the importance of public transit in San Francisco - for the city's livability, accessibility and sustainability. This event honors all the riders using Muni to travel in and around San Francisco, as well as all the Muni operators who get us there safely every day. We'll be celebrating the role of transit in the Bay Area's recovery with events, rides and prizes. 
Daily Muni ridership never dipped below 100,000 during shelter-in-place-- that's a lot of people who depended on Muni to access essential jobs and services. Muni staff showed up every day, even in the face of the uncertainty of COVID-19, to make sure people could continue reaching their destinations. San Francisco wouldn't be able to exist or recover without all of the Muni staff who make transit possible-- from planners, to street ambassadors, to operators, to mechanics, and the people in supporting roles behind the scenes! 
This Transit Month, we also need to talk about the Muni system we need for the future.  
We know the climate is changing. Public transit has a central role to play in the solution: while serving over 700,000 daily rides pre-pandemic, Muni contributes less than 1% of San Francisco's greenhouse gases. Getting more people out of cars and riding transit is essential to combating climate change. This means making Muni much more competitive with travelling by car – ensuring that it's fast, reliable and affordable. This requires investing in more drivers, more buses and trains, and more transit priority and infrastructure projects. 
As a society, we have also recently begun broad discussions about equity, access and the effect of institutional racism. Public transit has a central role in this discussion as well: it has the potential to give people access to opportunities, resources, and each other. This goal can only be achieved if there is good, fast, reliable service reaching all communities and neighborhoods. We, as riders, need to speak up about the type of service we need, and what safe and accessible transit for everyone looks like. 
Public transit is also essential for the stability and growth of our economy. Not only do we need reliable public transit to get to our jobs, but changes in street use over the past year have shown that businesses do better when we accommodate different modes of travel throughout the city beyond the private car. Good access by public transit is one of the hallmarks of bustling, successful business districts. 
Right now, Muni service looks a bit different than it did in 2019. These changes are largely a result of a drop in ridership (and revenue) and changes in rider travel patterns. But the changes are also a result of a reckoning with what resources SFMTA actually has. 
Now is the time to lay the foundation for the Muni system of the future - one that is clean, safe, easy to use, efficient, reliable and with plenty of service connecting everyone. We can have all of that. But to do it we need to come together as a city to build that vision. Importantly, we need to build the support for funding it. We need everyone on board the bus to speak up for the importance of public transit. That's what Transit Month is all about! 
You can check out all our events at the Transit Month website, including our Riders First party on October 1. Sign up to win prizes just for riding transit! See you on the bus!