Up for Approval: A New Permit Program for Private Transit, SF's Modern 'Jitneys'
Thursday, September 14, 2017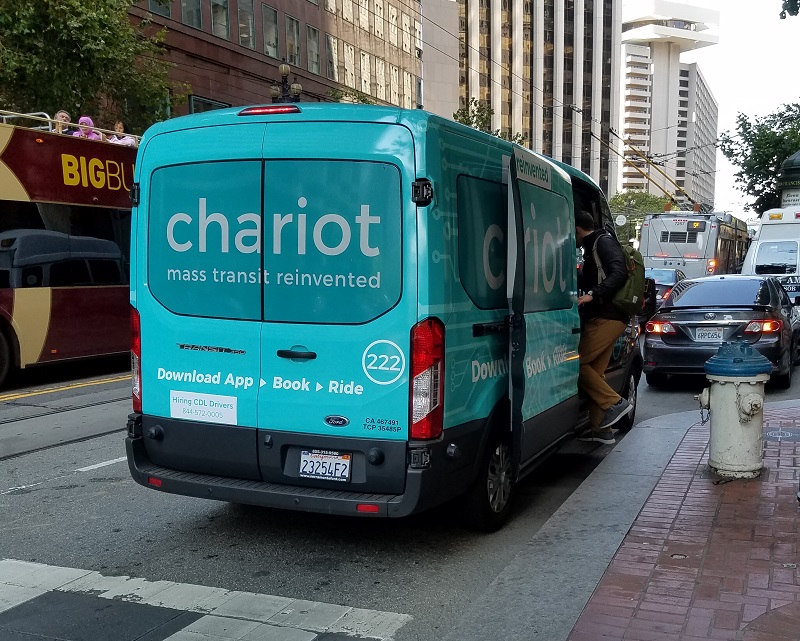 Update: Approval of the private transit vehicle permit program was postponed until the SFMTA board's next meeting on Tuesday, October 3.
Private transit services in San Francisco may be most commonly known these days by relatively new brand names like Chariot. But for decades up until the 1970s, these services were a popular way to get around, and they were best known as "jitneys."
Now that private transit vehicles (PTVs) have re-emerged, it's time to reinstate a modern version of San Francisco's old jitney rules to help ensure that they operate safely and efficiently.
On Tuesday, the SFMTA Board of Directors will consider approval of a new permit program to regulate PTV services.
Ensuring Private Transit Fits in on City Streets
High-occupancy private transit vehicles are offering more mobility options for people in San Francisco. Like any passenger vehicle, PTVs are allowed to pick up and drop off passengers at any curb where stopping is not prohibited. However, since new PTV services started operating a few years ago, the city has heard concerns about PTVs stopping in unauthorized locations such as crosswalks, traffic lanes, Muni boarding zones and other red curb zones.
The proposed PTV permit program would establish new local requirements to ensure that these services operate in a way that is safe, has a minimal impact on public transit, is responsive to the needs of the city and its residents, and is accessible for people with disabilities. It would also allow the city to collect data from service providers to better understand how they affect San Francisco's transportation system.
Some key requirements in the proposed PTV permit program include:
Topic

Proposed Regulations

Stops & Routes

Stops allowed in white, yellow loading zones

New routes should complement Muni service, not replicate it

Data

GPS and ridership

Licensing/ Insurance

Register with CHP for inspections

Insurance requirements similar to CPUC

Vehicles

No more than 25 feet in length

Newer models that meet more stringent emission standards

Drivers

Training, including large vehicle urban driving safety video

Accessibility

Equal access for persons with disabilities

Communications

Designated point of contact

Publicly accessible fare information

Service Disruption Prevention Plan
As with other SFMTA permit programs, companies that receive PTV permits would be required to pay a fee to cover the cost of administering the program, and they would be subject to penalties for violations of the permit terms and conditions. The permit fee would be scaled to the size of the company's vehicle fleet.
About Private Transit Vehicles and How They're Regulated
The only private transit service currently operating in San Francisco is Chariot, which picks up and drops off passengers using shuttle vans and a smartphone app. Unlike transportation network companies like Uber and Lyft, or tour buses and employee commuter shuttles, PTV services are open to the public, charge individual fares and operate on fixed routes.
While all of these types of services generally require permits from the California Public Utilities Commission to operate between cities, the SFMTA regulates transportation services that operate exclusively in San Francisco.
San Francisco's Jitney Rules: A Brief History
Private jitneys were a popular way to get around in San Francisco until the 1970s, when the city saw BART introduce a more attractive way to travel along Mission Street, among other changes. The city stopped issuing new jitney permits, and voters approved a ballot measure that banned the transfer of existing permits to new drivers.
San Francisco's jitney regulations remained long after the jitneys stopped operating, and the regulations grew outdated. In 2011, the SFMTA Board of Directors repealed them and left a placeholder for new regulations to be reinstated when needed.
That time has come since modern jitneys, now called PTVs, started operating in San Francisco in 2014.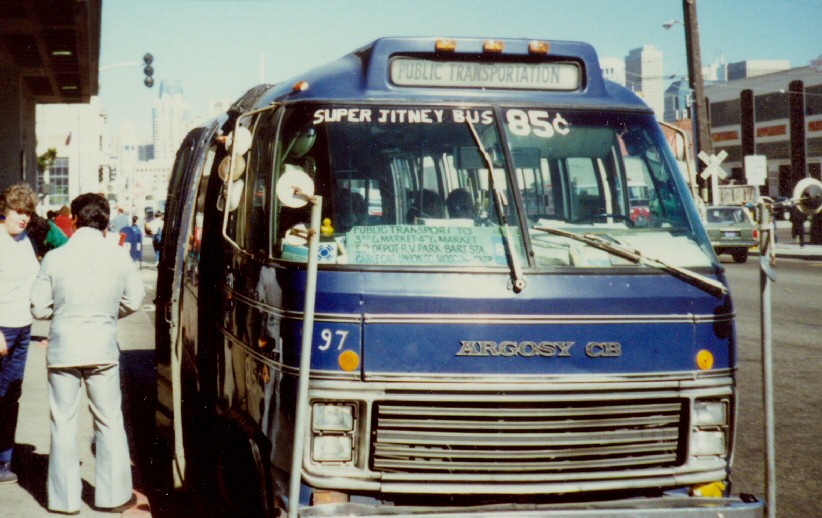 Jitneys were common in San Francisco until their popularity declined in the 1970s. Photo: Mark Wahl
Preparing for Transportation Innovation
This effort to create new private transit regulations reflects the spirit of San Francisco's new Emerging Mobility Guiding Principles framework, which we and our city partners at the SF County Transportation Authority adopted to help ensure that innovative transportation changes meet our city's needs.
These principles include safety, transit priority, equity, accessibility and sustainability. They also factor in congestion, accountability for transportation providers, impacts for workers and consumers, as well as financial impacts.
Transportation innovation is happening quickly. While we can't predict what changes the future will bring, we can ensure that our city's policies keep pace with its evolving environment.