More Repairs and Maintenance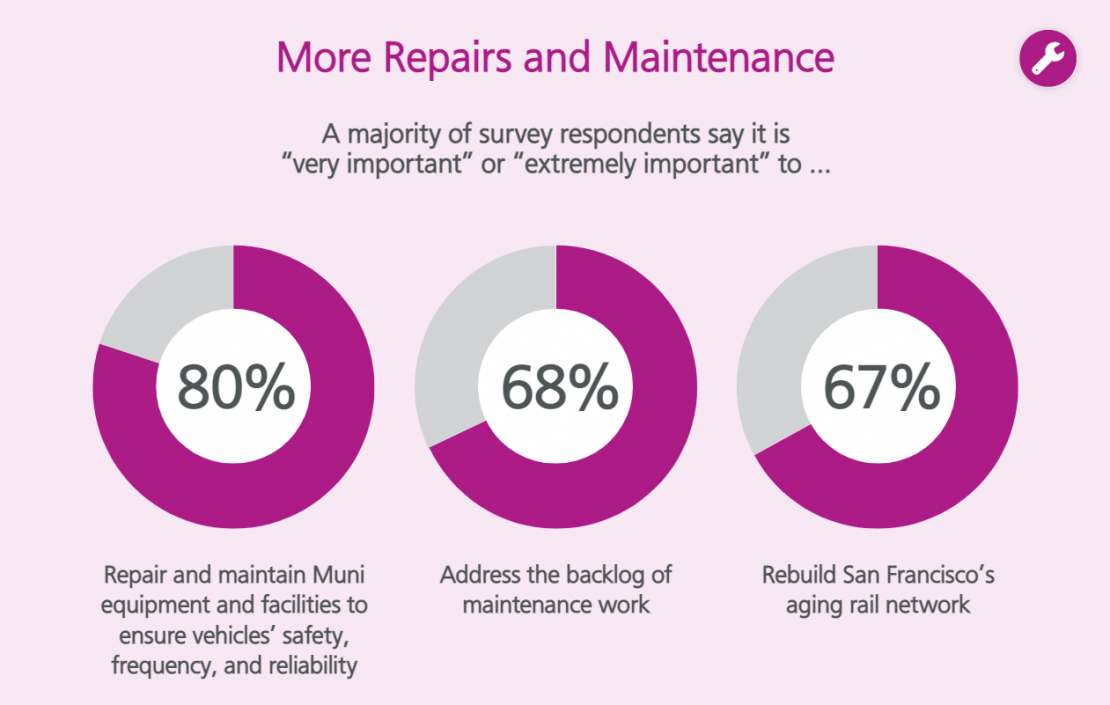 Over the last decade, SFMTA has invested in maintaining Muni's bus fleet, significantly reducing delays from bus breakdowns. We now operate the greenest fleet in North America, one of the most important tools we have to fight climate change. It is time to do the same for our outdated subway and train control system, deteriorated maintenance equipment, and crumbling, seismically unstable bus yards. Our infrastructure is the backbone of the transportation system and what makes it work. It must be restored to continue to support reliable Muni service. 
Aging Rail Network & Bus Yards 
San Francisco's aging rail network needs to be rebuilt. A modern rail system can better serve our growing communities and provide predictable, fast service that is reliable.
We need to update Muni Metro controls and infrastructure, improve reliability of the T Third, provide longer trains on the N Judah, and provide higher quality service on the street-level M Ocean View between West Portal and SF State/Parkmerced.  
Many Muni bus yards were built decades ago, with some over 100 years old, having been rebuilt shortly after the San Francisco Earthquake. They are too small to accommodate our current fleet and do not meet current seismic safety standards. This slows down bus repairs which causes service delays. Updating bus yards will help support reliable Muni service, modern maintenance and cleaning, technology for electric buses, and enable frontline staff to safely and efficiently do their jobs.
Backlog of Maintenance Work
SFMTA needs to tackle the State of Good Repair backlog. This means replacing obsolete equipment and strengthening our critical infrastructure and facilities to handle the increased demands of San Francisco's continued growth. The SFMTA's 2020 State of Good Repair Report and presentation highlight the critical need, describing a $3.83 billion backlog in infrastructure assets which are past their useful life. Investments in core transportation infrastructure result in uninterrupted, reliable transit service and a more sustainable and resilient transit system for the future.