Spring 2021 43 Masonic-44 O'ShaughnessyTemporary Emergency Transit Lane Project Update

The SFMTA will soon implement initial segments of the approved Temporary Emergency Transit Lanes for both the 43 Masonic and 44 O'Shaughnessy Muni routes. This spring, at several points along these routes and on various streets, we will install transit lanes and left-turn restrictions to keep our city moving. Maps show the segment details below.
Throughout the course of the pandemic, the SFMTA has focused on maintaining a core service network that serves essential workers and those who depend on Muni for essential trips. To avoid overcrowding and ensure frequency of service, we began implementing Temporary Emergency Transit Lanes on key routes at locations where traffic bottlenecks occur.
Based on our monitoring of transit speeds and traffic conditions, the limited availability of paint/sign shop workers, weather impacts and the experience we have had with temporary lanes already installed in other parts of the City, our team has prioritized implementation of several initial segments of the 43 Masonic and 44 O'Shaughnessy approved Temporary Emergency Transit Lanes for installation.
Our current work schedule proposes implementing these initial segments beginning in April provided improvements are finalized on other projects already underway. (Rainy weather can affect our ability to apply paint to street surfaces, which impacts scheduling.)
Initial Segments for Spring 2021 Implementation
The following are the initial segments of the approved temporary project that we will implement this spring:
Convert the lane closest to the curb to a temporary transit lane: 
1.         Presidio Avenue southbound only: Bush to Sutter streets
2.         Masonic Avenue southbound only: Fell to Oak streets
3.         Woodside Avenue eastbound only: Ulloa Street to Portola Drive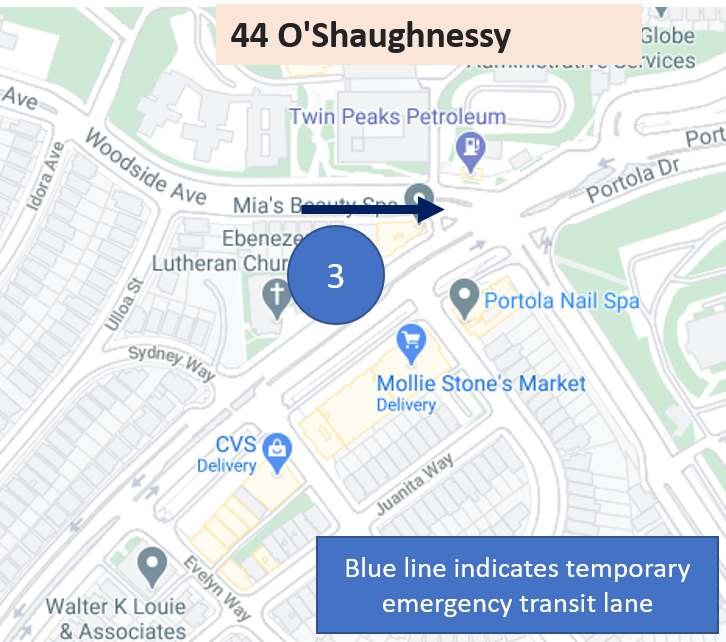 4.         Bosworth Street westbound only: Lippard to Elk streets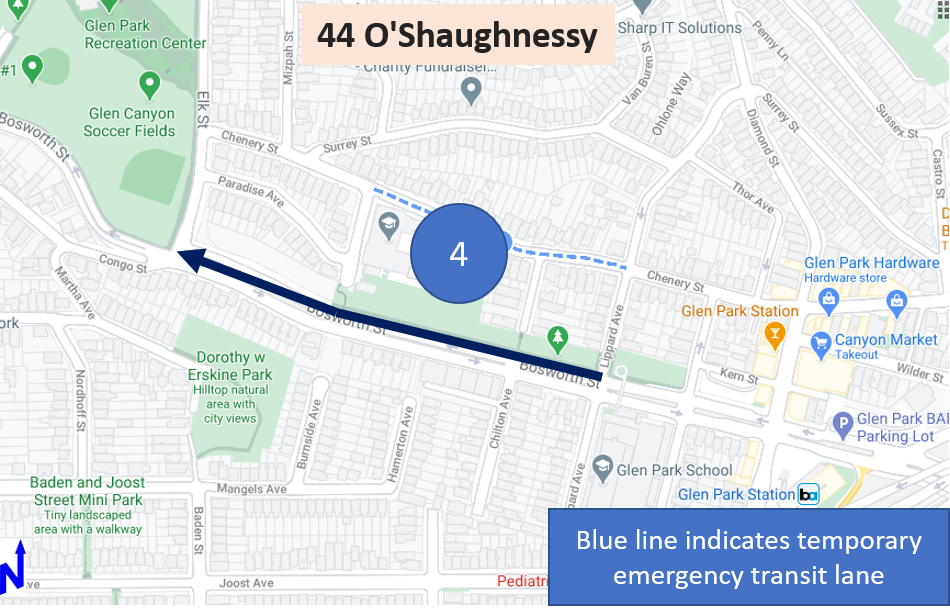 Implement a "keep clear" zone
5.  Laguna Honda Boulevard eastbound only: at Forest Hill Station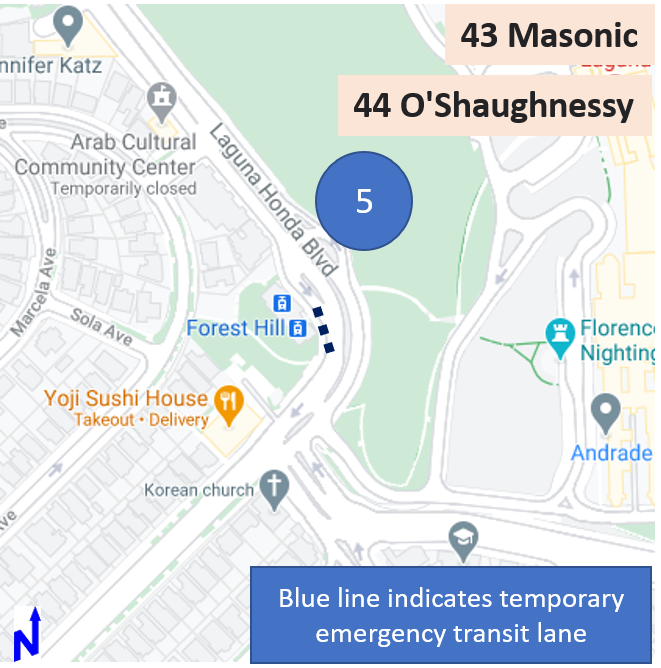 Implement full-time "no left turn" restrictions
6.         Masonic Avenue both directions: Turk to Haight Streets at intersections that do not have dedicated left turn lanes.  Currently, "no left turn" restrictions are only in effect during peak hours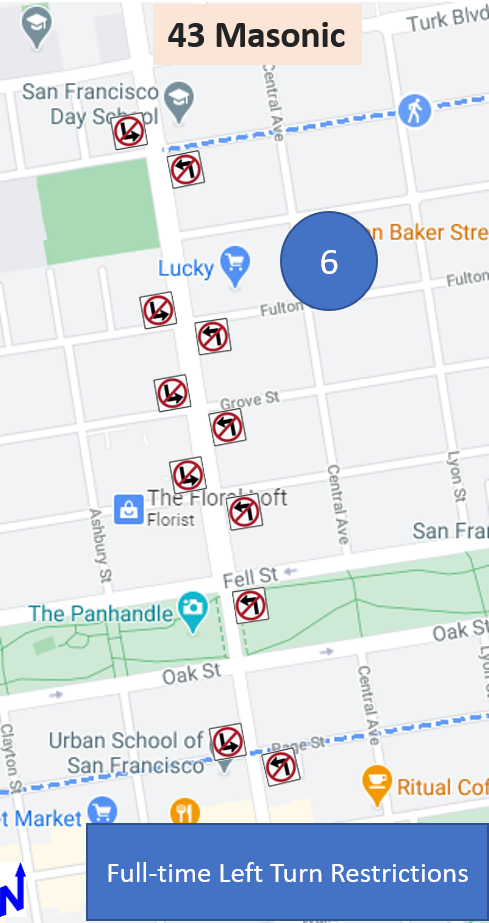 Most intersections on Masonic Avenue do not have dedicated left turn lanes, which causes vehicles to frequently make quick lane changes into the right lane to go around vehicles waiting to turn left.  These quick lane changes can often impede the movement of buses in the right lane.  Implementing full-time left-turn restrictions at these intersections, which is a component of the temporary emergency transit lanes approved project, will reduce these quick lane changes and improve bus speeds and reliability. In addition, since left-turns are a chief cause of vehicle collisions in San Francisco, this should provide a safety benefit for pedestrians, seniors, people on bicycles, and others on this vital stretch.
Fully-Approved Project
The fully-approved Temporary Emergency Transit Lanes project for the 43 Masonic and 44 O'Shaughnessy, including the portions that are not part of this initial phase, can be viewed on our project website: https://www.sfmta.com/projects/43-masonic-and-44-oshaughnessy-temporary-emergency-transit-lanes
Ongoing monitoring will help us determine when to move forward with the remaining segments of the 43 Masonic and 44 O'Shaughnessy approved temporary project in the future.
We appreciate the feedback we have received from the community and will monitor the effectiveness of these changes to determine whether there is support for making them permanent either in the near-term locations or for the full approved temporary project.
Please send comments or questions to TellMuni@SFMTA.com, and visit our website to sign up for project updates.