San Francisco Launches Safety - It's Your Turn Campaign
Thursday, January 21, 2021
In San Francisco, left turns are one of the top three crash factors in severe injuries and fatal collisions for people walking and biking. SFMTA is kicking off the new year with a city-wide education campaign designed to encourage safer driving behavior around left turns. The Safety - It's Your Turn campaign will use multiple strategies, including grants to community organizations, to engage the public at different times and raise awareness about unsafe left turns.
Drivers especially will see the Safety - It's Your Turn messaging on billboards and buses, hear about it on the radio, and read about it on social media and in newspapers. This community education program also accompanies the SFMTA's Left-Turn Traffic Calming Project.  Under that project, launched in October 2020, the SFMTA installed safety infrastructure at 7 intersections on the High Injury Network.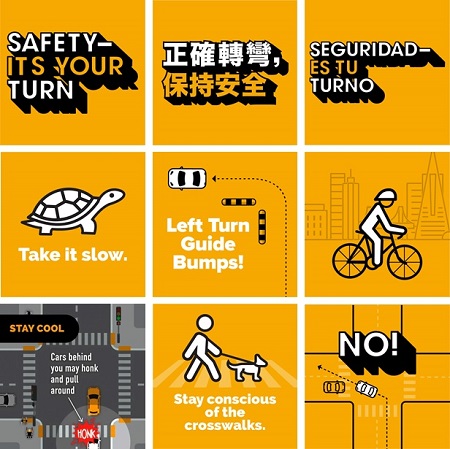 Community Grant Awardees
After a competitive application process, the SFMTA has awarded six grants to community organizations around the city to amplify the Safety It's Your Turn campaign.  Community organizations are closer to the communities they serve and are better positioned to develop culturally-responsive outreach programs and materials. In addition to sharing safe left-turn messaging, another objective of the grant is to reach communities historically underserved by transportation projects. For many of the organizations, this is their first-time developing Vision Zero messaging, and the SFMTA is pleased to be expanding its engagement with community stakeholders and leaders. The selected grantees include:
These community groups plan to share safe left-turn messaging directly to food-delivery drivers, hard-to-reach communities along the High Injury Network, teen drivers, and vulnerable road-users. Examples of the deliverables include map booklets for the visually impaired, teen driver safety kits, and art-inspired public service announcements.
Remember that 40% of traffic fatalities in San Francisco involve drivers making left turns. Drivers can make a safe left turn by yielding to pedestrians and bicyclists, taking it slow at less than 5 mph, and making their turn nice and wide.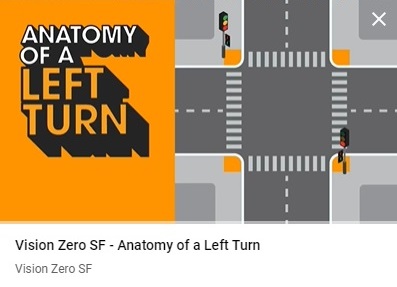 Vision Zero
San Francisco adopted Vision Zero (www.visionzerosf.org)as a policy in 2014, committing to build better and safer streets, educate the public on traffic safety, enforce traffic laws, and adopt policy changes that save lives. The result of this collaborative, citywide effort is safer, more livable streets as San Francisco works towards the Vision Zero goal of zero traffic fatalities. San Francisco is engineering inherently safer streets, enforcing traffic laws more effectively, and targeting traffic-safety education to reach its Vision Zero goals.