Tuesday, October 4, 2016
This Saturday, we gathered with community members, elected officials and our partner agencies to cut the ribbon on Unity Plaza at Ocean and Phelan avenues, next to the City College Ocean Campus and a key hub for Muni service.
The new public gathering space will connect people with nearby schools, businesses and other destinations. We and our partners hope it will be a convenient and enjoyable gathering place for folks from the surrounding neighborhoods and the city college community.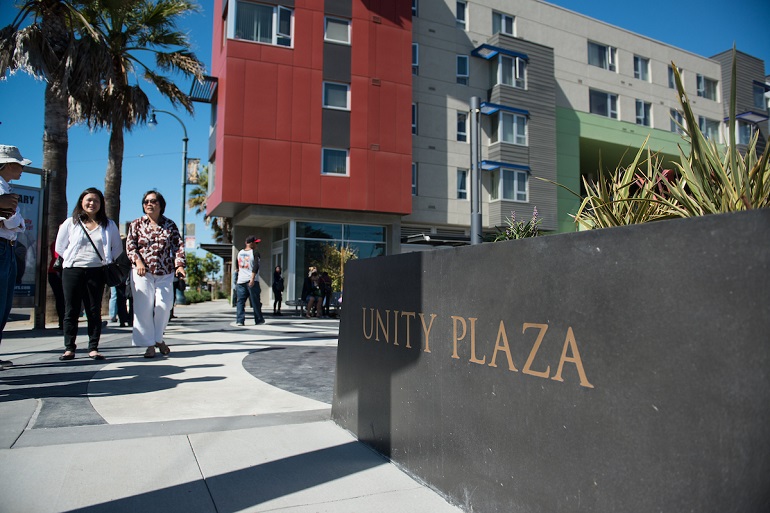 Unity Plaza next to the City College bus terminal is now open.
Unity Plaza will also benefit Muni riders who use the City College Terminal, a hub of Muni connections formerly known as the Phelan Bus Loop. The loop serves as the terminal for the 8/8BX Bayshore and 49 Mission/Van Ness routes, and it's next to stops for the K Ingleside and 29 Sunset on Ocean and the 43 Masonic on Phelan.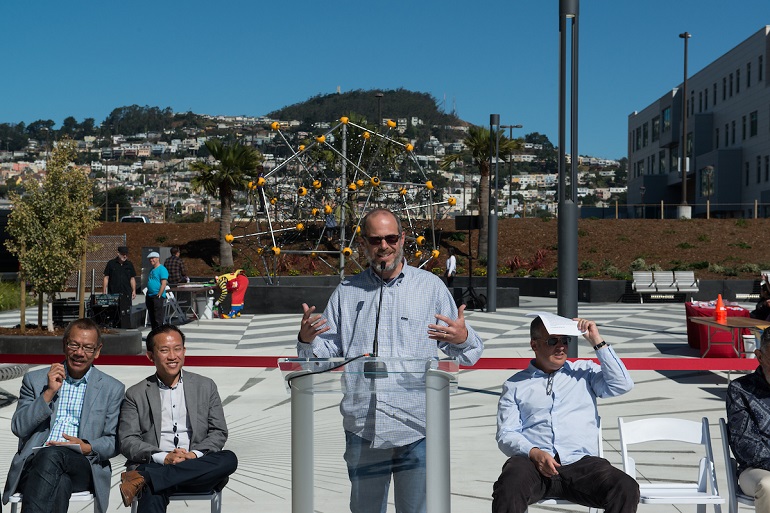 Ed Reiskin joined Assemblymember David Chiu and District 7 Supervisor Norman Yee and community leaders to open the new plaza.
Joining in the ribbon cutting were some of the people that helped make the project a reality. Speakers included State Assemblymember David Chiu, District 7 Supervisor Norman Yee, community members and representatives from partner agencies like SF Public Works and the SF County Transportation Authority.
"Unity Plaza will serve as a hub for connecting residents, businesses, schools and Muni," said Ed Reiskin, SFMTA's director of transportation. "It will also provide a safer and more convenient pedestrian passage between the Ocean Avenue small business corridor and the City College campus, which makes the plaza a truly multi-modal experience for those who use this hub as destination or departure point."
After the ceremony, folks enjoyed family-friendly activities like face painting, balloon twisting and a short performance of the book, "Where the Wild Things Are."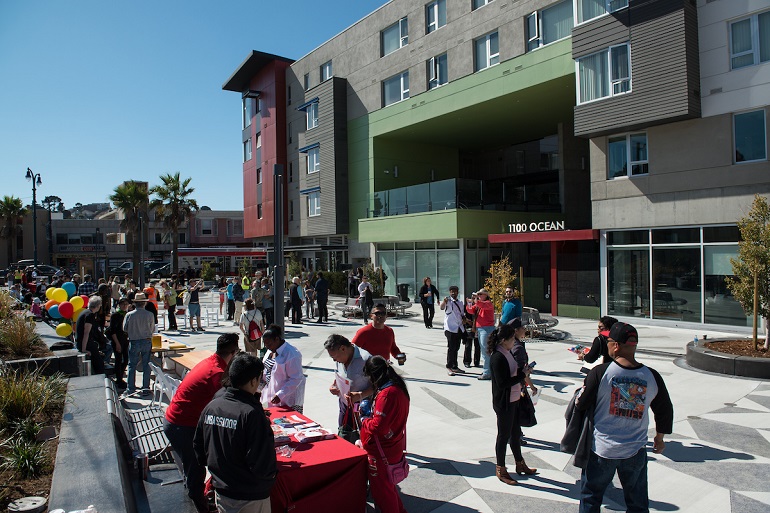 Unity Plaza opened with a community celebration.
Unity Plaza will also serve as the front door for the residences and businesses in a new building adjacent to the site and may host community events like fairs and farmers markets. It features new seating, lighting, landscaping, artistically-designed pavement, a climbing structure and rain gardens to help manage storm water.
The plaza also features a new pedestrian path that stretches from the north side of Ocean to the City College campus. The path, created in partnership with City College, features an integrated landscape and a stairway that features a collage of historic photographs of the neighborhood laid out on the steps.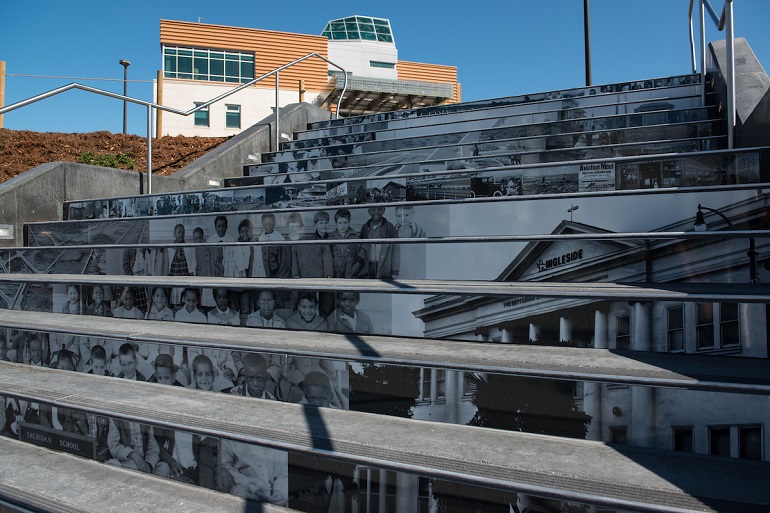 Images from the surrounding community greet those walking up the stairway connecting to the City College campus.
Unity Plaza, the path and the reconfigured bus loop (completed in 2013) were conceived with in the 2009 Balboa Park Station Area Plan, the culmination of a 10-year Better Neighborhoods Planning Process. We're proud to help community-driven ideas like these become real places to be enjoyed by everyone who lives, works, shops and plays in the neighborhood.