The 53rd Cable Car Bell Ringing Contest - See You At The Square
This year's Cable Car Bell Ringing Contest is this Thursday, July 7, and we can't wait! Join us at noon in Union Square for what is a perennial, fun-filled favorite.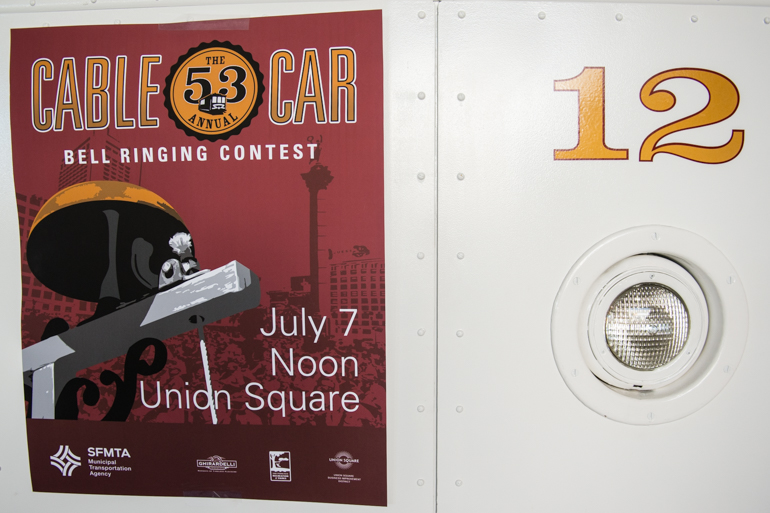 Cable Car 12, used for the preliminary competition, emblazoned with this years contest poster, June 23, 2016.
Thursday's festivities kick off with a charity bell ringing contes with local media luminaries ringing for prizes that award donations to their favorite causes. This is followed by the main event: the professional bell ringing championship, featuring the men and women who operate San Francisco's historic cable cars.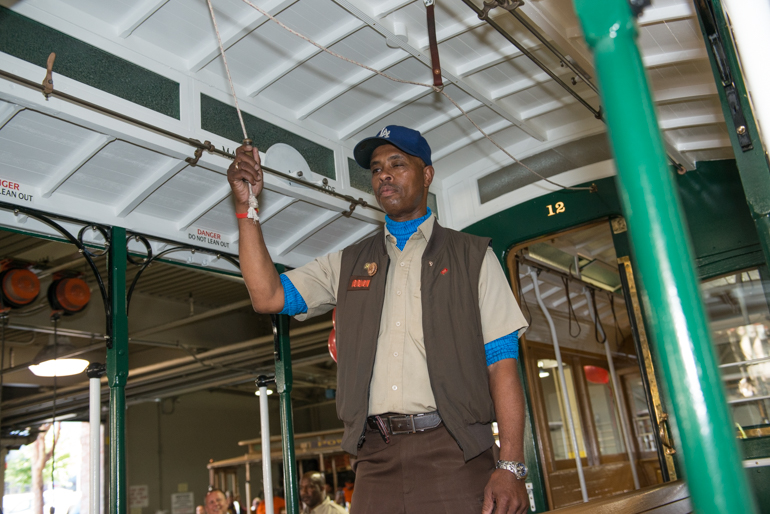 Defending 2015 champ, Byron Cobb, entertains the crowd with a little bell ringing freestyle at this year's preliminary competition.
A little over a week ago, Muni's Cable Car Division held the preliminary competition to determine who would get to ring at the final event. This week's contestants will be: Ignacio Sandoval, Trini Whittaker, Singh Rai, Cassandra Griffin, Joseph Sue and Leonard Oats.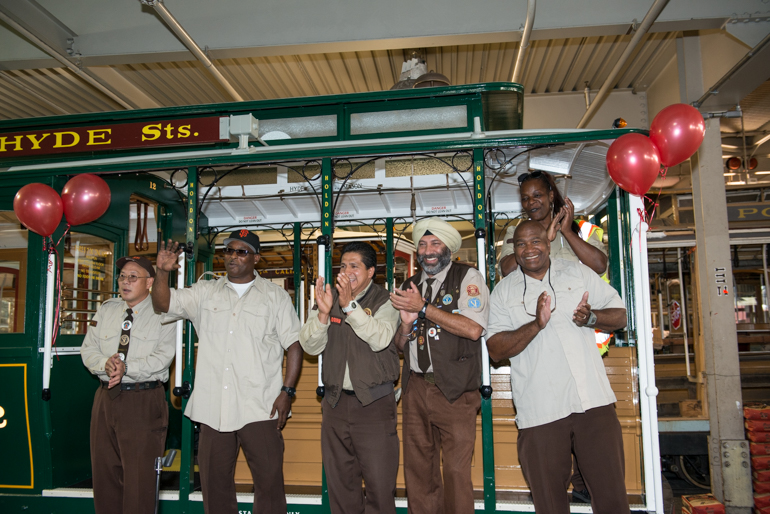 2016 Bell Ringing finalists clapping as the announcement is made that they'll be going on to the July 7 contest. Taken June 23, 2016. (L to R: Joseph Sue, Trini Whittaker, Ignacio Sandoval, Leonard Oats, and Cassandra Griffin)
This is a don't-miss event that we look forward to hosting every year, but we can't do it alone. Our co=presenter is the Ghirardelli Chocolate Company. The event is supported by the merchants and members of San Francisco Travel, The Union Square Business Improvement District, San Francisco Recreation and Park and the Cable Car Museum.
Special thanks to our Gold level sponsors: Omni San Francisco Hotel, Sam's Cable Car Lounge, New Delhi Restaurant, The San Francisco Dungeon and SFMOMA.
Additional generous sponsors include 7D Experience, Aardvark Books, Alcatraz Cruises, Argonaut Hotel, Axiom Hotel, Bay Aquarium, Beach Blanket Babylon, Burritt Room + Tavern, CityPASS, Cobb's Comedy Club, Electric Tour Company, First Crush Restaurant & Bar, Fog Harbor Fish House, GoCar Tours, Hornblower Cruises, Hotel Grace, Hotel Zelos, Marker Hotel, Mystic Hotel by Charlie Palmer, Pier 2620 Hotel Fisherman's Wharf, Puccini & Pinetti Italian Grill, Punchline, Red & White Fleet, San Francisco Fire Engine Tours & Adventures, San Francisco Giants, San Francisco Marriott Marquis, San Francisco Symphony, Senza Hotel, Sheraton Fisherman's Wharf, Sports Basement, Taj Campton Place, The Contemporary Jewish Museum, Wild SF Tours and Winery Collective.