An Action Plan for Racial Equity at the SFMTA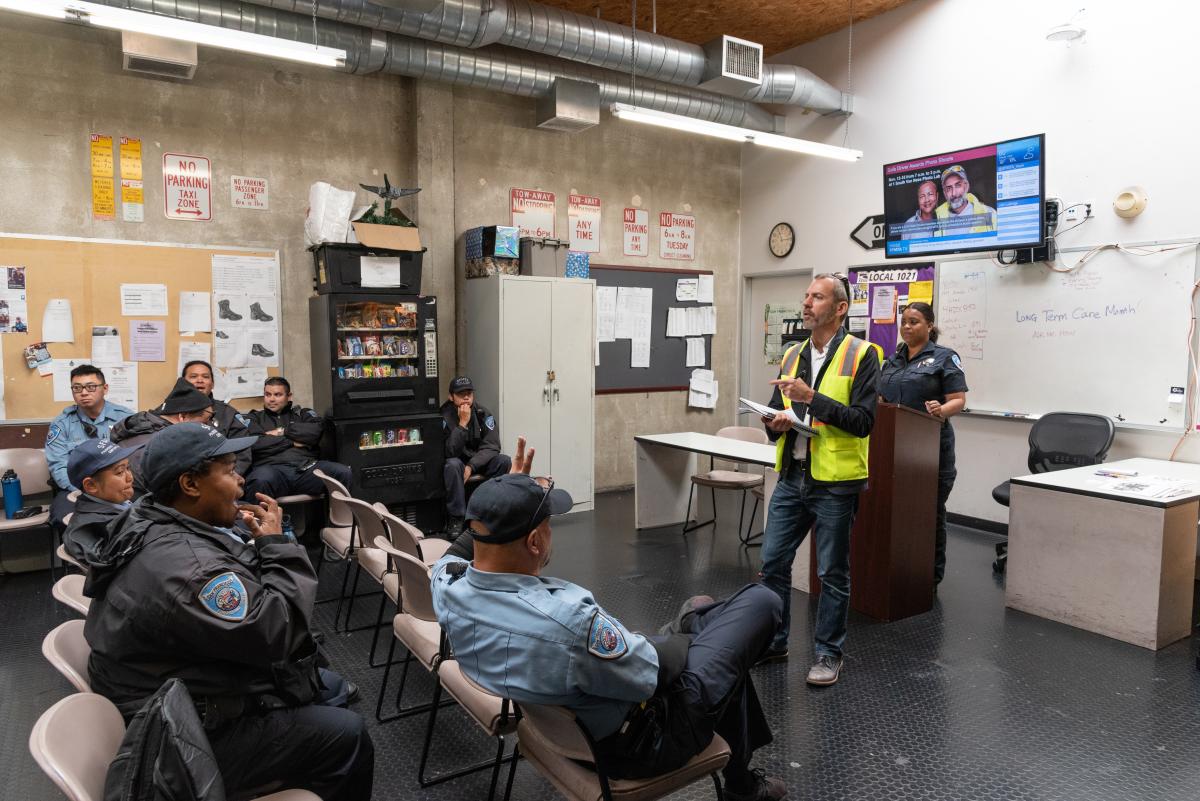 In a pre-COVID session, Director Jeff Tumlin and SFMTA staff discuss the agency's priorities
As the manager of San Francisco's streets and transportation network, the SFMTA has the immense responsibility of ensuring dignified access and freedom of movement for all through its community engagement, planning and service delivery. The agency also has a significant responsibility to its almost 6,000 employees to dismantle any harmful cultures, practices and policies that reinforce anti-Blackness, structural racism and/or bias in the workplace.
The agency developed our Racial Equity Action Plan as a process and strategic plan for SFMTA, guided by the citywide racial equity framework, to enact institutional and structural change to achieve racial equity.
With leadership from the SFMTA's newly appointed Race, Equity, and Inclusion Officer, Josephine Ayankoya, and Human Resources Director Kimberly Ackerman, the plan commits the SFMTA to ongoing action, reflection and refinement leading to structural change. In particular the plan identifies concrete actions in hiring and recruitment, retention and promotions, discipline and separations, diverse and equitable leadership, mobility and professional development and a culture of inclusion and belonging.
A number of human resources actions are already underway at the SFMTA:
Permanent Civil Service: A form has been created for HR analysts to use in the hiring process to better understand ethnicity and gender trends at different stages of the hiring process.
Cost control decisions: The agency's cost control group membership has been expanded to include a more diverse group of staff, ensuring that a broader set of backgrounds and experiences shape important budget decisions.
Disciplinary dashboard: Managers will begin using a consistent tracking system across the agency to measure and monitor disciplinary actions.
Blanding report updates: The agency will make quarterly updates that respond to findings of the 2019 Blanding Report, which outlined racial equity deficiencies at the agency.
 Next steps
The SFMTA Office of Race, Equity and Inclusion has also initiated an agencywide series of listening sessions. These discussions are be a space for staff across the agency to give input on:
Challenges related to racial and social inequities experienced by staff

Resources needed to advance racial equity within the workforce

Perspectives on what should be prioritized in the SFMTA's racial equity work
Moving forward, the Office of Race, Equity and Inclusion will hire additional staff based on feedback from over 100 meetings with staff members across the agency.
In its next phase, the Racial Equity Action Plan will also extend its efforts to include external equity issues including the services rendered by the SFMTA, the projects we plan, the ways we engage the public and how we support staff who work directly with the public. This will be done in accordance with guidance from the Office of Racial Equity under San Francisco's Human Rights Commission.