Advancing Mobility Innovation: SFMTA Named Finalist for Federal 'Smart City' Grant
In a quickly-changing landscape, San Francisco is taking the future of transportation head-on.
The SFMTA recently formed an Office of Innovation, and SFMTA-led efforts to adapt to emerging innovations like shared mobility services and self-driving cars were recognized today by the US Department of Transportation, which named the agency one of seven finalists in the running for the DOT's Smart City Challenge grant.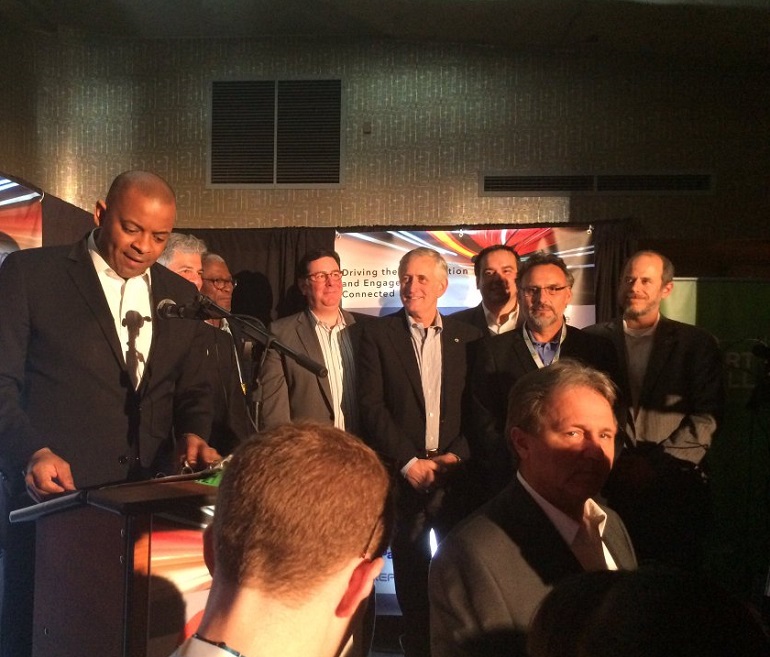 US Transportation Secretary Anthony Foxx announced the "Smart City" grant finalists today at the South by Southwest Festival in Austin, Texas. SFMTA Director of Transportation Ed Reiskin is on the right. Photo: Texas A&M Transportation Institute
The $50 million grant is intended to challenge cities to develop "the most innovative, forward-thinking plan to harness technology and re-imagine how people move," U.S. Transportation Secretary Anthony Foxx wrote on the US DOT's blog:
Here at DOT, we're continuing to adapt new technologies and data availability to prepare for the future, innovating in ways that previous generations only imagined as science fiction. We're nurturing connected and autonomous vehicles that practically eliminate crashes. And we're imagining this technology interacting with both wired and wireless infrastructure to eliminate traffic jams as well.
To help meet these technological challenges, the SFMTA formed a small team with technology expertise to lay out a proposal in its Smart City grant application. The application included a process to initiate a Community Mobility Challenge. Under that program, new transportation technologies and shared mobility services would be implemented as pilot programs in at least one city neighborhood selected through an application process.
"In dense, urban cities like San Francisco, we are using technology and innovation to improve our entire transportation network for all users of our roadways today and for generations to come," said San Francisco Mayor Ed Lee. "The Smart City grant is a tremendous opportunity to invest in the future of public transportation in our city and I thank Secretary Foxx and the Department of Transportation for selecting San Francisco as one of seven Smart City grant finalists nationwide. San Francisco is the innovation capital of the world and I look forward to working with all of our partners to develop new ideas for new investments as part of this program."
"As people are getting around in new ways that were once hard to imagine, our cities are on the front lines of change," said SFMTA Director of Transportation Ed Reiskin. "The Smart City challenge has driven our cities to think ahead of the curve so that we can ensure that innovations help make our cities safer, more accessible, affordable and environmentally sustainable. This support and recognition from the US Department of Transportation is an honor for San Francisco and our peer cities who are paving the way for smart mobility innovations to improve quality of life."
"We thank the US Department of Transportation for this recognition and are delighted to partner with SFMTA to showcase San Francisco's ideas to advance the Smart Cities program," said SF County Transportation Authority Executive Director Tilly Chang.
The US DOT challenged medium-sized cities to develop solutions that can use emerging technologies to move "beyond traffic."
SFMTA's Office of Innovation
Coordinating these kinds of forward-looking efforts is what the SFMTA had in mind when it recently launched the Office of Innovation, headed by Chief Innovation Officer Tim Papandreou.
The Office of Innovation's goal is to "future-proof the agency" by anticipating developments in transportation patterns and technology using a community supported and data-driven approach, Papandreou said. The office aims to "optimize the transportation rights-of-way of the city through innovative policy, design and best practices that improve the public good."
In recent years, San Francisco and other cities have seen massive expansions of shared mobility services like car-share, bike-share, scooter-share, carpooling and private transit, all of which increasingly rely on smartphone apps and other developing technologies.
In the years ahead, city streets are expected to see a new type of transportation: autonomous vehicles, better known as self-driving cars. The development of self-driving cars is emerging along with connected automated vehicle technology, which allows autonomous vehicles to communicate with one another and with infrastructure like traffic signals.
The SFMTA's strategy is to link these different means of traveling together: shared mobility, transit and networked self-driving cars. That will improve mobility, access, safety and affordability for all in several key ways:
Shared mobility and public transit together make it easier to get around, reducing people's need to own a vehicle and the associated hassles of ownership -- saving money and time.

Connected automated vehicle technology, also known as CAV, can help meet multiple city goals, like eliminating traffic fatalities and cutting harmful emissions. It can do this while also reducing congestion, noise and operating costs for residents, businesses and government.

Combining shared mobility, public transit and autonomous vehicle technology can reduce demand for street space and parking, so that the public right of way can be repurposed over time for walking, cycling, open space and other community amenities. Instead of using precious space for indoor parking, it could be used to create more affordable housing.
Key to achieving these goals is a better understanding of these new technologies as well as people's travel choices, Papandreou said. Toward that end, the SFMTA plans to hire several data scientists at the Office of Innovation to study how people get around.
"The shift has been toward the customer focus," said Papandreou.
While new services and technologies provide opportunity, they also come with risks of encouraging more driving if not tied to a sharing model. To participate in the city's innovation programs, transportation providers will need to demonstrate that they help further the city's goals of improving mobility while reducing demand for driving and parking.
Of the $50 million in the Smart City grant, $40 million will come from the U.S. Department of Transportation, and $10 million will come from Vulcan Inc. The grant winner is expected to be announced in June.