Art on Muni Returns: Seeking Bay Area Artists to Brighten Commutes
We're calling all Bay Area artists to once again create awe-inspiring art for over 700,000 daily Muni riders.
The SFMTA, in partnership with San Francisco Beautiful, is excited to announce the second annual Muni Art Project. This time, Muni will celebrate local artists by displaying art on twice as many buses – 100 instead of 50.
Fresh artwork from five selected artists will grace Muni buses next January through April. The deadline for submissions is June 17 (more details below).
The return of Muni Art reignites a beautiful relationship between local art and local transit. It's not just easy on the eyes – this is one way we're helping make transit and public spaces more attractive and engage with our diverse communities.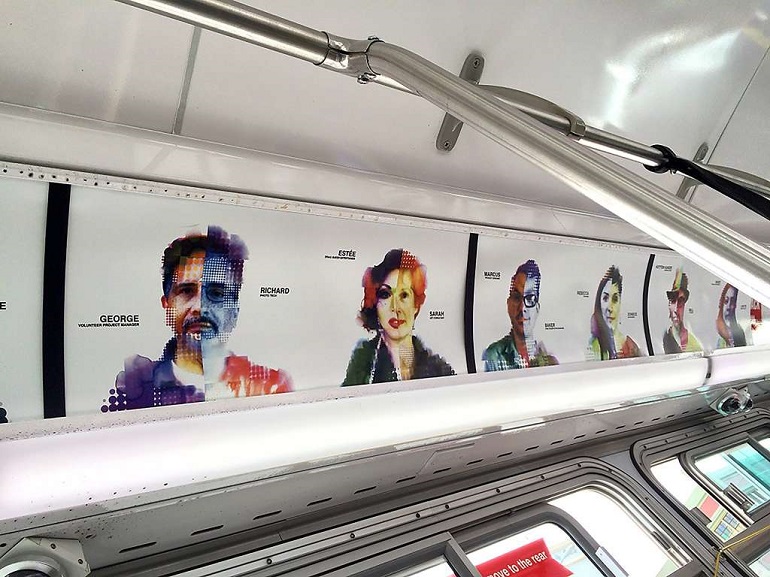 Philip Hua and four other artists had their work displayed on Muni buses last fall. Hua's project, "Unified Portraits of A Divided San Francisco," combined digital portraits of San Franciscans to highlight the city's diversity. Photo: Phillip Hua, Handout
"The Muni Art program shows how collaborating with communities helps make Muni an even better experience for everyone," said Ed Reiskin, the SFMTA's director of transportation.  "This art is a common thread that strengthens the way Muni is knit into the fabric of our city."
Last fall, the inaugural year of Muni Art was met with an overwhelmingly warm reception from artists and commuters alike. With a "spirit of San Francisco" theme, designs featured displays of LGBTQ support, unity, crowdsourced collages and mesmerizing flora and fauna.
Of the more than 130 artists who applied, five trailblazing finalists rose to the top: Ariel Dunitz-Johnson, Phillip Hua, Reynaldo R. Cayeteno Jr., Andria Lo and Todd Berman.
A panel from SWAY, a project by Ariel Dunitz-Johnson, one of the artists featured on Muni in 2015.
Dunitz-Johnson garnered the number one spot with her project, SWAY, a series of hand-drawn pen and ink illustrations of people who contribute, in unique ways, to San Francisco's thriving LGBTQ community.
Each artist had their work displayed on 10 Muni buses, bringing rolling art galleries to every bus yard and every neighborhood. All art was sanctioned for public use by the SF Arts Commission, providing exposure for artists beyond the three-month onboard exhibits.
This year, another five artists will have their work displayed on twice as many buses. The theme is "San Francisco Neighborhoods."
A committee of local gallery owners and arts institutions will select 10 finalists by July 22, and the public will get to vote for the top five between July 25 and August 9. The five winning artists will be announced on August 10. The artist who receives the most public votes will also earn $2,000, and the other four artists will take home $1,250 each.
Get the full project details, peeks at last year's works and an artist application on the SF Beautiful website. The deadline to submit proposals is June 17 at 6 p.m.