Coming this fall to a Muni bus near you – gorgeous local art selected by you! This month, we're partnering with San Francisco Beautiful to launch the Muni Art campaign, the first installment of SF Beautiful's Place Art program. We'll gather artists' submissions for a public art commission that will fill 50 Muni buses this fall. Artists from throughout all nine Bay Area counties are encouraged to participate. Do you know someone who might be interested? The deadline to submit proposals (.pdf) is Friday, June 19.
The first cull will be made by a committee which includes local gallery owners and representatives from arts institutions. Next month, the selected finalists will be announced online and in print. Then, we'll ask you to weigh-in — online or by text — on your favorite.  The public vote will select five winners, each of whom will be given the opportunity to display work that evokes "the spirit of San Francisco" on 10 buses travelling throughout the city starting in September through the end of the year.
Bonus: In addition to having their art displayed on buses, the artist who receives the most votes will be awarded $2,000 and each of the other four winners will be awarded $1,250. 
Place Art is funded in part by the Community Challenge Grant Program which facilitates neighborhood beautification projects throughout San Francisco. Local arts organizations ArtSpan, SOMArts and the Bayview Opera House have joined forces to support this new program.
For artist entry guidelines and sponsorship opportunities, please visit the project description and call for artists on the San Francisco Beautiful site.
Stay tuned for updates on this effort to support local artists and beautify your commute!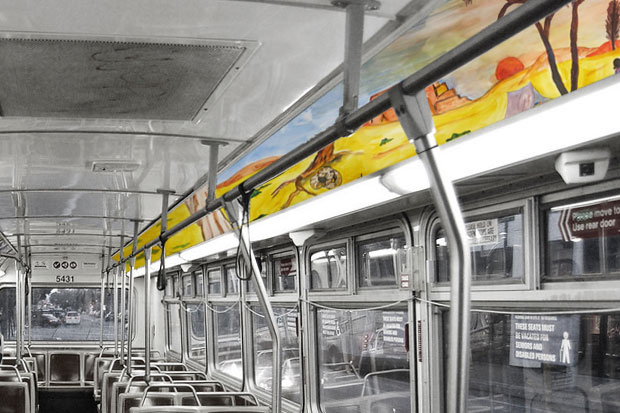 Mock-up of how the winning artwork will be installed on Muni buses. Photo credit: San Francisco Beautiful
Each Tuesday we bring you a tidbit of transit news or trivia, either from our own backyard or from around the globe.