The "Bottom" Line on Public Transit
Tuesday, January 20, 2015
On Tuesdays we bring you a tidbit of transit news or trivia, either from our own backyard or from around the globe. Thanks for joining us.
This month men, women and children around the world are baring their tighty-whities, panties, bloomers and unmentionables on public transit. Yep, it's the annual "No Pants Subway Ride."
On a chilly morning last week, the San Francisco Bay Area got a jump-start on the annual event as transit riders showed off their undies.
The yearly tradition was started in 2002 by the self-described "prank collective" Improv Everywhere in New York City. Organizers encourage transit passengers to ride trains without wearing trousers and flaunt their knickers. It is considered a prank and an "instant bonding experience." Over the past 13 years, people around the country and around the world have braced the cold weather and awkward public stares to ride on public transit in their underwear. The tradition has spread to more than 25 countries and 60 cities.
Interested? Here's a YouTube video featuring last year's hometown event in NYC.
The takeaway from the video: expect extra style points for the right pair of chonies. Check out the business executive's festive pair of boxers at :54 and the "gorgeous" black briefs at 1:10.
Planning to join next year? Start picking out your skivvies now.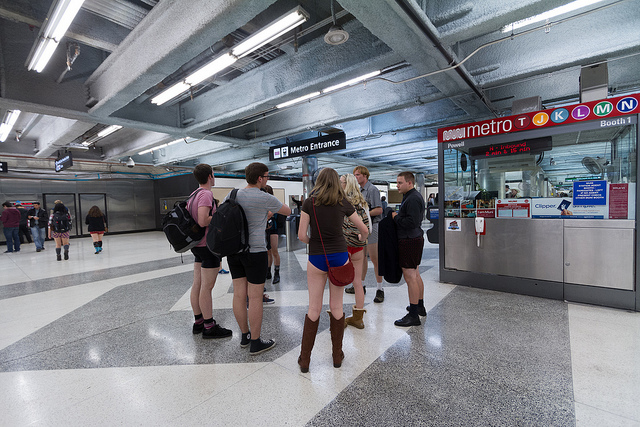 No Pants Subway Ride 2014; Photo credit: Bhautik Joshi, Flickr