Breaking Away for Bike to Work Day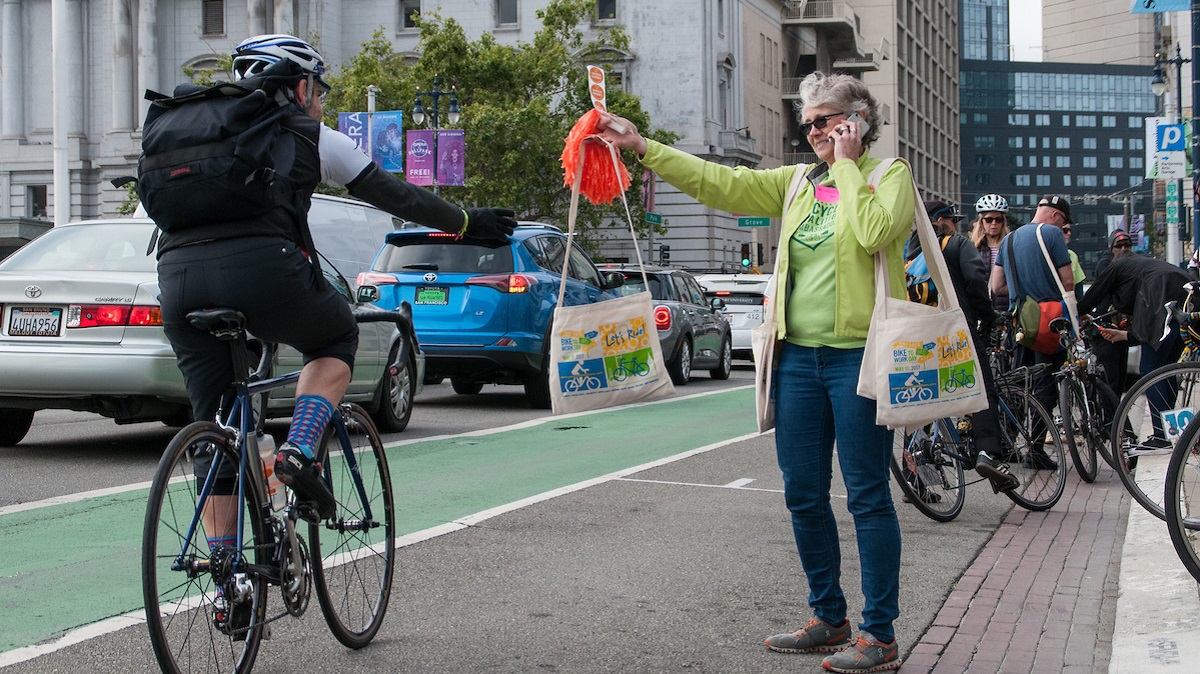 It's time to gear up and roll out. Bike to work day is tomorrow, Thursday, May 9th. Every May, we get together and ride to work on one of the cleanest transportation methods, the old velocipede.  No, not the dinosaur! The term today is mainly used for the different forerunners of the monowheel, unicycle, bicycle, tricycle and the quadracycle developed between 1817 and 1880. Whatever form you ride on, let's all get some fresh air and exercise while we pedal our way to work.
With thousands of people riding to work, our streets are constantly evolving as the City applies best practices and pilots different safety features. As higher volumes of people riding bikes are expected on Bike to Work Day, Vision Zero SF wants to makes sure everyone understands how to interact with these street treatments that create safe zones for all people whether you're driving, riding or walking.
This month Vision Zero SF launched a new campaign - Driving in Today's SF - to help drivers navigate the changing landscape of San Francisco streets. These short social media videos are great for everyone to review and learn more about shark's teeth, mixing zones, parking-protected bike lanes and bike signals.
Be sure to keep an eye out for the energizer stations scattered across San Francisco for free snacks, beverages, collectibles and reusable tote bags filled with goodies. Does your bike need a check-up? Bike mechanics will be on hand to provide complimentary basic bike maintenance at select stations. Bike riders can also pick up a Driving in Today's SF palm card and other giveaways at the Vision Zero and SFMTA energizer station on Market and 12th Street.
Bike to Work Day is a celebration of bicycles, fun and healthy way to get to work, as well as an opportunity for those who don't usually bike to try it out! More than one million Bay Area residents live within five miles of their workplaces, an ideal distance for bicycling. However, commuting to work only represents 23 percent of all trips made by car, so think about how you can also bike to shop, to school, for errands and for social events. In a world concerned with climate change, pollution and congestion, the question should really be "Why not bike to work?"
Be sure to post your pictures on our Facebook and Tweet your ride @SFMTA_muni.