Byron Cobb Declared the Cable Car Bell Ringing World Champion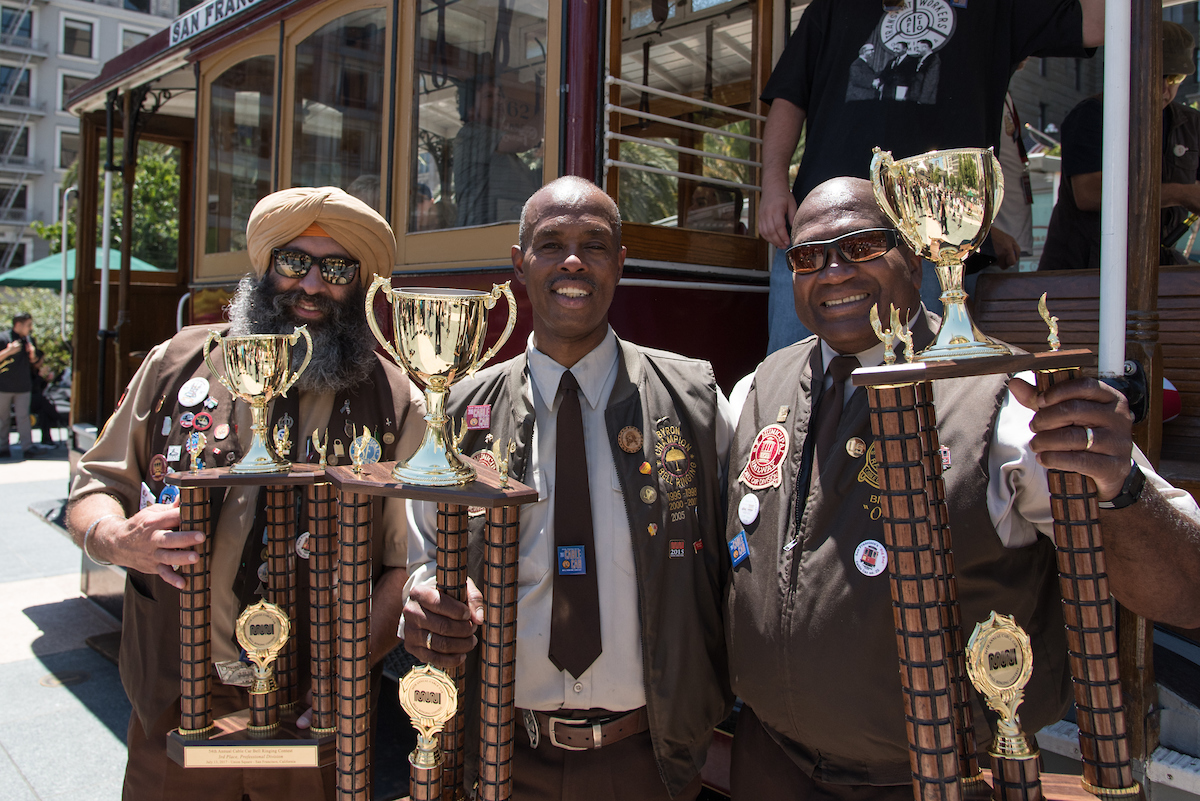 Singh Balraj Rai, Byron Cobb and Leonard Oats show off their trophies at the 54th Cable Car Bell Ringing Contest.
This year, Byron Cobb took home top place in San Francisco's Cable Car Bell Ringing Contest — and what a show!
Yesterday's noon contest had great weather and a lot of help to make it a success. You may have caught some of the media coverage at KRON 4 or in The Chronicle. We are grateful for our entire team of judges, many of whom come year after year, who bring their fine-tuned listening skills to determine the best of the best. The amateur ringers use heart and humor to ring for their favorite charities. The music provided by our favorite local blues band, featuring Cable Car Division employees, Abel Sanchez & The Frisco Project — who know how to draw a crowd. Our super mistress of ceremonies, local comedienne Debi Durst, keeps the afternoon fun and humming along. Of course, it wouldn't be much of a show without the hard working, talented men and women of San Francisco's Cable Cars.
The contest had two divisions, one for cable car Grips and conductors and another for local community representatives. The winners in the division for cable car crew members were: First Place, Byron Cobb; Second Place, Leonard Oats; and Third Place, Singh Balraj Rai. Today's win was the seventh first-place win for Byron Cobb.
The winners in the amateur charity division were: First Place, Access SFUSD; Second Place, Amanda King, local jazz singer; and Third Place, Joe Fitzgerald Rodriguez of the San Francisco Examiner. Their prizes will be donated to the following charities: The Arc, Raphael House and the National Association of Hispanic Journalists, respectively.
For both portions of the contest, the winners received a trophy and cash prizes, including hotel stays, dinners and other gift certificates donated by Union Square merchants.
A special thanks to our generous sponsors: The Cable Car Museum, Chancellor Hotel, the Handlery Hotel, Market Street Railway, New Delhi Restaurant, Pier 39, The Westin St. Francis Hotel, San Francisco Travel and Union Square Business Improvement District, Alcatraz Cruises, Fire Engine Tours, Hornblower Cruises & Events, Luques Restaurant & Bar, Pier Market, Sam's Cable Car Lounge, SFMOMA, and the San Francisco Symphony.
For more information on contestants, rules and judges please visit: https://www.sfmta.com/bellringing.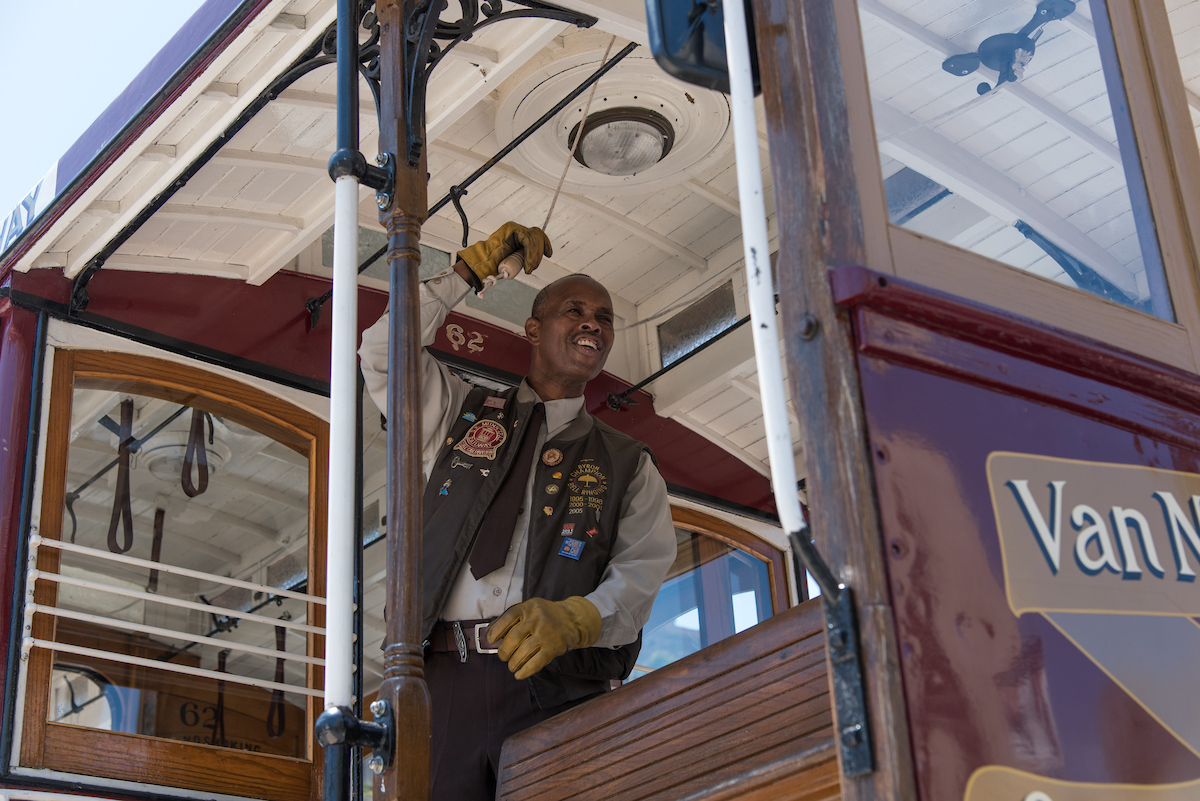 Byron Cobb pours his heart into his winning bell ringing performance.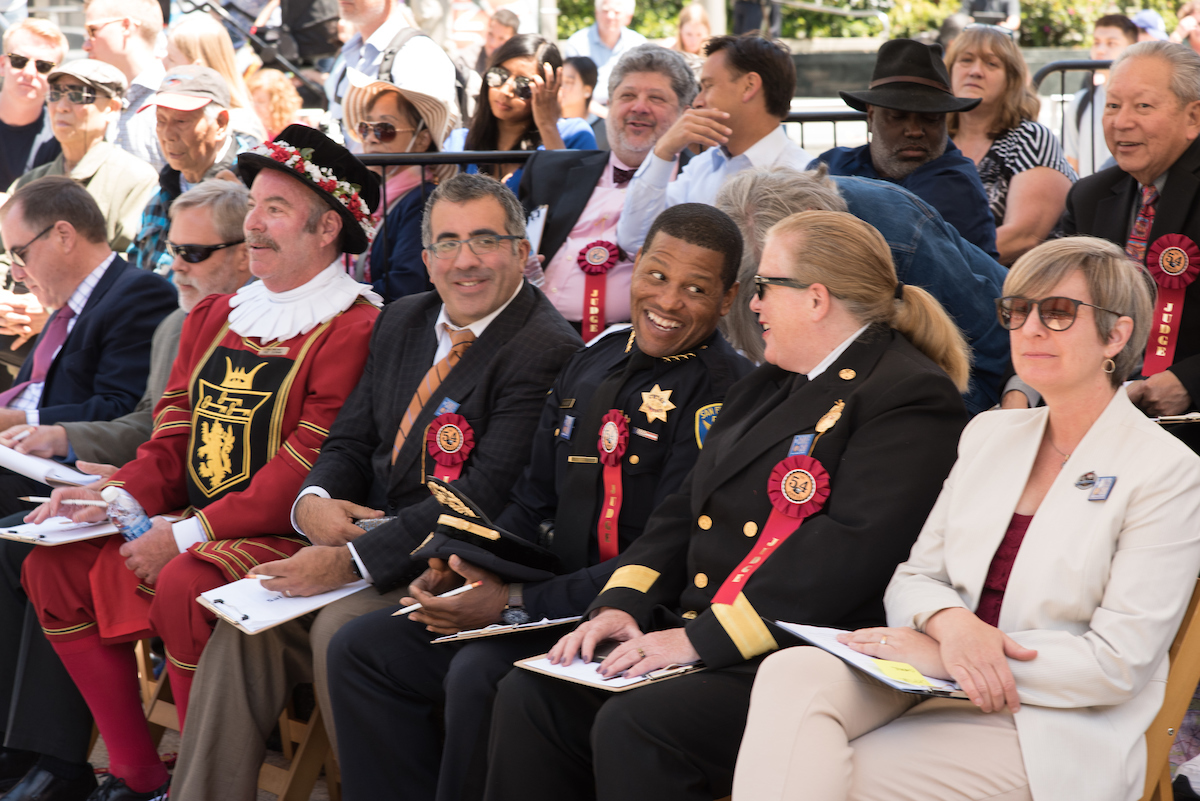 The Cable Car Bell Ringing Contest judges have great seats but tough jobs.