Cell Service Plan In the Works for Muni Subway
Tuesday, September 20, 2016
Last week we were excited to announce a plan for working with BART to bring cellular service to the approximately five miles of Muni subway that stretches from West Portal to Embarcadero Station. Today, the SFMTA Board of Directors approved the plan.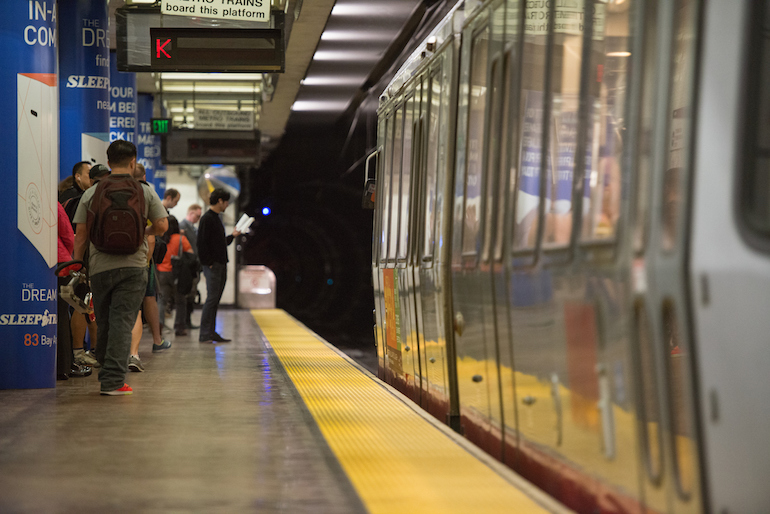 BART riders may be familiar with the cell service that allows riders to use their phones while onboard, no matter their destination. Muni seeks to create a similar situation. The construction to extend BART's existing network to the Muni subway is expected to take approximately 12 to 18 months once an agreement is reached with the cellular carriers.
The existing BART underground cellular network is used by AT&T, Verizon, Sprint, T-Mobile and Metro PCS. BART constructed the nation's first neutral host underground cellular network that allows competing carriers to use the same equipment, extending competitive cellular markets to the underground while minimizing the amount of wayside equipment. The SFMTA Board approved the collaboration between BART and Muni to extend the existing BART cell network to the Muni subway.
While the new service would not provide free wi-fi, it would give Muni customers the ability to access their phones while in the subway.
"We have heard from our riders who have asked for cell service in the subway for some time, so we are working to deliver this amenity in partnership with BART," said SFMTA Director of Transportation, Ed Reiskin. "Providing cell service within the Muni Metro will help improve communications to our Muni riders, can assist in emergency situations, and will give the riding public an additional service they want." 
At today's meeting, the board also approved the L Taraval Rapid Project and the coordinated striped boarding zone pilot with a direction for staff to come back with additional options for the 17th Avenue stop, which was proposed for removal.