Central Subway Revenue Service Update
Thursday, December 23, 2021
Central Subway Finishes Year on a High Note
As we say goodbye to 2021 and bring in the new year, construction crews for the Central Subway remain laser-focused on the finish line and are working towards completing items in our substantial punch list. It includes testing and certifying elevators and escalators, installing all ticket vending machines and completing small tasks that need to be addressed before the start of service, anticipated for October 2022.
Early next year, construction work will continue on the surface near 4th and King streets to install overhead wire and support systems connecting the Central Subway to the existing Metro system. Train and traffic signaling work and installation of new street lighting between Bryant and Townsend will also resume on 4th Street.
Now that station elevators and escalators are fully functional and tested, equipment must be certified to meet local and federal safety requirements. Fare gates have been installed at all stations and we expect to complete the installation and testing of ticket vending machines in January. With train testing in full gear since August, we anticipate concluding operational testing in the summer of 2022.
Artwork by Yumei Hou is being installed in Chinatown/Rose Pak Station. The artwork consists of two large-scale metal installations based on Yang Ge (Sprout Dance), a folk dance originating in Northeastern provinces in China. Artwork installation in the mezzanine landing is complete and we hope to have artwork in the ticketing hall in full display by the end of the month.
We will continue to bring you updates and share the good news as we prepare for Central Subway's grand opening and celebrate this historic moment for San Francisco. For project updates, please visit the Central Subway project page.
Recently installed fare gates at Chinatown/Rose Pak Station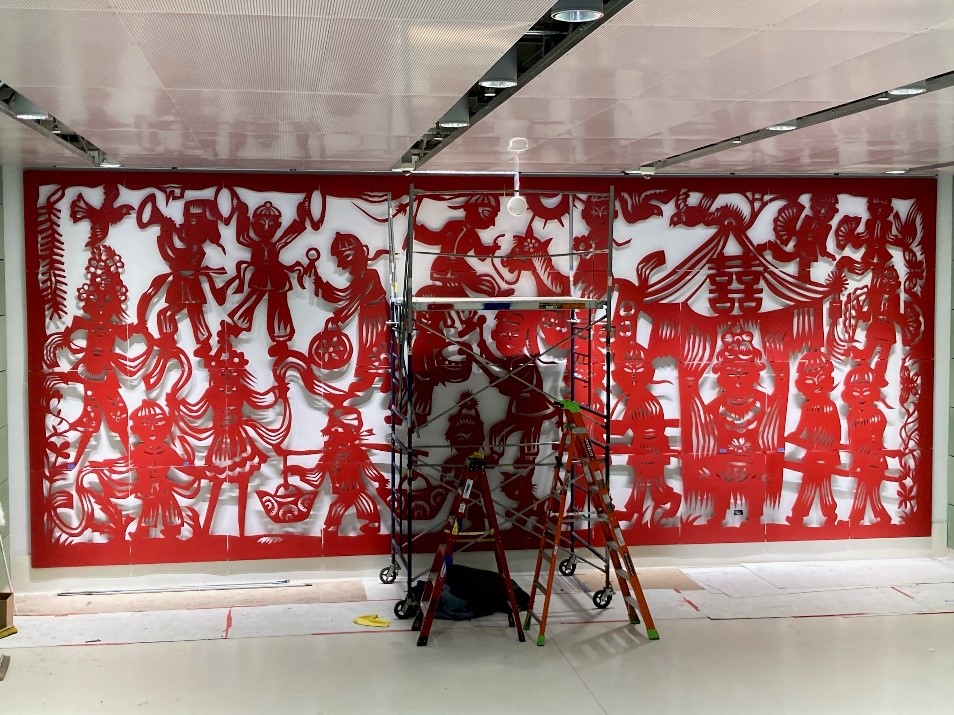 Artwork by Yumei Hou at Chinatown/Rose Pak Station
Platform at Yerba Buena/Moscone Station