Distracted Driving Campaign
Most drivers know that it is illegal to hold and use a cell phone to text, call, or use apps while driving – but many admit to doing it anyway. Distracted driving is deadly driving. Texting or using an app on your phone (one of the most common forms of distracted driving) while driving makes you 23 times more likely to swerve, screech, sideswipe – or even crash.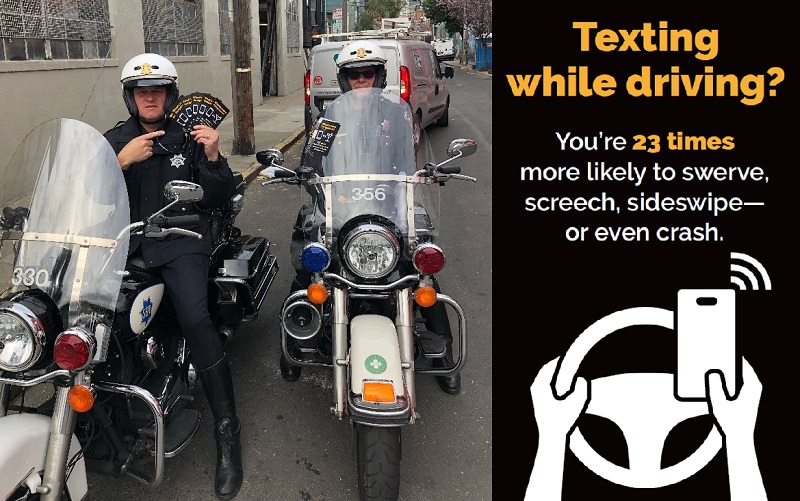 Why is distracted driving so dangerous?
Distracted driving takes a person's attention away from the road. Research shows that using cellphones – especially smartphones – distract on multiple levels and require a driver to use their hands, eyes, and brain all at the same time. That doesn't leave much attention left dedicated to driving safely.
According to Virginia Tech Transportation Institute, five seconds is the average time a person's eyes are off the road while texting. If the person is driving at 55 mph, that's the equivalent of driving the length of an entire football field blindfolded! 
What is the City doing about Distracted Driving?
The San Francisco Police Department does distracted driving enforcement year round. Enforcing this dangerous driving behavior helps keep the streets safe for all.
April is Distracted Driving Awareness Month. As part of Vision Zero SF, be on the lookout for several ways city agencies are spreading the word about Distracted Driving:
Press conference

– The SFMTA and the San Francisco Police Department will be holding a joint press conference for Distracted Driving Awareness Month.

High Visibility Enforcement - The San Francisco Police Department will be conducting citation operations focused on distracted driving electronic device use.

Muni ads – The SFMTA will be running a reprisal of our ads from last year on our buses and light rail vehicles which move throughout the city all day long.

Social media – A targeted social media campaign will be running through the month raising awareness about the dangers of distracted driving.
Vision Zero SF is the city's road safety policy that will build safety and livability into our streets, protecting the one million people who move about the city every day. San Francisco is committed to achieving our Vision Zero goal of zero traffic deaths.
To learn more about Vision Zero work visit @VisionZeroSF or visionzerosf.org