For Easy Holiday Parking, Use Low-Priced Public Garages
Tuesday, November 29, 2016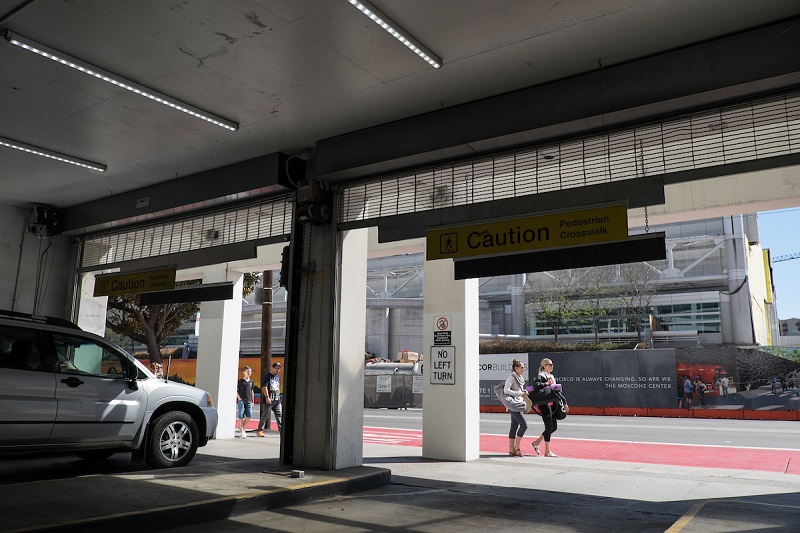 Moscone Center Garage on 3rd Street is conveniently located for downtown sights and museums.
If you drive to popular areas like Union Square to shop during the holiday season, parking can get frustrating. But we would like to remind you that our public parking garages can be a real bargain.
While it's often better to skip the parking hassle altogether by taking transit, walking or bicycling, if you need to drive we have more than 14,000 public off-street parking spaces in our 38 SFMTA public garages and lots to make it easier.
Public garages tend to fill up less than on-street spaces, allowing you to circle less while looking for parking. And for a typical shopper's stay of a few hours, parking rates in public garages typically cost 50 to 60 percent less than those in private garages.
For example, if you want to park near Union Square from 12 p.m. to 3 p.m., our Ellis-O'Farrell Garage would cost $10.50 ($3.50 per hour). A private garage could cost $15 for one hour, or $34 for three hours.
For current rates in public garages and lots, visit our Garages & Lots webpage, click on a location, and then the rates tab.
Why are city garages so much less expensive for short-term parking? It's part of our smart pricing strategy under SFpark to reduce circling and keep traffic moving. Parking rates are set to encourage drivers to use garage spaces first and save street parking for shorter stays.
Private parking garages, on the other hand, typically charge high hourly rates for the first few hours, after which they apply a daily maximum rate. This approach places a heavier burden on those who don't stay as long.
So this holiday season, whether you're shopping at small businesses or department stores, seeing a performance or ice skating, there's likely a convenient garage or lot nearby.
If you plan to drive to shop downtown, these four parking garages can help take the hassle out of parking:
Parking In Other Areas of the City
If you're shopping in other neighborhoods like the Mission District, Noe Valley, Chinatown or Japantown, see our list of all public garages and lots or download a map.
And don't forget: When you park, please keep all valuables in your vehicle out of sight.
SFpark App
One more tip: Download our free SFpark app for iPhone and Android to get real-time information about garage parking prices and availability.