Enjoy Half of Mansell Street in McLaren Park, Now Car-Free
Tuesday, February 7, 2017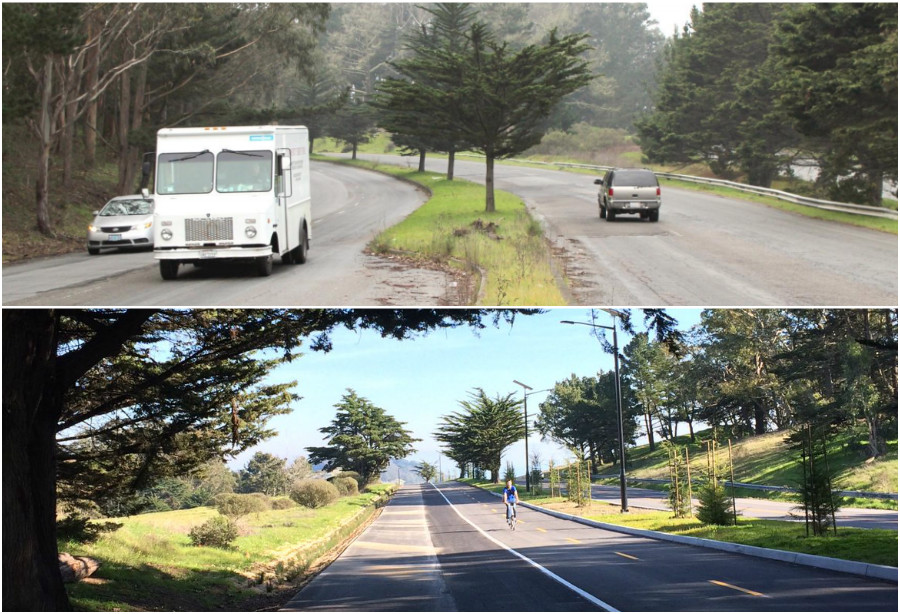 Mansell Street in McLaren Park, before (top) and after (bottom). Top photo: SF Rec and Park. Bottom photo: SF Public Works/Twitter.
Half of Mansell Street in McLaren Park is now a beautiful path for walking, biking and jogging.
Despite the rain this weekend, we joined community members and our partners to celebrate the opening of San Francisco's first-of-its-kind street transformation.
Mansell is now a much more fun and inviting way to enjoy and cross McLaren Park, SF's second-largest city-owned park, between the Visitacion Valley, Portola and Excelsior neighborhoods. One side of the roadway on Mansell, which used to have four lightly-used traffic lanes split by a median — and no formal path for people on foot or bike — is now car-free.
Mansell's previous design was conceived in the 1950s as part of a cross-town freeway that was never completed. The new design, on the other hand, was chosen by community members through a two-year public planning process.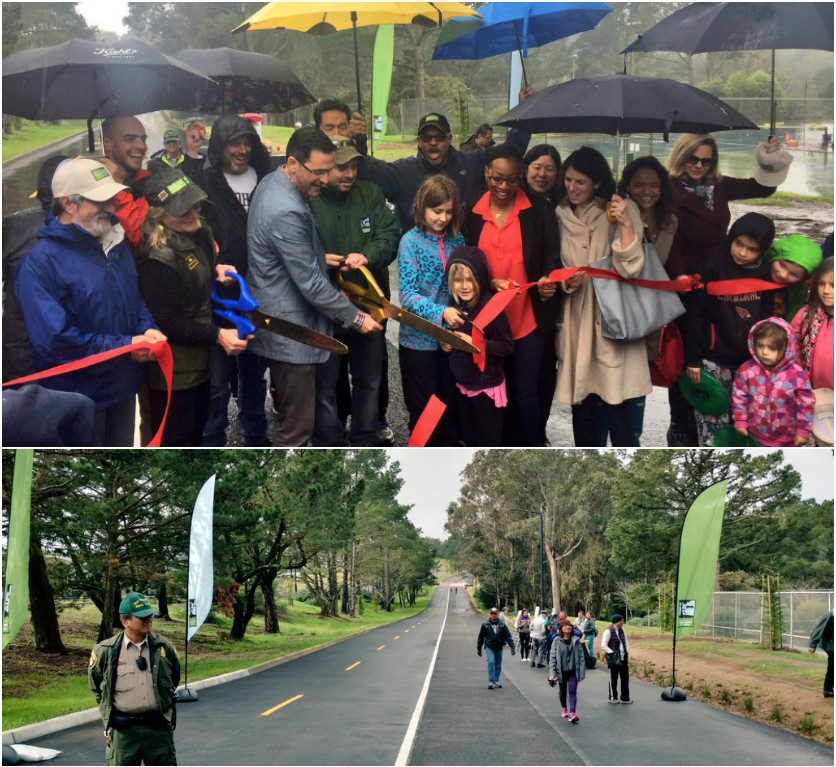 Scenes from Saturday's ribbon-cutting celebration.​ Photos: SFCTA/Twitter
"The community has spoken, and it became clear that safer, more accessible improvements were a top priority for families in the area," said SFMTA Director of Transportation Ed Reiskin. "This project is a first of its kind and will vastly enhance the experience for all users of the Mansell Streetscape."
The Mansell Streetscape Improvements Project was a partnership between the SFMTA and the SF Recreation and Parks Department, SF Public Works and the SF County Transportation Authority as well as community groups including the McLaren Park Collaborative, Walk SF and the SF Bicycle Coalition.
"These improvements to Mansell Street, as well as other areas of McLaren Park, are part of Rec & Park's overall efforts to improve green and open spaces in San Francisco's disadvantaged communities," said Phil Ginsburg, general manager of SF Rec & Park. "I want to thank the community and all of the city agencies who helped make this recreational path a fun and safe passageway."
"McLaren Park is the Golden Gate Park of the southeast — our largest open space — and the improvements on Mansell open the doors to the wealth of opportunities that exist in the park," said SF Public Works Director Mohammed Nuru. "Families from the neighborhoods all around McLaren Park can now bike, jog, walk and feel safe that they're not sharing the road with a bus or car."
See the full press release on Saturday's celebration on the Rec and Parks website.