Father's Day Weekend in the Fillmore and Noe Valley
Contest Reminder:
Calling all artists! Remember, the deadline for the SF Beautiful Muni Art project is this Friday. If you desire a platform where your art work can be seen citywide then submit your project proposals to SF Beautiful by 6 p.m. To learn more about the Muni Art project check out our May 5 blog post.
Events: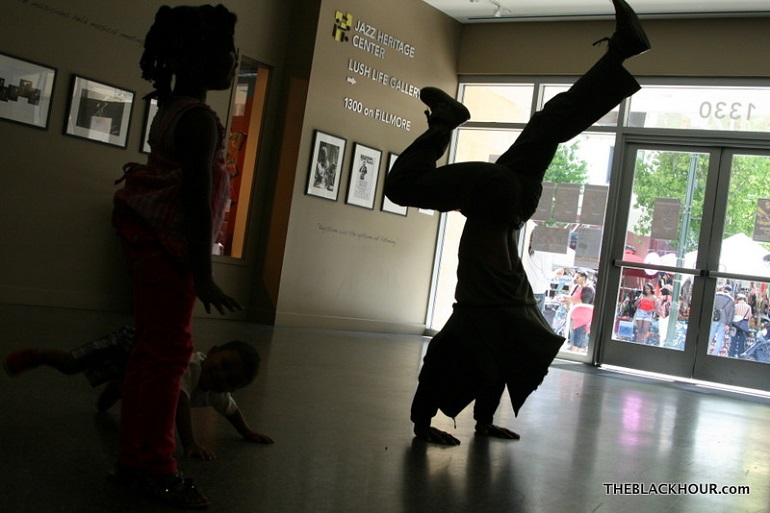 Practicing Capoeria during the Juneteenth Festival on June 16, 2012. Photo credit: Black Hour/Flickr.
This Father's Day weekend will be mellow compared to last weekend's hectic schedule, which means there's more time to spend with dear old dad. A quick fun fact - did you know that the nation's first "Father's Day" was celebrated in the state of Washington in 1910? Whether you have plans or are still trying to figure out what to do for dad aside from getting him that tie, there are a couple of events in the Fillmore and Noe Valley to consider.
Juneteenth Festival
Saturday, 10 a.m. to 6 p.m.
Fillmore
While looking to preserve historical awareness, Juneteenth events are designed to educate, inspire and promote self-improvement. Locally, Juneteenth has become one the state's largest African-American celebrations. The traditional parade gets the day's festivities started in the Fillmore between Turk and Sutter streets. Other activities will include film screenings by the San Francisco Black Film Festival, a black astronauts exhibit, traditional African music and dance, and much more. In addition to five music stages, there will be a Prince tribute show featuring guests from the Revolution and the New Power Generation.
The Kids Zone will have performances by the Prescott Circus Theatre, a petting zoo, face painting, and carnival rides.
Due to street closures and the expected large crowds, take advantage of Muni service courtesy of the 5 Fulton, 22 Fillmore, 31 Balboa, 38 Geary, and 38R Geary Rapid get you to the celebration.
Muni service note: the 22 Fillmore, 38 Geary, and 38R Geary Rapid will have re-routes.
Noe Valley Summerfest
Saturday, 11 a.m. to 5 p.m.
Noe Valley
Running along Noe Street between 24th and Elizabeth streets, the Noe Valley Summerfest has become a popular family day excursion for residents and visitors alike in this quaint neighborhood. Kids will have a field day: mingling with animals at the petting zoo, jumping to their hearts content in the bouncy house, partaking in the sidewalk chalk drawing contest, dancing Hula, or by taking a ride on a horse drawn hayride.
Due to an increased traffic, parking in the area will be limited. Consider taking a ride on the 48 Quintara/24th Street Route to get you and your family to all the fun.
Muni service note: the 48 Quintara/24th Street may see minor delays due to increased ridership.
On Tap for next weekend: Pride Parade, Trans March, Dyke March, and Giants baseball
"On Tap" gives you a heads up about the big events in town and what Muni routes and lines will get you to the party. Look for this feature to be posted usually on Wednesdays for a look ahead to the weekend.