First Temporary Emergency Transit Lanes Complete on Mission Street
Thursday, October 8, 2020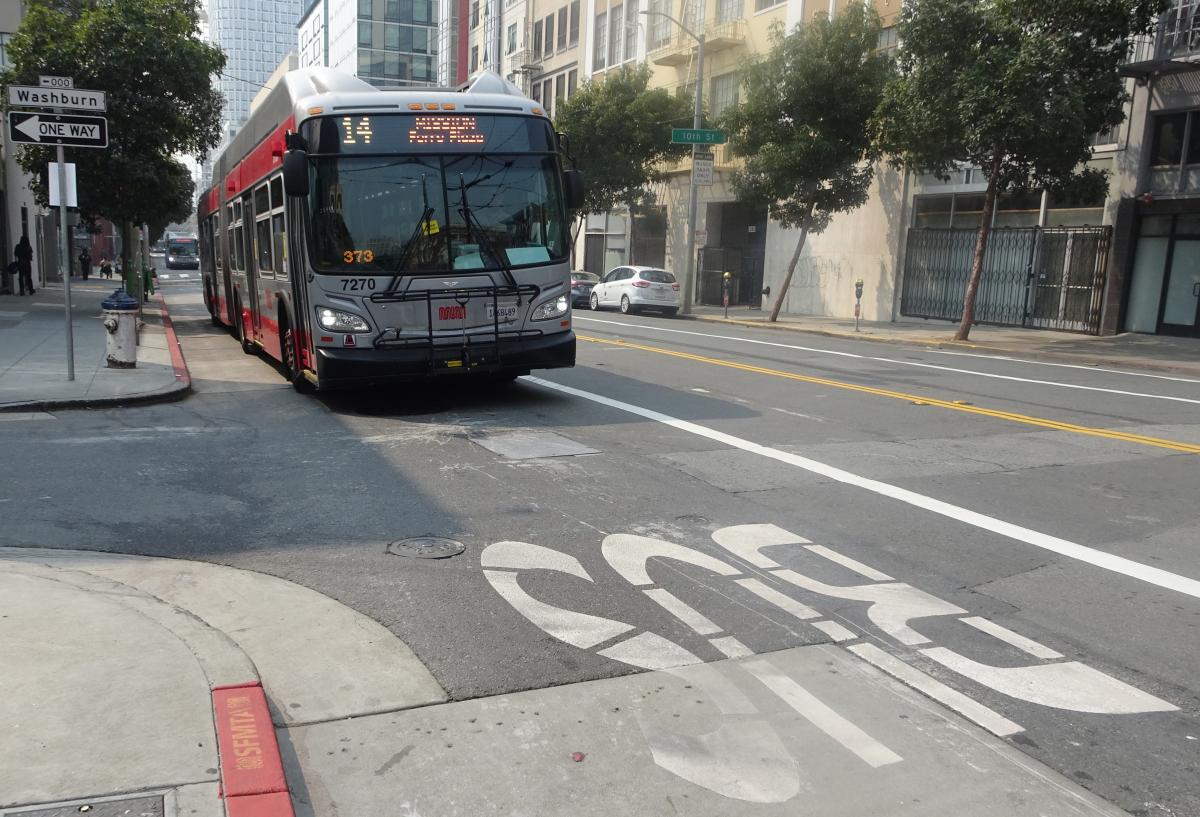 14 Mission downtown on the transit lane. 
Installation of the all-day, temporary emergency transit lanes on Mission Street is complete. With installation completed in just a few months, the new all-day temporary emergency transit lanes from 11th to 3rd streets downtown serve segments of the 14 Mission and 14R Mission Rapid and will help keep buses out of traffic to reduce crowding and travel times. Both routes have been a lifeline for essential trips during the pandemic and have experienced crowding despite increased service. Almost ten percent of trips on the 14 Mission and 14R Mission Rapid are at or exceeding our COVID-era capacity standards, which take into account the need for physical distancing. By reducing delay from congestion, Muni can provide more frequent service and greater capacity with the same number of buses.
In addition to installing the temporary all-day transit lanes, the transit lanes were widened to improve traffic safety. Previously, the lanes on Mission Street were too narrow to accommodate traffic and buses, which has contributed to unsafe street conditions and 225 collisions involving transit in the past five years.
These are the first of the temporary emergency transit lanes  to be installed. SFMTA is planning to install additional temporary transit lanes along other key locations across the city. With the need for a swift response to increasing traffic congestion and the need for more space on buses to allow for physical distancing due to COVID-19, temporary emergency transit lanes are an emergency response that allows us to be nimble and install these temporary measures and evaluate the outcomes, making changes as necessary.
Now that installation is complete, we'll begin the evaluation process evaluating metrics like travel time and ridership. You can provide feedback about what you feel is important to evaluate for these temporary emergency transit lanes. Take a short survey about how we should evaluate temporary lanes.
Soon, we'll invite you to help evaluate the transit lanes. Sign up for project updates to receive a link to the survey via email or text in the coming weeks.
For additional project information, visit www.SFMTA.com/TempLanes14.