Five Things We've Learned as We Look to Improve Neighborhood Parking
The results of San Francisco's residential parking permit survey are in, and you might be surprised at some of the findings.
Here's a sample of what we learned after getting input from 2,349 San Franciscans who took the survey as part of our comprehensive approach to evaluating the parking permit program. (We've received additional feedback at a series of 11 recent community workshops.)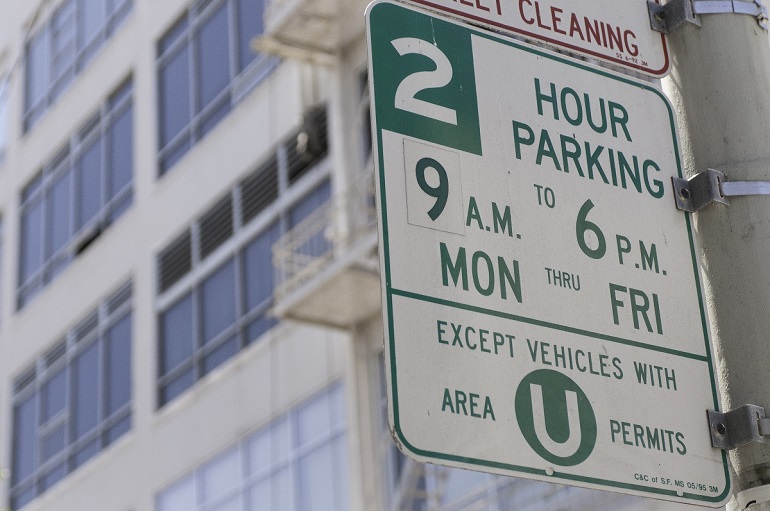 The white and green parking permit signs are posted throughout the city.
The top five things we learned from the survey:
People know about the program. More than 75 percent surveyed were aware of residential parking permits.
Less than half of people in residential permit areas actually have a permit. Only about 43 percent of residents who indicated they live in a designated permit area said they also have an annual resident permit.
Of the 1,708 survey respondents with access to a personal vehicle, 71 percent said they have access to off-street parking (in driveway or garage).
The vast majority of people who have a permit only have one, and only a few have more than two. About 97 percent of respondents had two or fewer permits, with 73 percent having only one permit.
More than 68 percent of residents who have an annual permit find the permit (currently $111) to be a good value for the price they paid.
Asked about their ability to access on-street parking near their home:
More than 71 percent of those with vehicles rated on-street parking near their home as fair or poor
39 percent indicated it took them five minutes or less to find parking
40 percent indicated they found parking within one block of their home
77 percent of residents indicated they found parking within three blocks of their home
You can read all the survey results in this PDF.
Facts about the Household Survey
2,349 San Francisco residents completed the survey.
Godbe Research conducted the survey online.
Survey was sent to registered San Francisco voters who provided their email address on their voter registration form.
Survey was available in the following languages: English, Spanish, Chinese and Tagalog.
The survey was conducted from Nov. 21, 2015, through Dec. 15, 2015.
Margin of error was + 2 percentage points at the 95 percent confidence level
The survey consisted of 41 questions.
Survey objectives included assessing public awareness of the program and participation in it, as well as evaluating perception of the overall effectiveness of the permit program. 
How the SFMTA Will Use the Survey & Other Public Input
Public input and survey results will be used to develop policy proposals to reform the permit program. In addition to the survey, a series of community workshops in all 11 San Francisco supervisorial districts were held to get public input and recommendations.  All of the feedback will be combined with other data, analyzed, and used to help shape policy recommendations later this year. Those recommendations will be presented to the SFMTA Board of Directors to decide if they should be implemented.  
About San Francisco's Parking Permit Program
Established in 1976 to protect neighborhood parking from the spillover effects of large traffic generators
Makes more parking available for residents by discouraging long-term parking by people who do not live in the area.
There are 29 residential permit areas in the San Francisco
The program has been largely unchanged since its inception 40 years ago, even though San Francisco has grown considerably since then and travel preferences have evolved.