Five Ways Your Smartphone Can Lighten Your Holiday Load
Tuesday, December 15, 2015
With holiday shopping in full swing, the city is feeling the swell of shoppers and visitors. Paired with rainy weather and shorter days, navigating San Francisco's busy streets may be enough to bring out the Grinch in any of us.
That's why this holiday season is a great time to download and test-drive one of the transportation apps designed to ease the stress of moving around our fair city.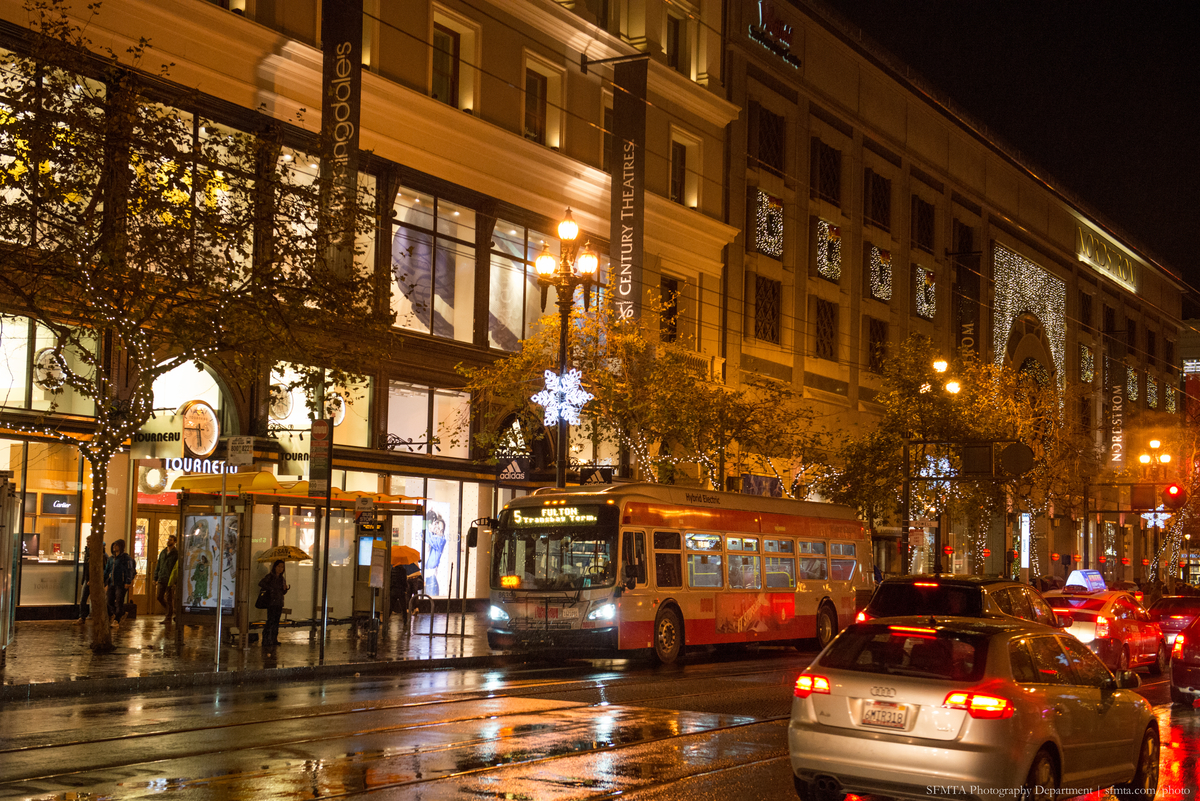 Here's of our top picks for getting around town without getting behind the wheel:
Flywheel: Flywheel allows customers to order taxis through their smartphone based on location. In San Francisco, 85-90 percent of taxis are part of Flywheel's platform – which means that a taxi is probably close and part of the system. It also means that they will accept online payment via the app, since it's cashless. Get live views of taxis nearby and arrival times to map your shopping route with ease. Download Flywheel here.
MuniMobile: The official mobile ticket purchasing app for all of San Francisco's public transit: bus, rail, cable car, paratransit, street car. Downloading the app and creating an account in advance makes buying a single ride ticket – or tickets for the whole family – simple and quick. With hands full of heavy shopping bags and cups of hot cocoa, MuniMobile saves you the time and hassle of waiting in long lines at the ticket vending machines. Buy tickets or passes with the push of a button and activate when you're ready for that Muni ride home. Download MuniMobile here.
Muni Alerts: Not sure if the next big rainstorm will snarl traffic and transit alike? Subscribe to Muni Alerts for real-time texts or emails with updates on Muni routes, lines, stations or elevators that may affect your trip. Choose to get news  on specific Muni metro lines or bus routes. Sign up for Muni alerts here.
SFpark: Get parking availability information from the smart parking pilot initiated by SFMTA. Currently real-time on-street parking availability is not available (returning soon!) but the SFpark app and website tell you how full city garages are in real-time (for example Union Square Garage has 314 of 670 spaces available as of this writing, plenty of room for shoppers). Use it to get rates for city garages and on-street meters in SFpark areas. Download SFpark here (currently iPhone only).
Scoot: Don't have a lot of bags and boxes to haul? Scoots are rentable electric mopeds and mini cars for those who are traveling light. Great for zipping through your holiday shopping and getting around crowded city thoroughfares with style. Download Scoot here.
Or follow us on Twitter for these alerts and other news.
One of the best parts of being in San Francisco is the number of ways to travel at any given time. Bus, train, streetcar, cab, taxi, private car, bike, scooter or walking. With a bit of planning and a charged phone, you'll be ready to take advantage of the easiest form of transportation available when you need it.