Geneva-San Jose Study Launches with Open House
If you walk, bike, drive or take Muni through the intersection of Geneva and San Jose avenues, next to the Balboa Park Muni/BART Station, you've probably noticed how busy and, at times, confusing it can be. This week, the Geneva-San Jose Intersection Study team will host the first of three open houses to hear feedback from neighbors and commuters who travel through the area. 
The intersection of Geneva and San Jose avenues is crisscrossed with tracks for Muni light rail vehicles and historic streetcars. Muni's Cameron Beach rail yard sits diagonally across from the Balboa Park Station. There's also the BART kiss and ride area across the street and the on-and off-ramps for I-280 just a block away. This intersection is a travel hub for San Francisco and the region.
Geneva-San Jose Intersection October Open House
Wednesday, Oct. 26, 6 p.m. - 7:30 p.m.
Lick Wilmerding High School, Room C
755 Ocean Avenue, San Francisco
You can also fill out our online survey.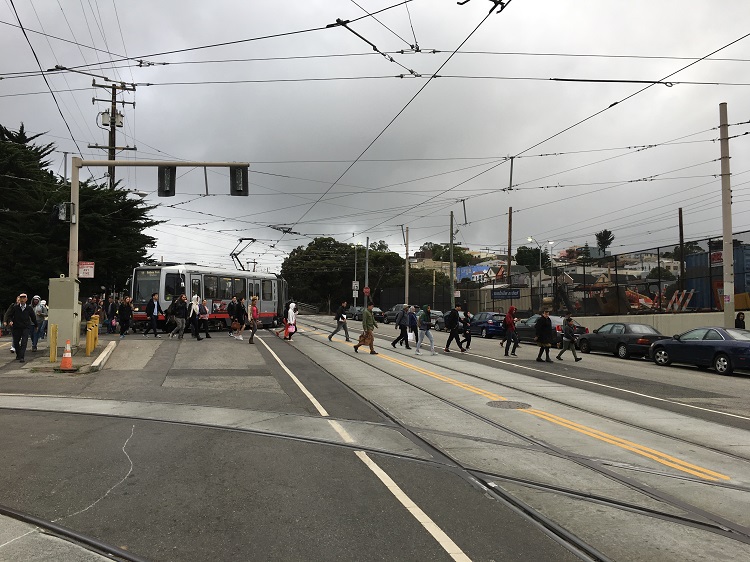 At the open house, the project staff will present a summary of existing conditions and receive community feedback on how people travel through the area today and ideas for the future. Your feedback will be used to develop recommendations for the future.  
One specific area we are focusing on is on how Muni customers access the M-Ocean View Line, which terminates on San Jose Avenue between Geneva and Niagara avenues. Our goal is to address the safety, accessibility, and operational challenges of the existing design.
Both Geneva and San Jose avenues are part of the city's Vision Zero High Injury Network.
This area has also been the subject of numerous recent planning efforts, and several projects are currently in the planning, design, and implementation phases. This task will compile recommendations from related past efforts and update them based on known feasibility issues.
The scope of the study, developed in coordination with the Balboa Park Station Citizens Advisory Committee (BPSCAC) and District 11 Supervisor John Avalos' office, will include the development of designs for safety and transit access improvements at this intersection and extending approximately one block in each direction. The design recommendations will be used for short, medium and long-term improvements. Additional open houses will be held earlier next year.
Other projects underway in the immediate vicinity that we are coordinating with include BART's Station Modernization, the city's Upper Yard Development and the city's rehabilitation of the Geneva Car Barn. 
For more information on the study, please visit the project page, attend our open house this week or contact Cristina Padilla at 415-701-2474 or Cristina.Padilla@sfmta.com.