Get those Backpacks Packed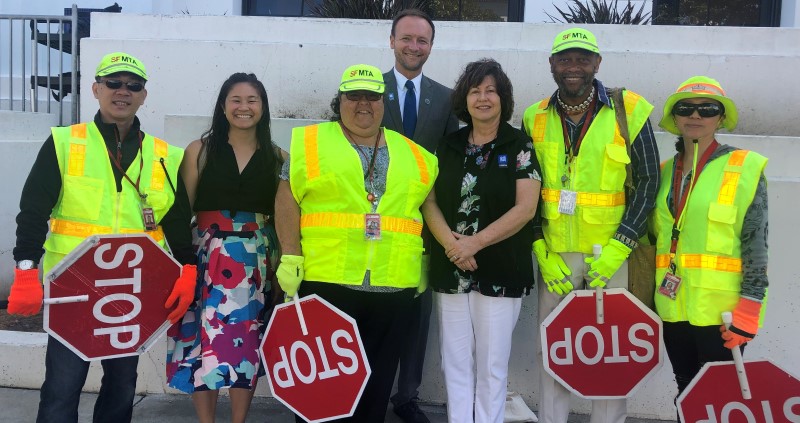 Today, Mayor Breed joined SFMTA Interim Director Tom Maguire, Supervisor Catherine Stefani, San Francisco Police Chief William Scott and community advocates to remind San Franciscans about the importance of pedestrian and traffic safety, especially with school starting on Monday, August 19. We are working diligently with the school communities to deliver safer streets to our youngest pedestrians From designing and engineering safer streets to deploying more crossing guards at key intersections this year, we are excited to support families actively choosing sustainable modes of transportation to get to and from school safely
Nearly 60,000 young people attending school in the San Francisco Unified School District are within a five-minute walk of a bus stop. And about half of them will be using Muni as their primary mode of transportation.
With the start of the new 2019 school year Monday, the SFMTA offers a variety of programs specifically to address the needs of this unique group of customers – students.
We're making sure students can travel safely and affordably through agency initiatives such as Free Muni for Youth, discounted youth fares, and the Crossing Guards and Muni Transit Assistance programs. We're also teaming up with our city partners, the San Francisco Police Department and the Department of Public Health, to remind parents, students and the public using city streets how to be safe.
School Trippers
Muni has about 29,000 students traveling on an average school day. In response to this high demand, we provide supplemental after-school service on the 24 Divisadero, 29 Sunset, and 44 O'Shaughnessy for a number of schools. Referred to as "school trippers," these added runs begin service at a school once the school day has ended and then merge into the regular bus route. The added benefit is segregating large numbers of students from rival schools, avoiding the potential for conflicts.
Visit Muni Routes of City Schools for a map and schedule for all SFMTA services and find the school and which are the nearest bus routes and rail lines available.

School crossing guards guide children across 154 intersections in the city. (SFMTA Photo)
Crossing Guards
The SFMTA is also ramping up its School Crossing Guard Program. While Aug. 19 marks the first day of school students at the Unified School District, it will also be the first day for 15 new school crossing guards. In total, the SFMTA has grown its School Crossing Guard Program to 190 this year, staffing 154 intersections at 106 private and public schools throughout the city.
The primary responsibility of a school crossing guard is to assist students traversing intersections while en route to school or home; across designated crosswalks and according to existing intersection controls. It also comes in handy that many of our crossing guards know English as a second language, with Cantonese being a primary language spoken for many.
We continue to recruit, hire and train new guards. Currently we have eight candidates going through background check and are hopeful they will be joining the team in early September.
Those interested in becoming Crossing Guards are encouraged to apply online through the City's Human Resources Job Opportunities page or contact the Crossing Guard Program at CrossingGuards@sfmta.com for more information.
Muni Transit Assistance Program MTAP
Another way we work to make student travel safer is through the Muni Transit Assistance Program (MTAP). Since launching in 1996, MTAP has provided community-based staff to ride transit lines with high incidences of graffiti and juvenile disturbances and assist with enforcement. Transit Assistants are assigned to ride and monitor various bus lines and schools throughout the city depending on the need, rider count and concerns. They also act as a liaison between SFUSD, nonprofit organizations and School Resource Officers. These 14 individuals are part of the Security, Investigations and Enforcement Division at the agency.
Safe Routes to Schools Movement
Safe Routes to School (SRTS) is an international movement in more than 40 countries and all 50 states. They provide an opportunity to make walking and bicycling to school safer and more accessible for children, including those with disabilities, and to increase the number of children who chose to walk and bicycle.
On a broader level, SRTS programs can enhance children's health and well-being, ease traffic congestion near schools, improve air quality, and improve community member's overall quality of life through bringing school transportation activities together to strengthen communications between school community and city planners, public safety and educators.
Our own Safe Routes to School team will be expanding efforts from 30 local elementary schools to serving 103 non-charter, K-12 public schools with outreach and education about how to get to school safely and sustainably.
On the engineering front, SFMTA teams have completed a baseline safety assessment of 103 San Francisco Unified School District schools to develop a better understanding of the state of safety infrastructure around our city schools in order to develop and implement better and new communication modes. Additionally providing:
Pedaling Forward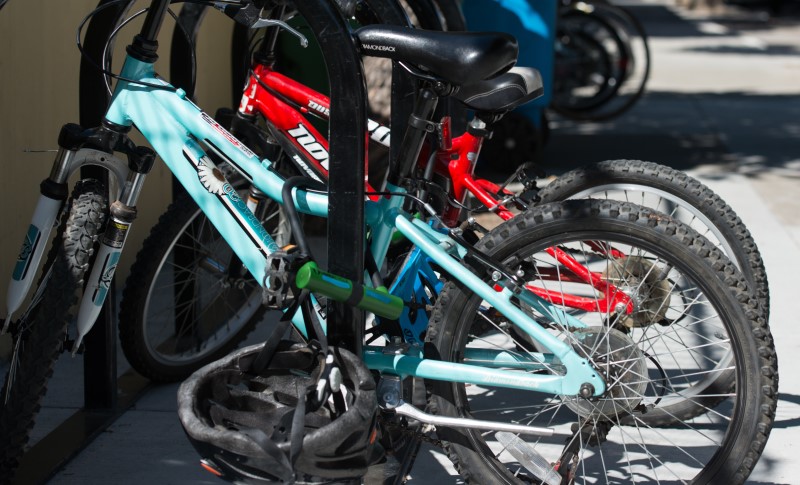 More and more people in San Francisco, and just not children, see bicycles as more than just a convenient way to get around; it's a necessity. Creating a connected network of safe, low-stress streets for bicycling is crucial to keeping students safe while they bike to school.
Free Muni for low-to-moderate-income students
The Free Muni for Youth Program provides free Muni services for low to moderate-income city youth between the ages of five and 18 (students enrolled in Special Education Services and the English Learner Program are eligible until the age of 22). Since Free Muni for Youth began in March 2013, nearly 38,500 youth have enrolled in the program.
Applications are available for those who have not had time to sign up for the Free Muni for Youth Program and are between the ages 5-18. They can still get a discounted fare of $1.25 when using a Clipper card ($1.50 with cash) to ride on Muni with a valid identification.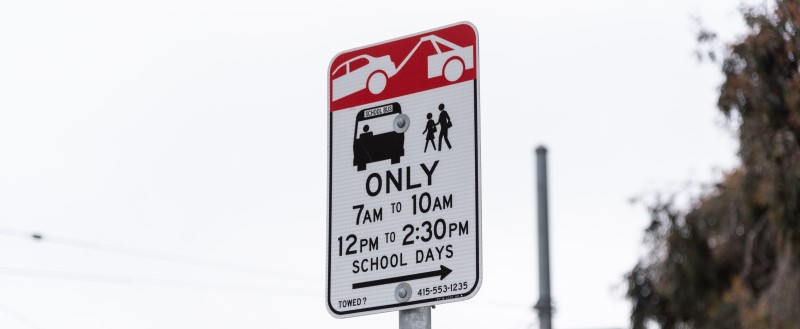 A Reminder from the San Francisco Police Department
September is a good time to remember to slow down and pay attention as smaller people will be walking and bicycling to school. Special attention should be given when entering school zones, passing Muni transit stops, or approaching marked or unmarked crossings. Additionally, motorists should be aware that passing a school bus with flashing red lights is prohibited, from either direction, unless on a divided highway, with two or more lanes in each direction. Failure to follow this law could cost you $694.
Other fines include:
Speeding – it's a sliding fine from $237 to $489 depending on how much over the speed limit
Failure to Yield to Pedestrian in Crosswalk - $237
Motor Vehicle in Bicycle Lane - $237
Additional Resources