Happy Bike to Work Day: Say Hello to New Bike Counters and Wayfinding Signs
If San Francisco's 2015 Annual Bicycle Count Report is any indication, today we should see another record-breaking number of wheels spinning along city streets. City leaders, agencies and community partners took to two wheels once again for San Francisco's 22nd Annual Bike to Work Day, which sees some of the highest participation in North America.
SF's Annual Bicycle Count Report, released last month, showed a whopping 184 percent growth in ridership since 2006, according to counts at 19 intersections across the city. From 2014 to 2015, weekday bike commuter trips jumped 8.5 percent – an increase of 200,000.
Those who ride in for Bike to Work Day 2016 might notice a couple of new additions to the city's bike network.
One of our new bike wayfinding signs on Hugo Street in the Inner Sunset.
New Bike Wayfinding Signs Launch in the Inner Sunset
This week, we unveiled San Francisco's new bike wayfinding signs in the Inner Sunset neighborhood, with plans to roll out 1,200 new signs citywide over the next two years.
The new wayfinding signs are designed to be more intuitive and readable than the previous iteration, which will help familiarize people with the best bike routes to destinations citywide. The first of the new signs were launched in the Inner Sunset, which is a connecting point to destinations like Golden Gate Park, Ocean Beach and bike routes that lead to downtown.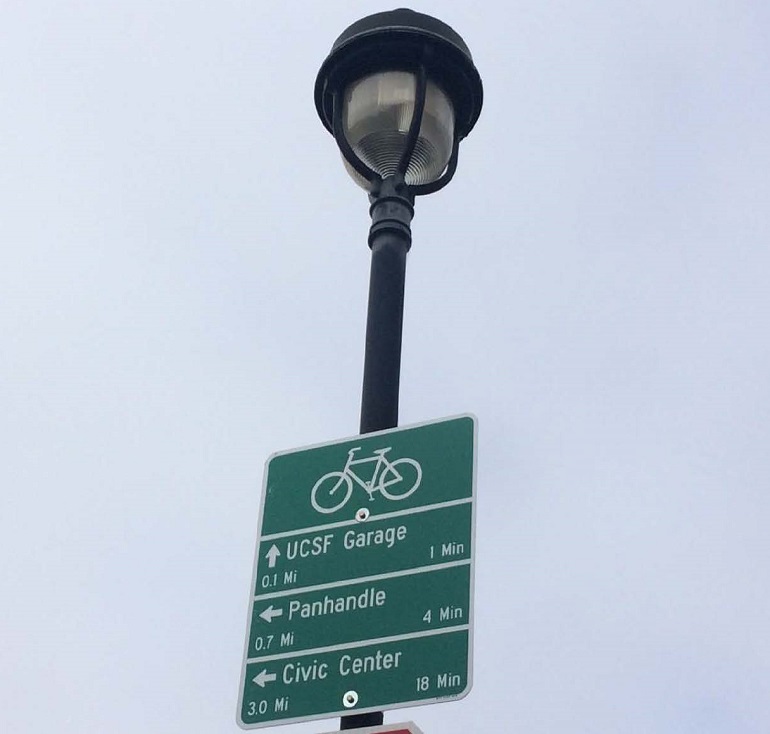 Our new bike wayfinding signs list major destinations along with their respective direction, distance and travel time.
New Bike Counters on Market and Valencia Streets
We also installed two new bike "barometers" that count people biking on northbound Valencia Street, between 16th and 17th streets, and westbound Market Street, between 9th and 10th streets.
Bike barometers help the city compile 24/7, year-round data on bike ridership and help raise awareness of surge of bicycling in San Francisco.
The new bike barometer on westbound Market complements our first one on eastbound Market, between 9th and 10th streets, which was installed in May 2013. Last year, that counter logged over one million bike trips – a 25 percent increase over the previous year.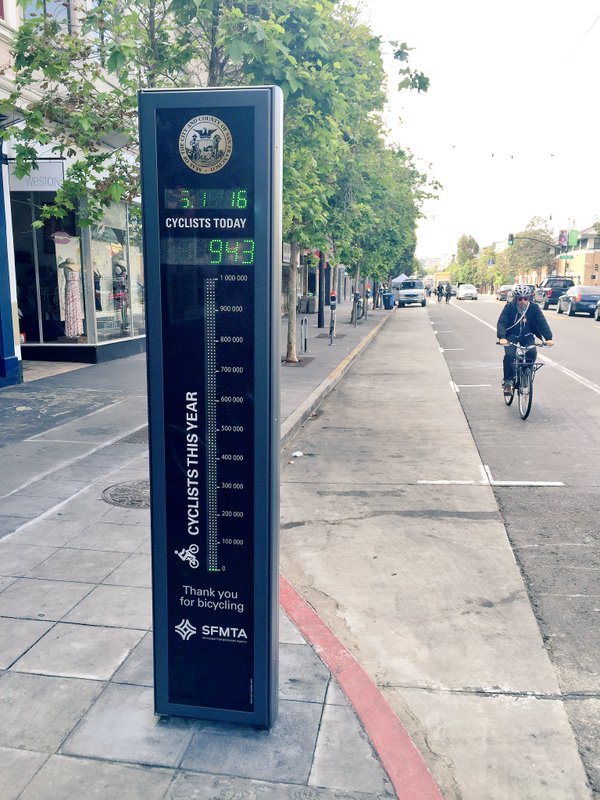 One of our new bicycle barometers on northbound Valencia Street, between 16th and 17th streets. Photo: Brian Stokle/Twitter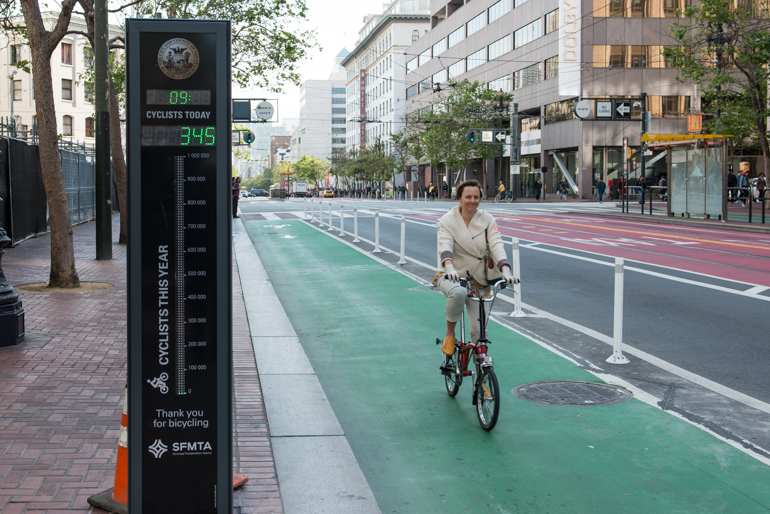 Our new bike barometer on westbound Market Street sits across from the one we installed in 2013 to count eastbound traffic.
Key to SF's bicycling surge is the SFMTA's work to make biking a safer and more attractive way to get around.
In the past year, we completed at least 23 projects to make streets more bike-friendly:
Constructed and/or upgraded 14 miles of bikeway improvements
Grown the San Francisco bikeway network to 434 miles
Implemented a variety of bikeway projects on key streets such as 13th, Bay, Sloat Boulevard, Folsom, Oak and Fell
Initiated key steps to start construction on major bike-friendly streetscape revamps on Masonic Avenue, 2nd Street and Polk Street
We hope your ride today was safer and more fun than ever – we'll see you out there.