HeadsUp: Nightly Subway Maintenance Starting January 26
Wednesday, January 22, 2020
The subway will be closing early each night at 9:30 p.m. starting January 26 and continuing for approximately one week for extended maintenance hours. Bus substitution service will connect to all stops.
On most nights, our teams have about two hours to get work done between evening and morning service. In order to complete critical maintenance tasks that cannot be completed during normal windows, we are planning this week of early subway closures, so crews have more hours each night to do vital work. This is our ongoing effort to maintain the subway infrastructure to ensure safety and reliability. The last early subway closures for maintenance took place in August 2019. 
What Are We Doing?
Track Maintenance. Installing new track hardware in a pilot segment to evaluate new technology.
Signal Maintenance. Perform cable tests and inspections to identify problems and future upgrades.
Overhead Lines. Replace worn overhead wire; Adjust system supports and tension to deliver better performance of pantographs and improve overhead wire life.
Custodial Services. Deep cleaning each station.
Station Maintenance. Address overdue or restricted access maintenance and preventative maintenance priorities.
When the subway closes, buses will run above ground to connect all stops through the normal end of train service. Owl service will remain unchanged. Trains will start regular morning service each day.
Transit Service Plan – 9:30 p.m. to 1 a.m.
Shuttle buses will serve all Muni Metro stops between Embarcadero & Brannan and St. Francis Circle
K – Train service between Balboa Park and St. Francis Circle
L – Train service between SF Zoo and West Portal
M – Train service between Balboa Park and West Portal
N – Train service between Ocean Beach and Church & Duboce
J – Train service between Balboa Park and Church & Duboce
T – Train service between Sunnydale and Embarcadero & Brannan
Inbound N Judah and outbound J Church trains will use the accessible stop entering the Duboce Portal to serve customers needing the ramp.
Plan extra travel time when riding Muni during subway closure. Regular bus fares will apply on bus shuttles and valid transfers will be accepted.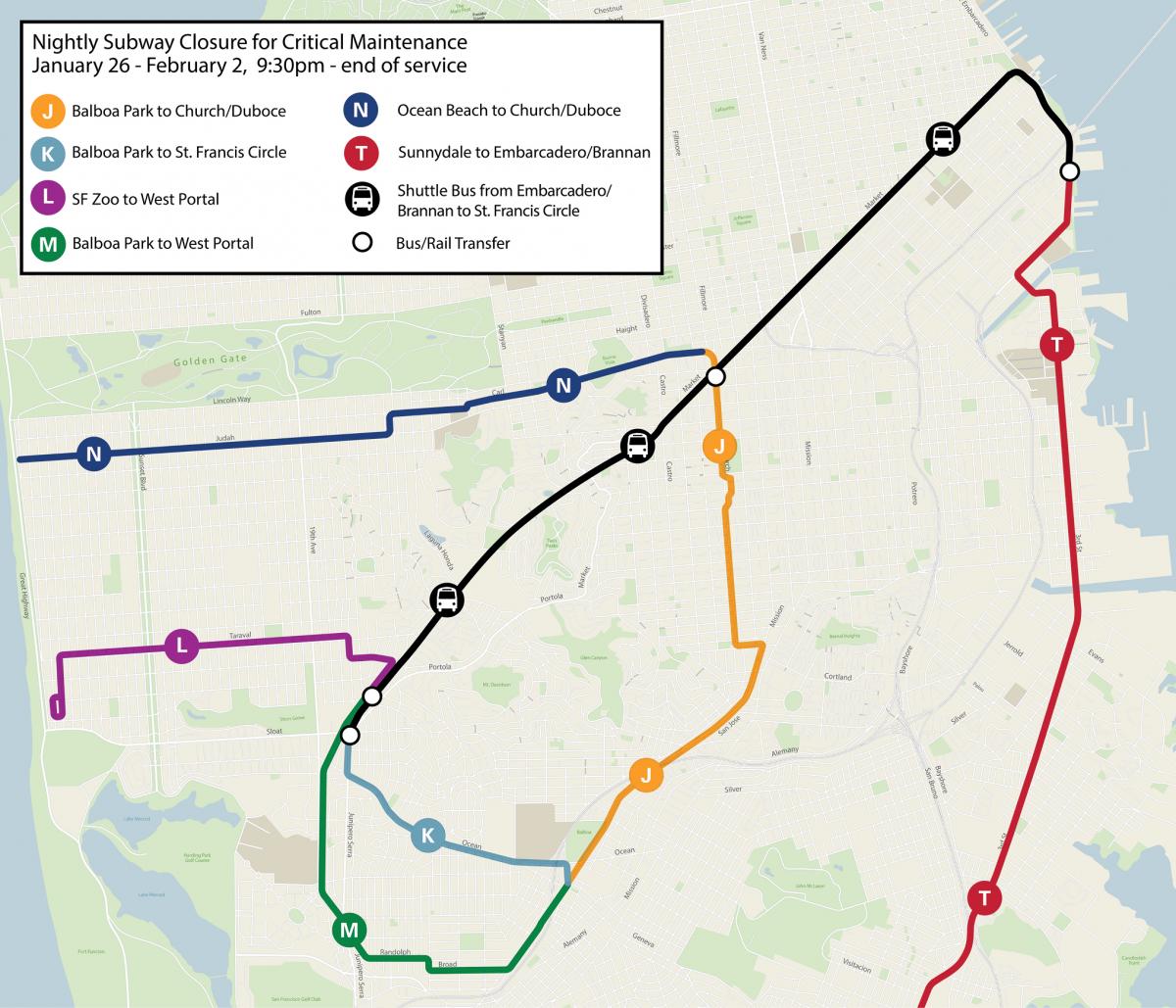 What Did We Complete In August?
Track Maintenace
Replaced four worn switch points.
Removed and replaced two sections of corroded rail. 
Replaced two curved switch points at Duboce.
Signal Maintenace
Replaced batteries for the following relay rooms: Church, Civic Center, Castro, Embarcadero, Forest Hill and Powell Station.
Provided support to Track Maintenance to make final adjustments to the switches. 
Performed an end to end inspection of the ATCS (Automatic Train Control System) from West Portal to Castro Station.
Overhead Lines
Replaced a total of 4700 feet of overhead contact wire and support hardware at various locations.
Eliminated 30 wire splices
Removed, replaced and aligned five Section Breaks