Heinicke, Rubke Reappointed to SFMTA Board of Directors
Malcolm Heinicke and Cristina Rubke, two accomplished SFMTA board members who bring unique perspectives to the agency's governing body, had their reappointments confirmed by the San Francisco Board of Supervisors Tuesday to serve additional four-year terms.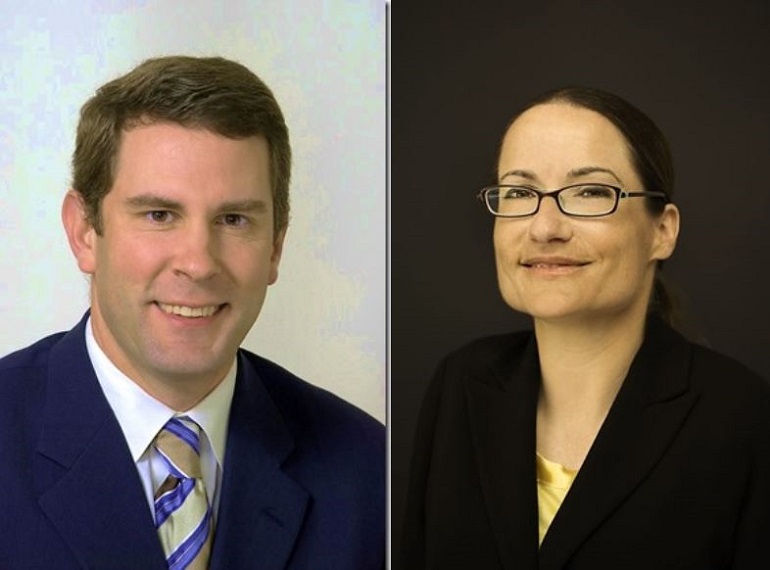 Left: Malcolm Heinicke, right: Cristina Rubke
Heinicke, a partner at Munger, Tolles & Olson LLP specializing in labor and employment litigation, has been reappointed for a third and final term that will end March 1, 2020. Terms on the SFMTA Board of Directors are capped at three.
Rubke, an attorney and co-chair of the Litigation Department at Shartsis Friese LLP, returns for her second term, which will also continue through March 1, 2020.
The San Francisco Board of Supervisors on April 5 unanimously confirmed both Rubke and Heinicke for reappointment after Mayor Ed Lee had named them to the posts.
Heinicke and Rubke bring a strong sense of commitment and a diversity of views to the SFMTA board.
Taxi Experience
Malcolm Heinicke was appointed to our board by Mayor Gavin Newsom in 2008 and subsequently reappointed by Mayor Lee. Prior to joining the SFMTA board, he was a commissioner on the San Francisco Taxicab Commission, which merged with the SFMTA after voters approved Proposition A in 2009. Heinicke has also served as Chair of the Taxicab Charter Reform Working Group. As a Taxicab Commissioner he focused on neighborhood and peak-time service issues, areas that have also drawn his attention as a member of the SFMTA Board of Directors.
During the Brown administration, Heinicke also served the city as chair of the San Francisco Human Rights Commission. Heinicke serves on the Board of Directors of the Bar Association of San Francisco. He is a past president of the Barristers Club of the San Francisco Bar Association and past chair of the Labor and Employment section of the Barristers Club.
Avid Sailor
Rubke has built a strong legal practice in intellectual property law and is dedicated to serving the local community. She has held key roles at the Bar Association of San Francisco, including chairing the delegation to the state bar Conference of Delegates in 2010 and serving as co-chair of the Disability Rights Committee. At Shartsis Friese, Rubke has actively led the charge to take on pro bono cases to provide services to those who are unable to afford them.
Rubke, who uses a wheelchair, is an avid sailor, a commodore for the Bay Area Association of Disabled Sailors and a board member of the South Beach Yacht Club. She has been a board member of Disability Rights Advocates since 2009.
The SFMTA is governed by a seven-member board appointed by the mayor and confirmed after public hearing by the San Francisco Board of Supervisors, as set forth in the City Charter. Directors are required to select a chair annually; Tom Nolan currently serves as SFMTA chairman of the board. Along with Nolan, Heinicke and Rubke, the SFMTA Board of Directors is made up of Gwyneth Borden, Cheryl Brinkman and Joél Ramos.
As part of the City Charter requirements, at least four of the SFMTA Board of Directors must be regular riders of Muni and two must have significant professional knowledge in one or more of these fields: government, finance or labor relations. At least two of the board's seven directors are specifically required to have knowledge or professional experience in public transportation. During their terms, all directors are required to ride Muni at least once a week.