How Can You Reach the SFMTA? Let Us Count the Ways
Wednesday, April 27, 2016
When issues or delays arise, commuting in San Francisco can be challenging, but we're here to help. There are a variety of ways to get in touch with the SFMTA to get real-time updates and get answers to your questions as you move about the city.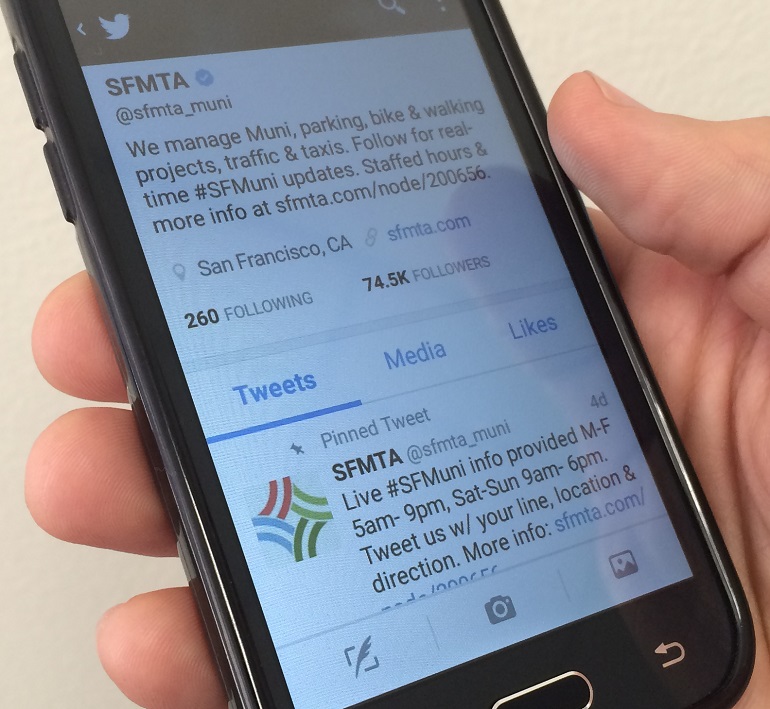 Twitter
The SFMTA's live Twitter account, @sfmta_muni, provides real-time alerts about Muni service disruptions, information about the SFMTA's work and notices about upcoming events that affect transportation in San Francisco.
We're staffed and ready to help with your service questions Monday through Friday, from 5 a.m. to 9 p.m., and weekends from 9 a.m. to 6 p.m. (weekend hours sometimes vary depending on special events). If you tweet us with your Muni line and location (even better: your vehicle's four-digit number), we can provide arrival times, updates and answers about any delays.
We also look to our Twitter riders as additional eyes and ears on the streets. Photos and information can help shed light on incidents affecting a line or other service issues. Customer Information Officers pass information along to help transit management staff assess and respond to a situation. Of course, for emergencies, please call 911.
For our Muni Metro rail and historic streetcar lines, we use hashtags to better track and identify service alerts. You can use Twitter's search feature to see any updates we've pushed out.
Historic Streetcar Lines
#ELine = E Embarcadero
#FMarket = F Market & Wharves
Metro Lines
#Subwaysvc = Muni Metro subway service between West Portal and Embarcadero stations, which includes all Metro lines.
#JChurch = J Church
#KIngleside = K Ingleside
#LTaraval = L Taraval
#MOceanView = M Ocean View
#NJudah = N Judah
#TThird = T Third
311
Non-emergency complaints and feedback should be submitted to 311, the citywide system for service requests, for investigation and follow-up.
Feedback received through 311 is routed to our customer service group, which conducts preliminary investigations, using tools like NextBus data and our service scheduling system. If needed, they forward the report to the appropriate division to take any action needed. For example, complaints or commendations about operator behavior are sent to the division superintendent and comments about service frequency to the transit planning staff.
For us to best assess a report, details are key, such as the time, location, line, four-digit vehicle number.
Filing through 311 isn't just the best way to ensure your feedback is heard -- you'll get a tracking number, which lets you log in to 311 and check the status of your complaint.
You can file a request to 311 online, reach them on Twitter (@SF311), or dial 3-1-1 (within SF only) or 415-701-2311. 311 is available any time — the sooner you report an incident, the better.
You don't have to check our Twitter feed for service alerts. You can also sign up for free e-mail and text alerts for the specific Muni lines and times of day you travel. You can also get updates on agency news, projects, and scheduled service changes.
With a valid e-mail or phone number, you can subscribe to as many Muni lines and topics as you'd like:
NextBus
Also keep an eye out for our Muni service alerts scrolling on our NextBus signs -- those digital yellow marquees that hang at stop shelters. If you're in a Muni Metro station, these messages also scroll on the LCD screens on subway platforms. And if you use a computer or smartphone to check arrival times on NextMuni.com, messages that pertain to the line and stop you're viewing will appear on the webpage.
While we work hard to communicate real-time information we receive, our front line staff can also be a resource. Don't hesitate to ask our operators and on-street staff for information when they're available to provide it.