If You See Crime on Muni, Here's How to Help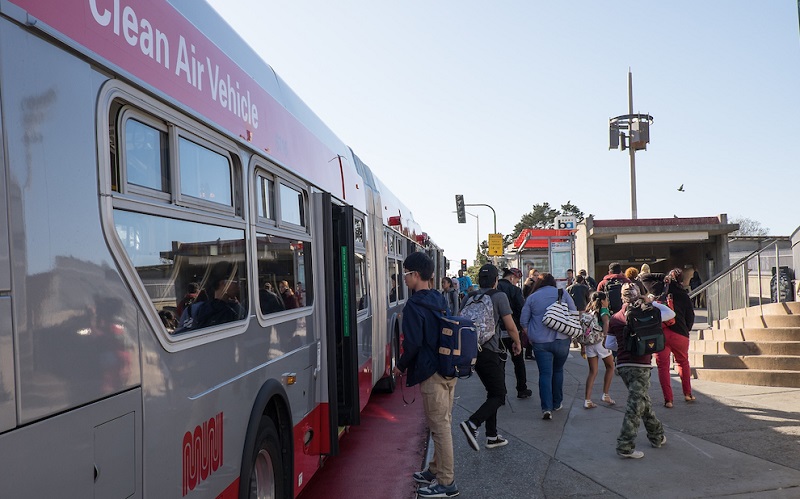 Crime on Muni vehicles and in stations has dropped steadily since 2013, as you may have heard.
The decline in crime comes even as more people ride Muni, and it correlates with our efforts with the SF Police Department to use better surveillance equipment and data to deploy police where they're needed most.
Still, it's always best to be prepared, and we thought it'd be helpful to share recommendations for the safest ways to respond.
When a crime like an assault, theft, robbery or vandalism does happen on board, we at the SFMTA, working with the SFPD, do our best to use the information we have, when we have it, to keep everyone safe and apprehend any suspects.
What to Do in the Event of a Crime on Muni
So, what can you do to help? Here are some recommendations from the SFMTA's Chief Security Officer, Chris Grabarkiewctz, for when you witness, or are a victim of, a crime:
First and foremost, stay safe: Try to remain calm and exit the vehicle if necessary and safe to do so. Never put yourself in danger.
 
Alert authorities and your Muni operator: Call 911 to report the crime as soon as it's safe to do so. Also alert the Muni operator if the operator doesn't seem to be aware so they can take steps to keep everyone safe.
 
Remember and report helpful details: When reporting an incident, accurate details can make all the difference in enabling police and Muni staff to respond as effectively as possible. When a crime occurs, note details like the time, location and Muni vehicle number. If safe, also note a physical description of any suspects. It can also help to – once again, only if safe – discreetly take photos or videos of the incident to provide to police.
Those kinds of details are important for any investigation and action to be taken – even for non-emergency issues, which should be reported to the Muni operator and/or by calling 311.
How useful can the details be? With a Muni vehicle and time identified, our staff can retrieve onboard surveillance video footage of an incident. And in a high-profile example in April, a victim provided a photo of a suspected serial sexual assailant on Muni that enabled police to arrest the suspect within a few days.