Improving Safety on 16th Street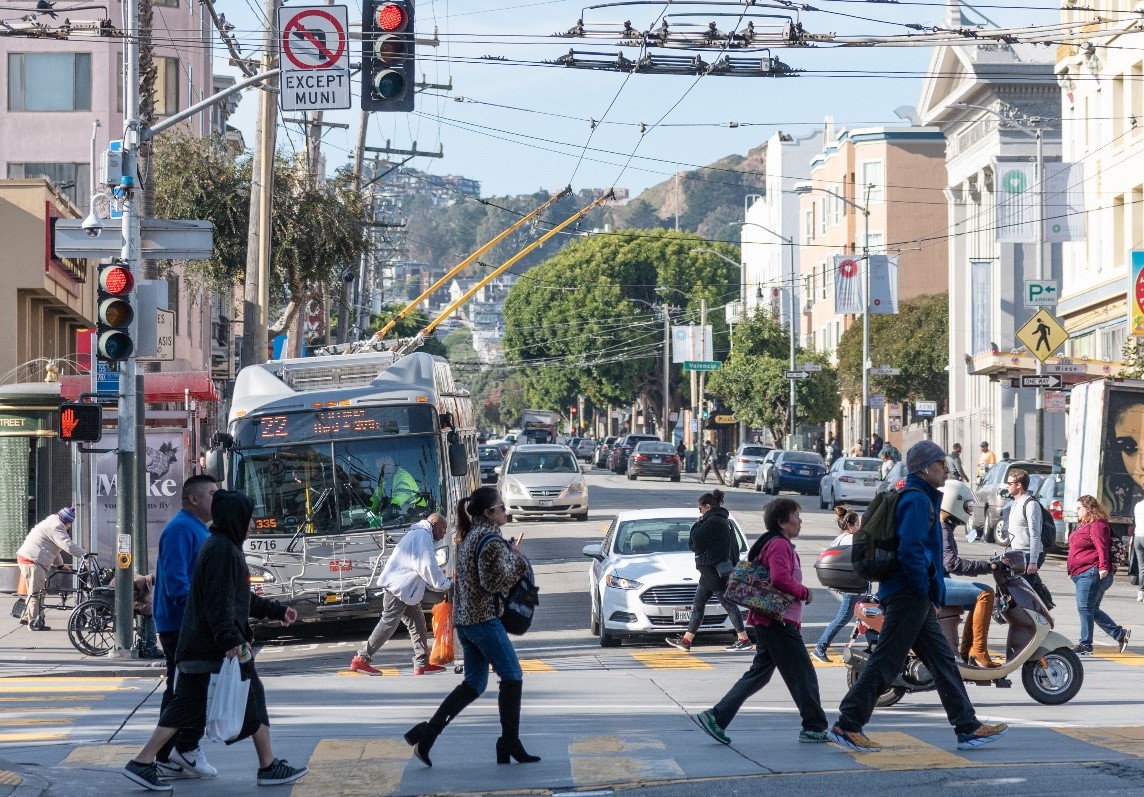 Construction on Phase 2 of the 16th Street Improvement Project began May 9, 2022. 16th Street is part of the city's High Injury Network, where 75% of the city's severe and fatal traffic incidents occur on just 12% of the city's streets. This project, in addition to improving reliability of the 22 Fillmore line, has several pedestrian safety features that will make 16th Street a safer place for all modes of transportation.
For people who walk on 16th Street:
One of these safety elements is the installation of 2 new pedestrian bulbs at Guerrero Street and South Van Ness Avenue. These bulbs shorten the crossing distance between the corners of an intersection and make people who are about to cross the street more visible to drivers. The bulbs also require vehicles to slow down when making right-hand turns. High-visibility crosswalks will be installed. These make it easier for people driving to see people crossing the street, and also aids people with low-vision in crossing the street safely
New traffic signals with pedestrian countdown signals will let people walking know how much time they have to cross the street before the traffic light changes. In response to community concerns about pedestrian safety, a new accessible pedestrian signal with pedestrian countdown and audible tones will be installed at Shotwell Street, a designated Safe Street.
For people who ride transit on 16th Street:
In some areas along the corridor, sidewalks at bus bulb-out locations will also be widened as part of the project. Wider sidewalks act as a buffer between traffic and people on sidewalks and make it safer for people riding transit to board and alight from buses. Buses remain in their dedicated transit lane, while people can step directly between the bus and the curb safely. This also improves transit efficiency as buses do not need to pull back out into their lane to continue their route.
For people biking near 16th Street:
During Phase I of the project, the SFMTA extended the bicycle route on 17th Street. This allows for a safe and attractive east-west connection for people on bicycles. As a part of the bicycle network, the bicycle route improves conditions for people on bicycles and enhances connections to the existing bicycle network. This network allows people to travel from the Castro to Mission Bay safely by bicycle.
Public safety is important, and all SFMTA construction projects include that in the planning and design process. The 16th Street Improvement Project wants to make sure that pedestrians, transit riders and bicyclists arrive safely at their destinations.