Wednesday, February 25, 2015
While preparations are underway for the annual Chinese New Year Parade early next month, don't forget that Lunar New Year festivities are still taking place throughout the city. Check out sanfranciscochinatown.com for calendar of festive events.
YMCA Chinese New Year Run
Sunday, 7 a.m.
Chinatown
Start the "Year of the Ram" on an energetic note by taking part in the YMCA Chinese New Year 10K/5K Run.This year's run will raise money for youth programs stressing fitness, nutrition and wellness education. The race course begins and ends in Chinatown while passing through parts of North Beach, the Financial District and along The Embarcadero. Post-race awards, refreshments and goodie bags will be available at Portsmouth Square.
Runners, walkers and supporters can help ease traffic congestion by utilizing Muni service on the 1 California, 8X Bayshore Express, 10 Townsend, 12 Folsom/Pacific, 30 Stockton, 39 Coit and 45 Union/Stockton routes as well as the California Cable Car Line.
Muni service note: the 10 Townsend and 12 Folsom/Pacific will have re-routes, while the 1 California, 8X Bayshore Express, 30 Stockton, 39 Coit, 45 Union/Stockton routes and California Cable Car Line will see delays along the race course.
"On Tap" gives you a heads up about the big events in town and what Muni routes and lines will get you to the party. Look for this feature to be posted usually on Wednesdays for a look ahead to the weekend.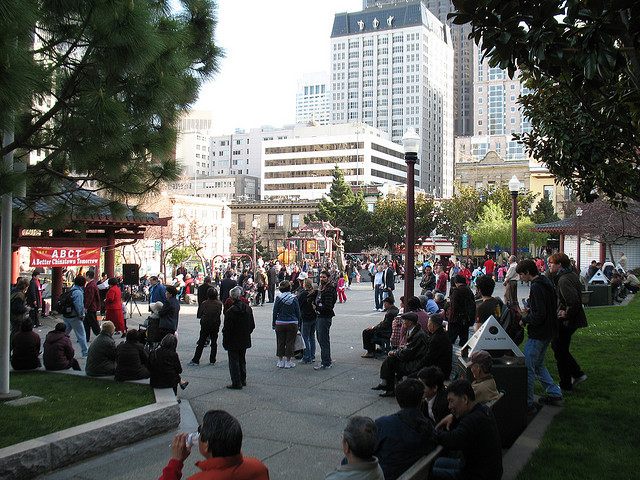 An afternoon gathering in Portsmouth Square, February 14, 2010. Photo Credit: gregpoo, Flickr