M Bus Community Shuttle Starts Service Monday 5/4
Starting Monday, May 4, the M Bus will return to partial service as a "Community Shuttle" between Balboa Park and West Portal stations. This service update is based on ridership trends, staffing availability, and community feedback. It has strong support from District 11 Supervisor Safai as a way to improve transit connections in the southwestern area of the city. The modified M Bus Community Shuttle route will provide better access for essential trips in the Ocean View, Merced Heights and Ingleside neighborhoods and to the transit hubs of West Portal and the Balboa Park. Serving stops on weekdays only from 6 a.m. to 9 p.m., the M Bus frequency will be approximately every 20 minutes.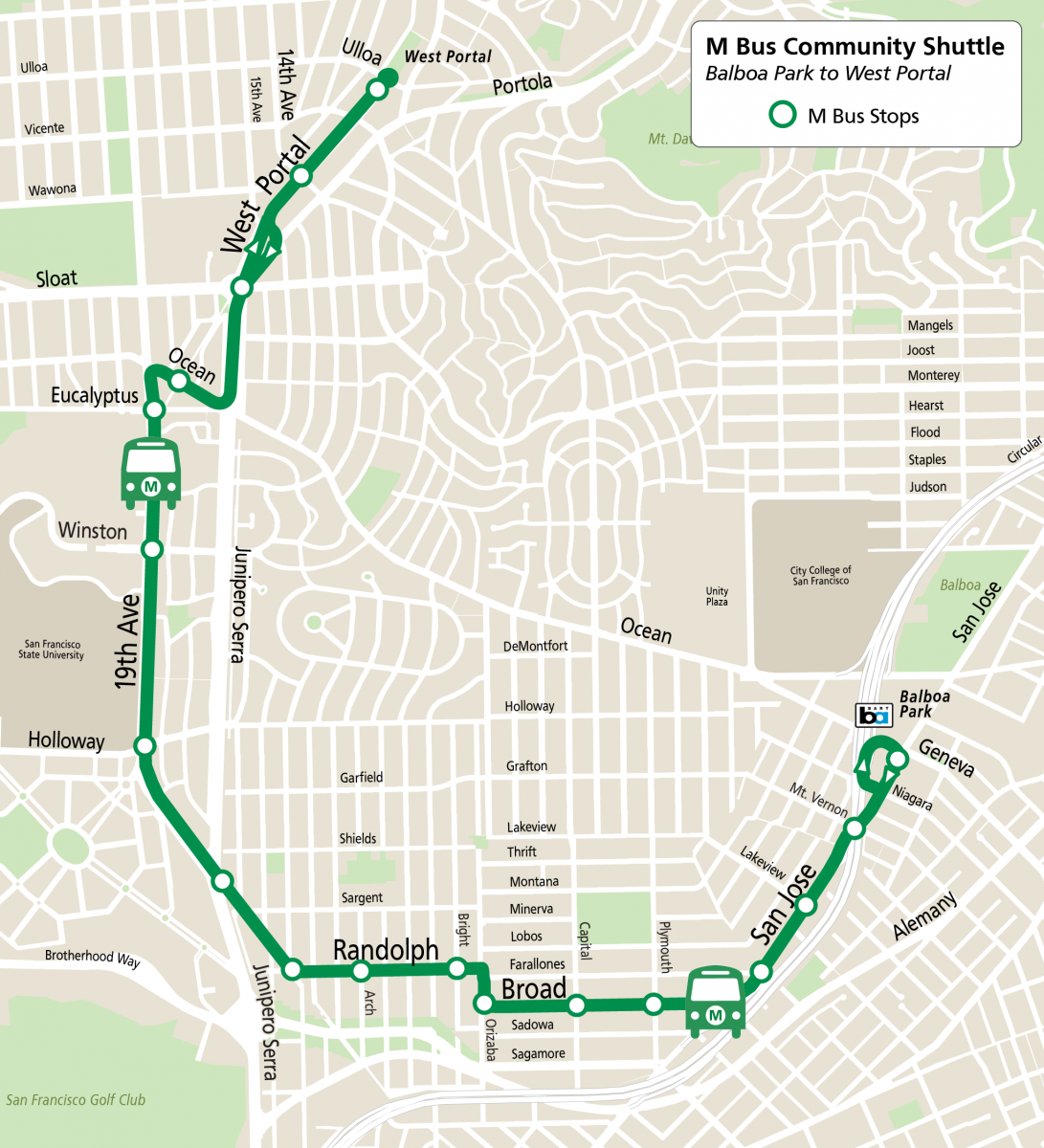 Since April 8, Muni has been operating a COVID-19 Core Service Plan to support essential trips that cannot be made any other way. With fewer operators, car cleaners and maintenance staff available during the shelter-in-place, Muni service has been temporarily reduced. The initial network and subsequent changes are informed by data on where ridership is highest, our Muni Equity Strategy to provide transportation for those with the fewest options, locations of essential services like hospitals and groceries, and to provide coverage across the city.
Muni still serves approximately 100,000 passengers a day for essential trips. We are asking all San Franciscans to help us maintain adequate space on buses for physical distancing by staying at home except for essential trips. Staying home or walking, biking or driving instead saves a seat on Muni for those who don't have other options. You may see some of our staff at select bus stops helping to reinforce this message to our customers.
If you do need to travel on Muni, give yourself extra time. You may need to wait longer for a bus with available space for physical distancing. Masks or face coverings are required on Muni. To avoid getting passed up, cover your nose and mouth with a mask or other facial covering and give the operator a friendly wave to be sure they see you. Remember, your trip may now include transfers and a longer walk, and your fare is good for two hours across multiple buses.