Making Special Events Possible
Thursday, August 10, 2023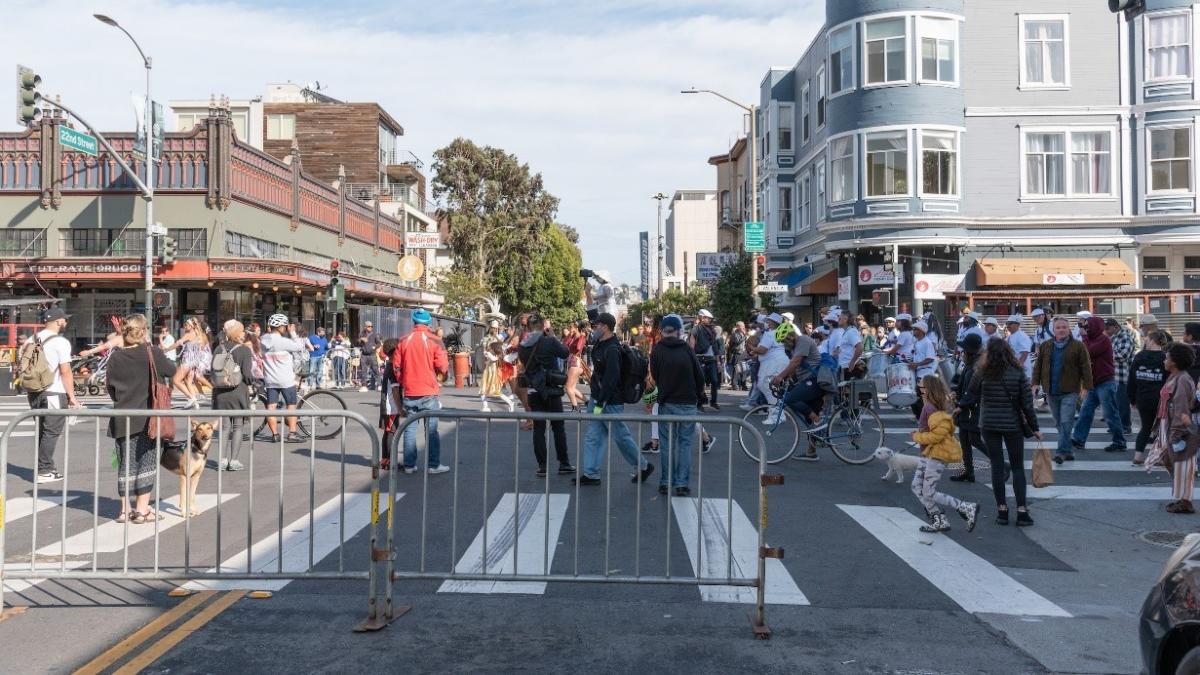 Outdoor festivals like Sunday Streets Phoenix Day celebrate the spirit of San Francisco. Such special events rely on the cooperation of many city departments. 
San Francisco is a city that loves its outdoor events. Whether it's a cultural heritage or holiday festival, farmers market, street fair, dance party, road race or even just a neighborhood block party, what often gets overlooked is the intricate collaboration and planning across city departments to make these events a success. 
Nick Chapman is one of the people behind the scenes at the SFMTA who helps make them a reality. For seven years, he has worked to manage the permitting process that's required for any special event. As a native San Franciscan who knows many corners of the city, Chapman has an appreciation for the public's requests and finds the work to be fascinating. 
"Every project is a little different. Every event, every location is a new situation with different stakeholders. Working with other city departments makes it fun and interesting," he says. 
Chapman is the manager of ISCOTT, or the Interdepartmental Staff Committee on Traffic and Transportation. The board is made up of representatives from seven city agencies, including the SFMTA, Public Works, Police, Fire, the Entertainment Commission, Public Health and Planning. ISCOTT is responsible for approving or denying any event permit that requires a street closure on a roadway managed by the SFMTA. Certain exceptions outside of its jurisdiction include requests for street closures within parks managed by Recreation and Park, the National Parks Service and the Presidio Trust. 
ISCOTT convenes for public hearings twice a month, except in November when it meets once. There are many considerations that go into any event request. 
The first step is to submit an application. There are two types, one for Neighborhood Block Parties and one for all other Special Events. Applicants are encouraged to provide as much detail as possible about their event, including a site plan of any streets requiring closure. 
Chapman reviews each application for possible issues. If an event falls on a particularly busy date, he may contact other city departments to determine resource availability and suggest alternatives to the applicant. He ultimately wants events to be approved and tries to caution applicants before they submit the non-refundable fee. 
The minimum deadline to submit an application is 30 days before the event date, but applicants are encouraged to send in proposals as much as four to six months in advance. This allows time to secure any additional resources, such as food, alcohol or vendor permits, insurance, a medical plan or restrooms. It also provides flexibility if a certain date is unavailable. In recent years, the SFMTA has tried to improve the process by moving applications online, offering increased transparency about permitting and working to reduce fees, especially for small scale block parties and non-profits. 
When ISCOTT approves a request and the date is set, we coordinate resources to determine next steps. Several agency groups work together to prepare an array of services for upcoming street closures. Parking Control Officers might be required to direct traffic around the area. Reroutes of Muni lines need to be planned and communicated to the public and operational staff. Transit stops need to be moved with new temporary signs posted. Taxi stands, paratransit pick-up and drop-off zones or areas for car and bike shares might need to be defined. For the largest events, the signal timing of traffic lights may even be modified. Thought also goes into notifying Google Maps, Waze and autonomous vehicle services about street closures, so they show up on maps on the day of the event. 
The contributions from the Streets, Meter Shop, Temporary Sign Shop, Transit and Communications divisions are small but vital parts that make these events a success. The interagency work that goes on between the SFMTA and other city departments is also key. 
Special events help to stimulate the economy, strengthen social ties within the community and encourage civic pride. Every planned event requires resources so that they can be held safely, and it's important that different city departments are aware of them. ISCOTT helps to serve that need so that these events continue year after year. 
For more information about applying for a special event street closure, please visit our Special Events Closures website, (SFMTA.com/StreetClosures).