Milestones on the Waterfront
Thursday, December 10, 2020
Over the summer, the SFMTA and Port of San Francisco broke ground on the Embarcadero Quick-Build Projects, bringing protected bikeways to the Embarcadero between Bay and North Point streets and Harrison and Mission streets, freeing space for pedestrians along its iconic Promenade. Just last month, Public Works and SFMTA crews substantially completed the centerpiece of this effort, The Embarcadero's first segment of two-way protected bikeway - by installing 47 concrete islands, striping and signage changes, and a new bike signal at Howard Street. Now open in front of the Ferry Terminal between Mission and Folsom streets, this bikeway directly connects with the Folsom/Howard corridor and will be fully completed in early 2021 with the installation of metal railings. Our staff will also conduct a user survey and project evaluation in spring 2021 in connection with the Embarcadero Enhancement Project. 
Check out the progress that has been made so far!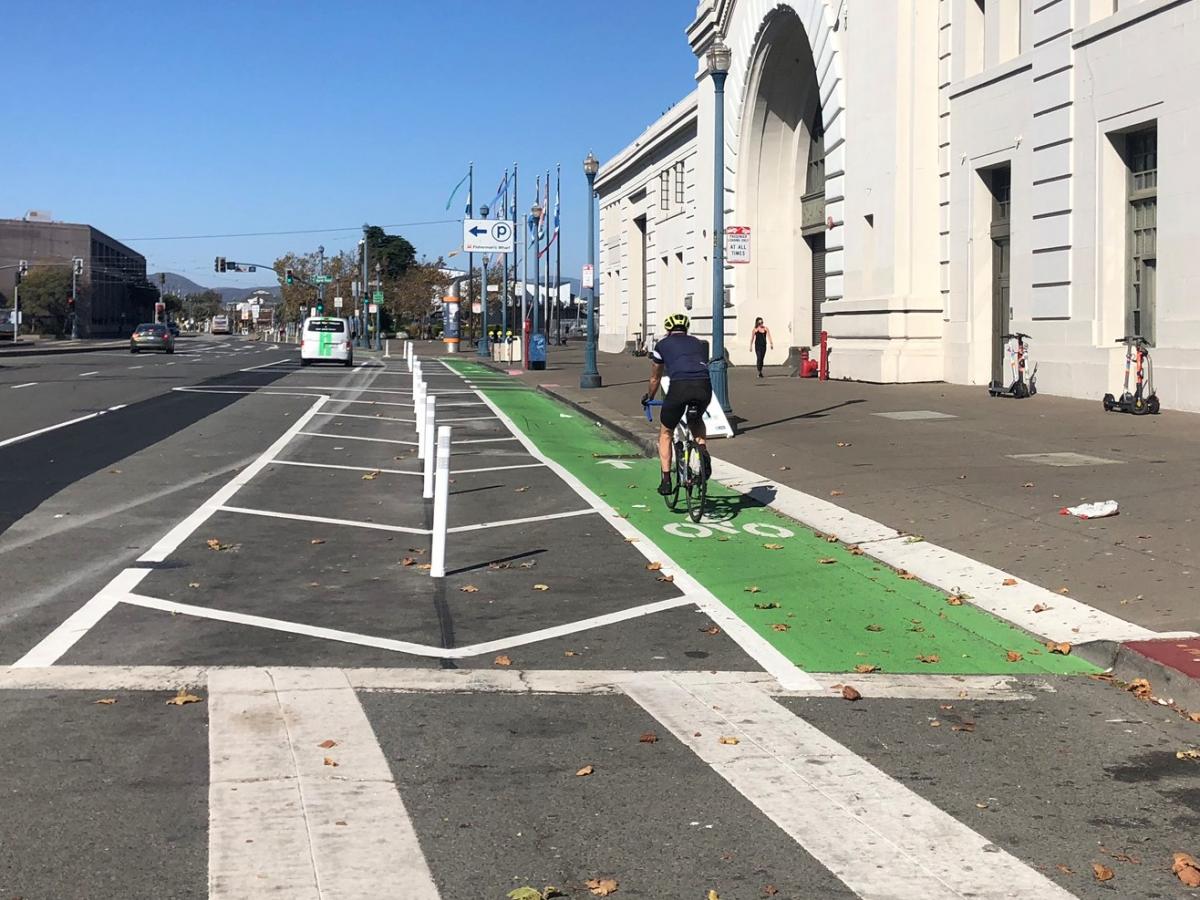 Protected bikeway with enhanced loading along Pier 35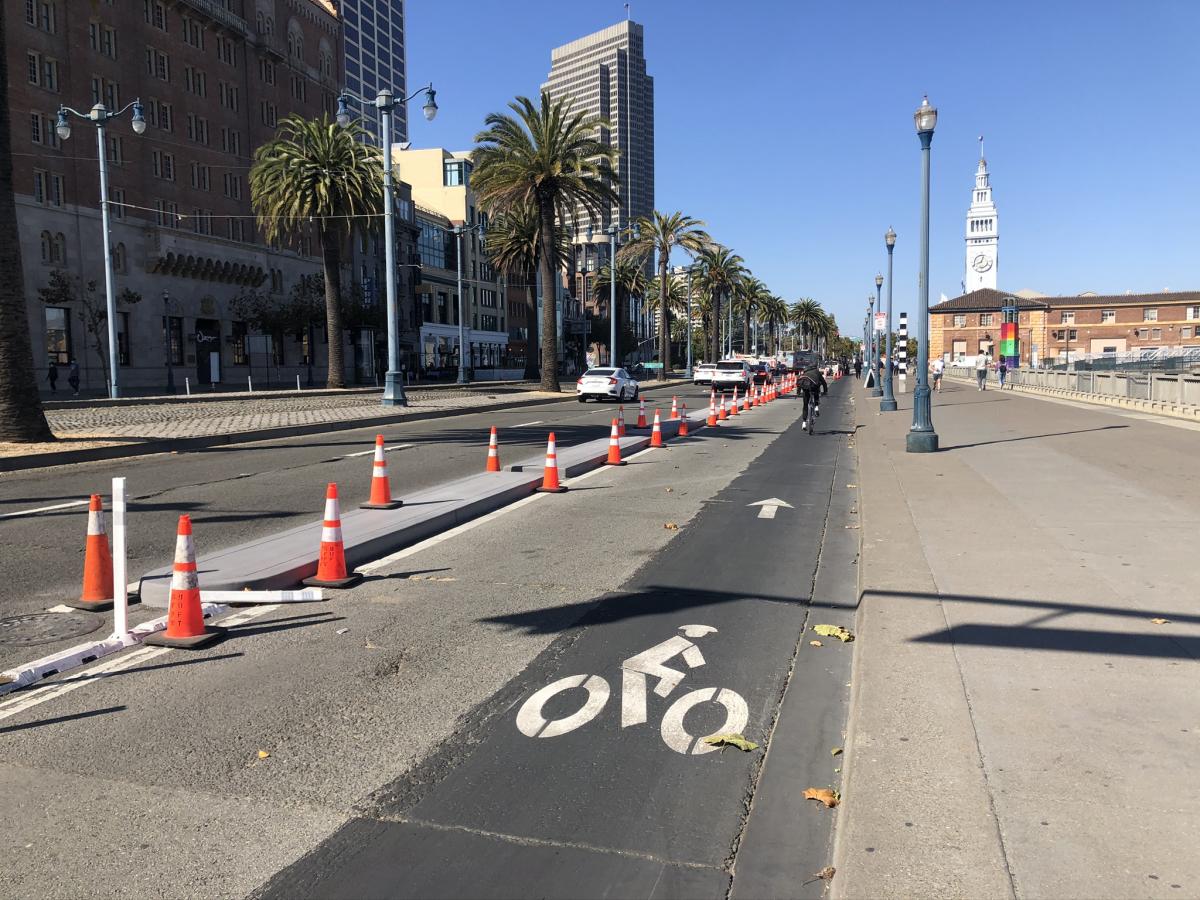 Concrete barrier under construction by Public Works for protected bikeway between Mission and Folsom streets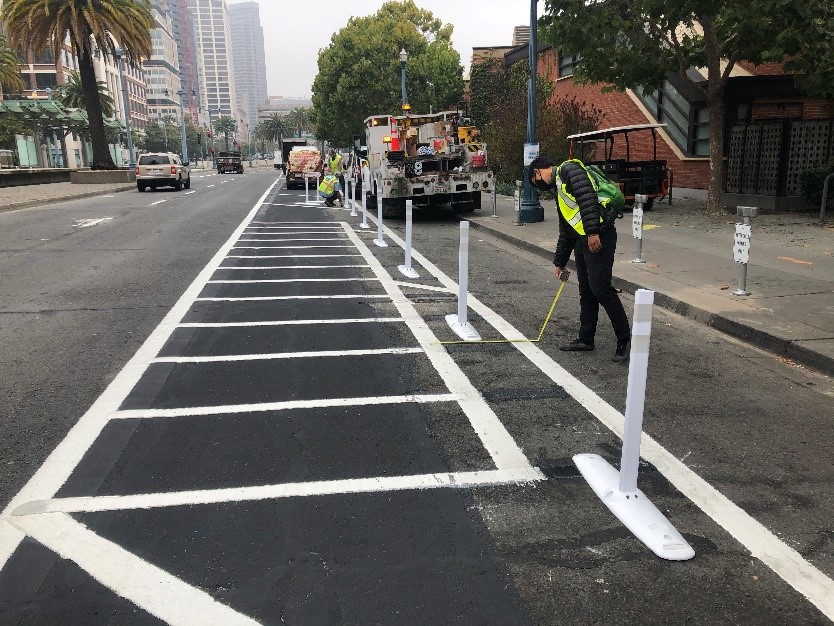 Protected bike lane and motorcycle parking under construction between Harrison and Folsom streets
Our Work Has Just Begun
The Embarcadero corridor between Townsend and Lombard streets is part of San Francisco's Vision Zero High Injury Network (HIN), the 13 percent of streets accounting for 75 percent of severe and fatal traffic injuries. Sadly, 189 reported severe injury collisions and two fatalities have taken place along this corridor in the last five years.
To achieve our safety goals, the SFMTA will continue its partnership with the Port of San Francisco and community stakeholders to deliver the greater Embarcadero Enhancement Project (EEP). The EEP seeks to:
Build a safer Embarcadero for all users

Improve connections between the Embarcadero and nearby neighborhoods

Elevate the Embarcadero's role as a valued destination and workplace for locals, visitors, businesses, maritime, and industrial uses

Invest in critical infrastructure to support the renewal and recovery of our City while protecting public health
Stay Informed as We Create a Safer Embarcadero
The Embarcadero is a special place for many in San Francisco and beyond. We look forward to engaging with the community in the months ahead as this important project takes shape. Please visit our project website at SFMTA.com/Embarcadero to stay up to date on the latest information or contact the project team by emailing Embarcadero@SFMTA.com.