Moving Down the Path With E Scooters
Wednesday, September 25, 2019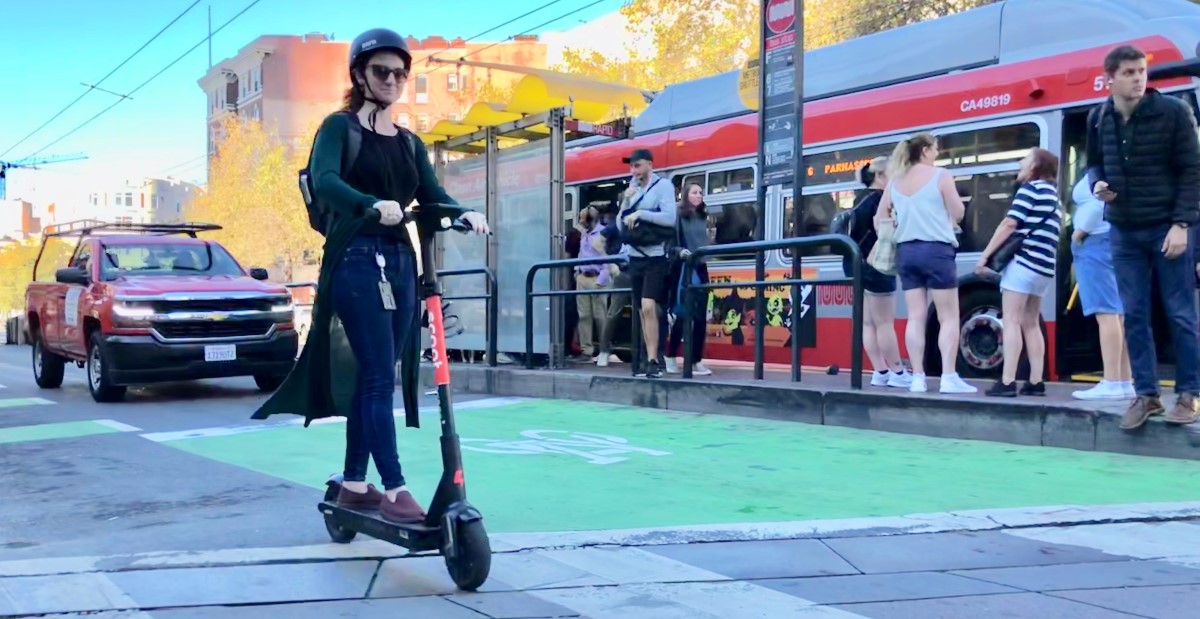 The SFMTA is moving forward with the next phase of the Powered Scooter Share Permit Program. Over the last year, this program permitted two operators and up to 2,100 scooters for shared use, mostly in the eastern parts of the city. The new round of permits will be issued to four operators and up to 4,000 scooters, with more than double the service area, along with a list of new terms and conditions based on lessons learned. We realize that different modes of mobility are an important part of the transportation network and the "last mile" solution to your commute is just as important as the first mile.
Lessons Learned and New Terms and Conditions
The most influential lessons from the first phase, adapted as requirements for the new permit, include Lock-To design, minimum fleet-size and requirements around distribution and equity engagement. By the end of the initial permit, both scooter-share companies had 100 percent lock-to fleets. This effectively eliminated most scooter-related parking problems, such as blocking sidewalks. It also meant increased demand for bike rack space. All permittees are required to pay a $75 fee per device to fund bike rack installation. The City will be expanding its bike racks throughout the service area to meet expected demand.
During the initial permit phase, the two operators faced challenges to consistently deploy a reliable number of scooters. Operators must now consistently deploy at least 50 percent of their permitted fleet.
In the initial permit phase, operators coordinated their service areas with the SFMTA. This led to a mix of service areas that weren't comparable, nor supplementary in coverage and the areas shifted throughout the course of the pilot based on operator trial and error. New permittees will receive a prescribed service area that is double the existing coverage area and tailored with distribution requirements. This will broaden the scooter network, encluding Bayview, Excelsior, Inner Richmond and Inner Sunset neighborhoods. No more than 40 percent of any fleet can be in the Downtown or SOMA neighborhoods. Also, the core area that needs to be serviced by all operators will include all Communities of Concern and require a minimum number of scooters to always be available there.
User survey data from the initial phase showed that most users were white, upper-middle-class, men. For scooter-share services to be successful in San Francisco, it's important that they support more equitable goals. In addition to multi-lingual and culturally sensitive outreach, new permittees are required to develop programs around local hiring, scooter safety, culture, arts and local small business. Operators must reach out to responsive Community-Based Organizations to assess and respond to neighborhood needs.
Sustainability and User Accountability
Beyond lessons learned, we are also adding new terms and conditions related to environmental impact and user accountability.
New Sustainability guidelines will require operators to provide specific metrics including operational Vehicle Miles Traveled, which will measure how much vehicle mileage is associated with providing comprehensive service and a life cycle analysis to understand how much resource and waste is required to provide comprehensive service.
For User Accountability, the SFMTA aims to empower its investigators and the general public to report bad scooter behavior related to improper parking or unsafe riding (e.g. riding on the sidewalk). Operators will maintain a shared database of complaints to track and respond to reported incidents, warning first-time offenders and suspending service from users who repeatedly disobey traffic laws.
Next Steps – Permitting
The SFMTA will reach out to applicants for the next steps, setting up times to review all the required terms and to confirm any final questions related to terms and conditions in advance of permitting. The agency anticipates needing to closely monitor scooter-share systems, especially in compliance with these new terms and conditions. It also looks forward to further stakeholder collaboration as it continues to evolve the Powered Scooter Share Program. We expect to see the new expanded service starting as soon as October 15th.