Muni Art Just Around the Corner!
Our galleries on wheels will be rolling next month, and we can't wait! 
Starting in September, 50 Muni buses will showcase the work of some of San Francisco's top local artists as part of "Muni Art," an innovative, new project we're sponsoring with San Francisco Beautiful. 
After we shared this project with you last month, more than five thousand people participated in the voting on Neighborland to select the five local artists from a group of ten finalists. Each of the lucky winners will have their work shown inside 10 Muni buses through the end of the year.
Bay Area artists were asked to submit entries that reflected their artistic concept of "the spirit of San Francisco." A jury of seven members from the local art community selected ten finalists from more than 130 applicants from around the Bay. 
The five artists whose work was selected to become part of these "moving galleries" are Ariel Dunitz-Johnson, Phillip Hua, Reynaldo R. Cayeteno Jr., Andria Lo and Todd Berman.
Muni Art is designed to support local artists, engage the public in beautifying their commute and to provide a more engaging rider experience. It is funded in part by the Community Challenge grant program that spearheads neighborhood beautification projects throughout the city.
Along with financial support from the Community Challenge Grant Program, local arts organizations Asian Art Museum, ArtSpan, SOMArts, San Francisco Transit Riders, Mamá Art Cafe, and the Bayview Opera House are also proud supporters of the Muni Art program.
Thank you to all our partners and to all of you who voted to make these galleries possible.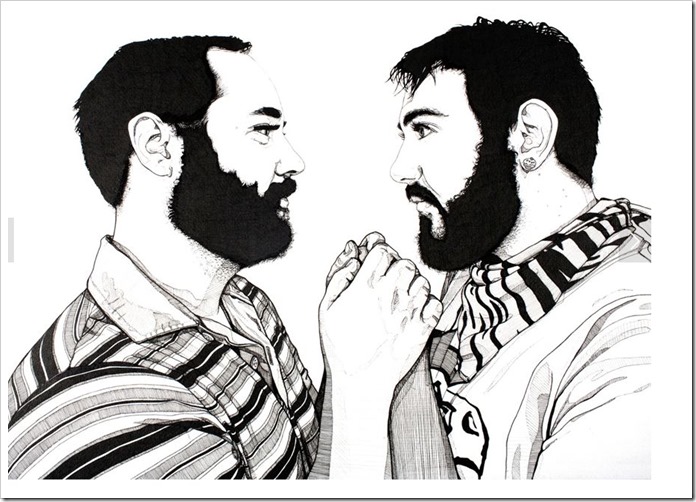 With a total of 1,143 votes, Ariel Dunitz-Johnson came in first place with SWAY – contemporary queer portraiture. (Photo: SFBeautiful)

Reynaldo R. Cayeteno Jr. received 742 votes for his project Nostalgia – an awakening of monochromatic interpretation. (Photo: SFBeautiful)