Muni Forward: Two New Owl Routes Launch This Weekend
Starting at midnight this Sunday, April 24, we'll launch two new Owl routes to provide 24-hour service within the Mission, Potrero, Bayview and Hunters Point neighborhoods. As part of our latest Muni Forward service increase, new "all-nighter" service will begin for portions of the 44 O'Shaughnessy and 48 Quintara/24th Street, closing a major gap in the Owl Network.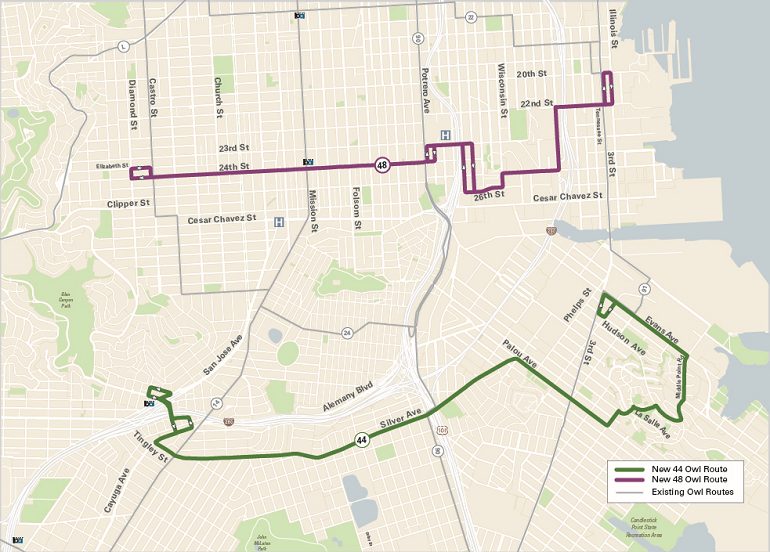 Late night Muni riders, say hello to your new Owl routes.
Both Owl routes will run every half hour between 1 a.m. and 5 a.m. They will serve the existing daytime stops that will fall within the Owl portion of the route.  
48 Owl
The new 48 Owl will connect the Mission to Potrero and Dogpatch, from Elizabeth and Diamond streets to 3rd and 22nd streets.
​44 Owl
The 44 Owl will connect Glen Park and Silver Terrace to the Bayview and Hunters Point, from Glen Park BART to Evans Avenue and 3rd Street.
We don't talk enough about our Owl Network. It's the strongest in the region, providing 24-hour service on 10 (soon to be 12) routes. Those include the L Taraval, N Judah, 5 Fulton, 38 Geary, 22 Fillmore, 24 Divisadero, 14 Mission and 25 Treasure Island, as well as the 90 and 91 Owl which cover sections of the T Third, 9 San Bruno, 28 19th Ave, 30 Stockton, and 49 Van Ness/Mission.
With the frequency boost we're launching on the 25 Treasure Island this weekend, our entire Owl Network will provide service every 30 minutes from about 1 a.m. to 5 a.m. And with the addition of the 44 and 48 Owls, even more San Franciscans are within walking distance of transit service 24 hours a day.
This is all part of the roll out of our biggest service increase to date this weekend. More than 30 lines spanning the entire city will run longer and more frequently the next time they hit the street.