As Muni Loses a Leader, Third Female Cable Car Grip Begins a New Legacy
The SFMTA saw a shift in generations this week.
First, we lost one of our seminal leaders, former Chairman H. Welton Flynn, who for more than 30 years pushed Muni to be a national example of inclusion and excellence. Then in a fitting coincidence, Muni also saw the third woman in history start her service to this city gripping a cable car. Chairman Flynn's legacy of making a persistently male-dominated industry more open to women in frontline and leadership roles is celebrated as we welcome our newest female grip, Amber Jones.
In this short video by The Examiner's Jessica Christian, Jones leaves us with words of inspiration, "Give it a try. You never know what you can do."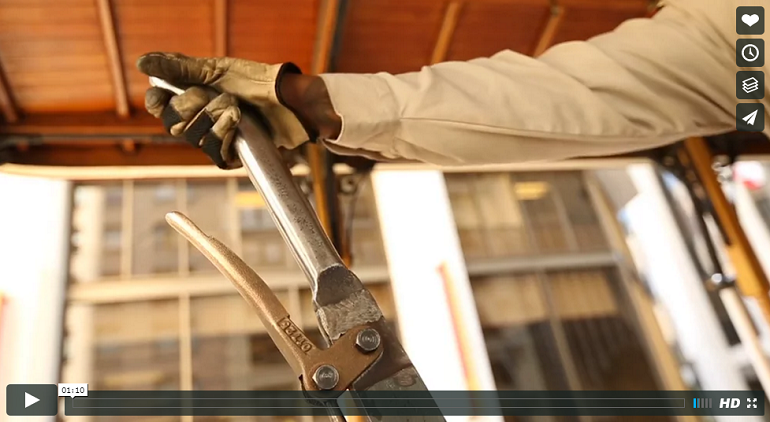 Amber Jones' hand on the grip. Screenshot from the San Francisco Examiner's video produced by Jessica Christian.
Accolades and messages of support for Jones have come in from the head of the agency and the city. 
"Women are making history during Women's History Month, and I'm proud of Amber Jones who began Cable Car service last week as the third woman ever to be promoted to Cable Car grip," said Mayor Ed Lee. "Amber is a role model for women in public service and will be an inspiration for other women looking to become Cable Car operators."
"It is fitting that we are able to certify the third woman ever as a Cable Car grip during Women's History Month," said Ed Reiskin, our Director of Transportation. "Our Cable Car operators are ambassadors for this city and carry on a legacy that has served this city well. Ms. Jones' certification is a tremendous accomplishment for herself, this agency and for upcoming women operators who hope to one day follow in her footsteps."
With her certification as a grip person last week, Jones became only the third woman in the rail line's 143‐year history to helm the iconic symbol of San Francisco transportation. This also marks the first time two women will serve as grips at the same time, as Jones will join the Cable Car Division's second gripwoman, Willa Johnson, in service. Fannie Barnes, the first woman to serve as a Cable Car grip, retired in 2002.
Jones has been a Muni operator since 2008. "It's such a fun and exciting opportunity to work in a position where I get to show off such an amazing city I call home," she said. "I'm very proud and honored to be the third woman in history to drive a Cable Car in my hometown. San Francisco is such a diverse city with ample space and opportunity for goals to be reached and records to be broken for any race, gender or age and I'm happy to be a part of its history."
Grip persons are located in the front of the Cable Car and are responsible for operating the various hand and foot controls that propel and stop the 15,500 pound vehicles.
Demanding and unforgiving, gripping a cable car requires extraordinary skills: arm, hand and upper body strength, mental and physical coordination, confidence and determination. Grips work alongside conductors, who are usually based at the rear of the cable car.
Don't miss the chance to watch Cable Car operators compete in at the Bell Ringing Contest this year on July 7.