Muni Metro Fix-It Week Maintains the Subway Infrastructure
Track crew removing old rail at the Van Ness crossover 
The first Muni Metro Fix-It Week of 2023 was a resounding success in March, and it's also the first Fix-It Week since the SFMTA launched the Central Subway in early January of this year. Here is a behind-the-scenes video recap. Fix-It Week is the SFMTA's quarterly effort to optimize work time by closing Muni Metro early for critical maintenance. The SFMTA's Maintenance of Way (MOW) teams did an excellent job maintaining the subway and preventing future breakdowns. 
Fix-It Week helps the Muni Metro get a 20% improvement in speed and about a 20% improvement in reliability in the subway. It takes fewer minutes to take the N Judah from the Outer Sunset to Embarcadero now than it did in 2019. 
 From March 16 to March 22, 2023, the Muni Metro Subway between Embarcadero and West Portal closed at 9:30 p.m. to provide SFMTA maintenance crews an extended window to perform underground infrastructure improvement work that cannot be completed during the usual overnight windows. During the subway closure, buses provided substitute service for Muni Metro lines on the surface and connected all stops on Market Street.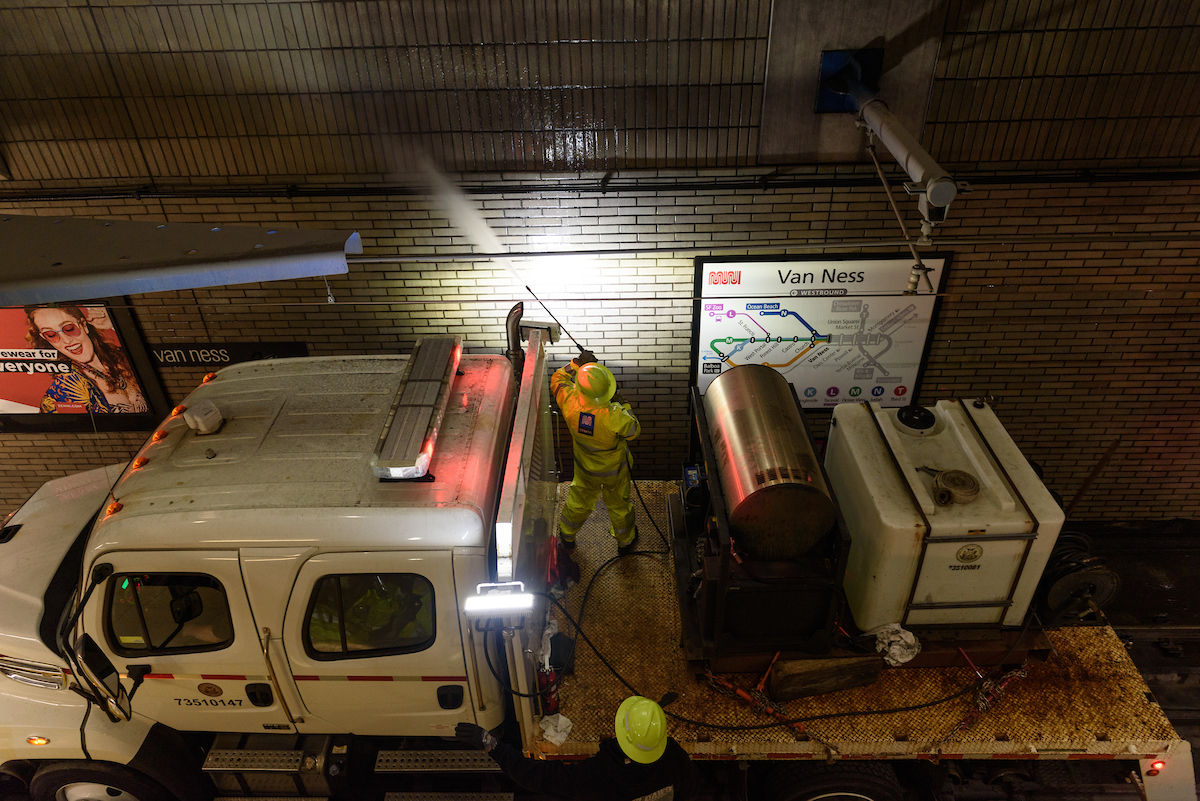 Track crew powerwashing station walls
The goal of Fix-It Week is to make Muni metro subway operations more reliable, ensure safety, and improve the customer experience. Nine MOW teams (Track, Cable Car, Motive Power, Maintenance Engineering, Mechanical Systems, Overhead Lines, Underground, Paint Shop and Signal) were involved in the maintenance work. 
Major maintenance work includes: 
Track replacement and reinstallation from the Ferry Portal to the Van Ness Crossover 
Mechanical systems cleaning, maintenance and installation  
Signal repairs and upgrades, including the demolition of old train control system racks, equipment and wiring 
 Track fastener and subway lighting surveys, and drain cleaning around switches  
Overhead Line inspections and Overhead Section Break hardware adjustments 
Debris removal and traction power substation inspections 
Cable Car maintenance and repairs 
Custodial staff cleaning Church Station
The SFMTA teams completed over 2,000 hours of maintenance and inspections over the seven night shutdown. They were able to perform 161 feeder operations, replace more than 125 bulbs for trackway lighting in multiple locations, renew 750 feet of Overhead Contact System contact wire, replace eight blue light phones and inspect approximately 8,000 track fastener plates from the Ferry Portal to Powell Station.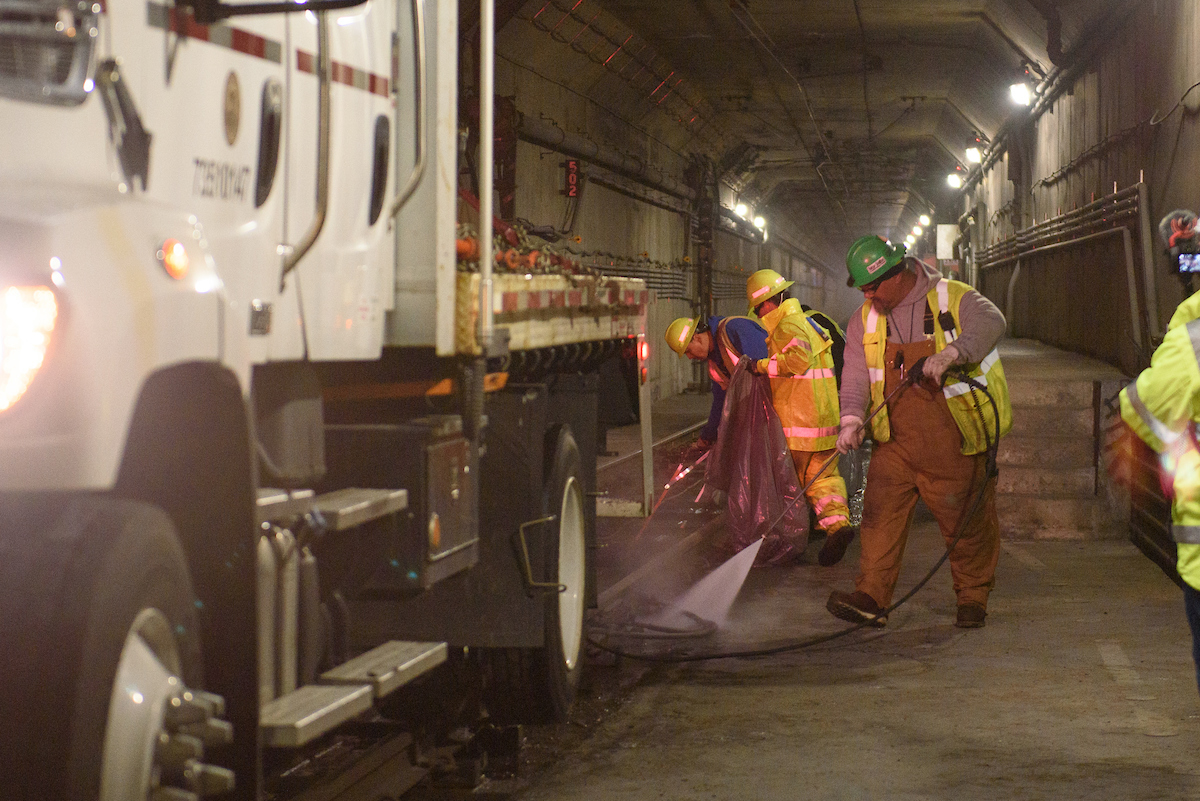 Track crew powerwashing and removing trash from trackway 
A support team also contributed to the success of Fix-It Week. These staffers helped coordinate maintenance work, upheld all safety standards and ensured that subway service resumed on time every day. 
The SFMTA will continue to keep the Muni Metro system in a state of good repair. The next Fix-It Week is scheduled for July 2023, and we thank you for your patience and understanding while we do this vital work.  
For more information, visit Muni Metro Maintenance Project (SFMTA.com/SubwayMaintenance).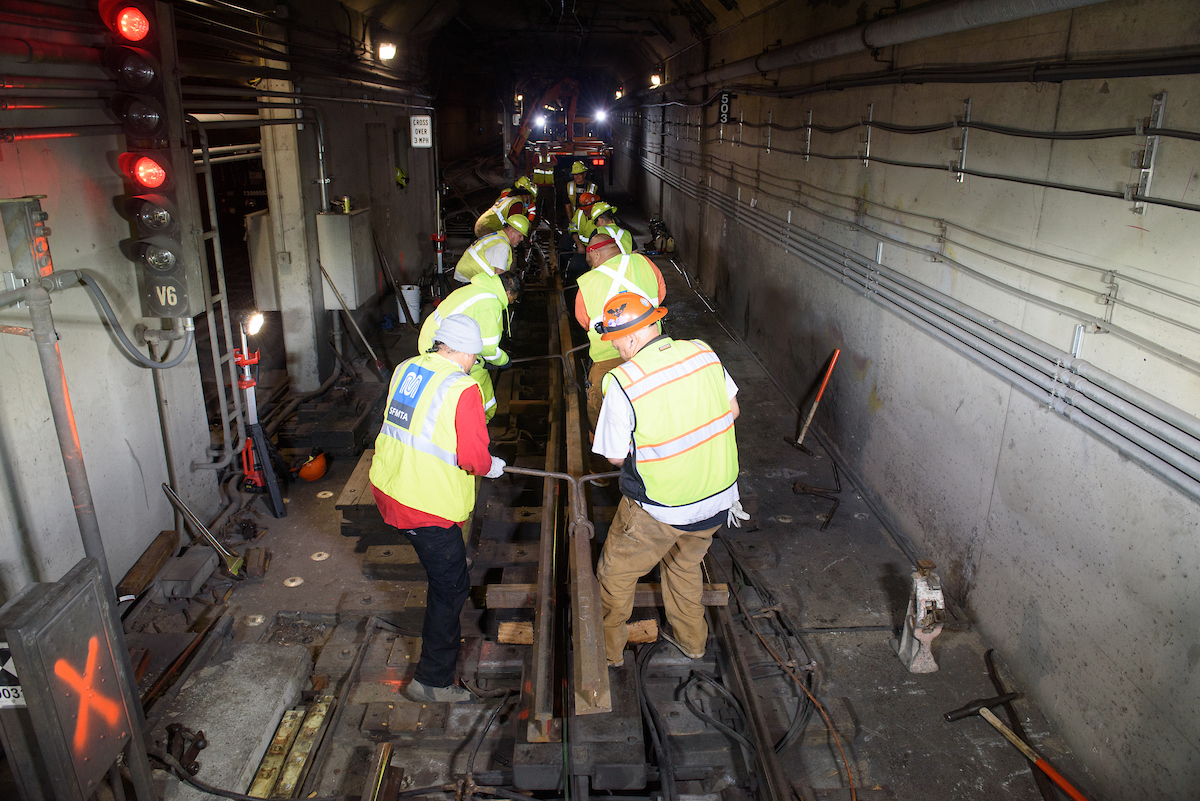 Track crew moving new rail into position by hand at the Van Ness Crossover